TUSDM Class of 2025 (D25)

Welcome to the Tufts University School of Dental Medicine's Class of 2025's Dental Central page! In the continuation of the pandemic, we stay eager and inspired to begin our careers as future dentists. Our class is filled with unique and bright students looking to make a difference in this world one smile at a time. Follow our class on Instagram to check out what we are up to @tuftsdental2025
D25 Class Exec Board
Diandra Jones – Class President
Nashley Martinez – Class Vice President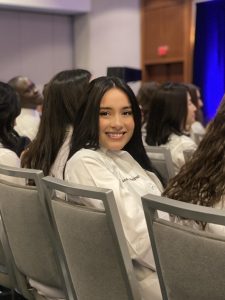 My name is Nashley Martinez. I was raised in sunny Florida but I am originally from Puerto Rico. I hold a Bachelor's degree in Biomedical Sciences, with a minor in Health Sciences from the University of Central Florida, as well as a Master's degree in Biomedical Sciences from Barry University.
During my spare time, I love spending time with my husband, Keith, family, and friends. I enjoy movies, cooking, working out, and being outdoors! I am looking forward to serving the D25 class as Vice President!
"In a world where you can be anything, be kind."
Pamela Espinoza – Class Secretary
My name is Pamela Espinoza, and I am the Class Secretary for the Class of 2025! Born and raised in Philadelphia, PA, I live with my parents and 5 siblings. I have a twin sister and I am 22 years older than my youngest sister! In 2019, I graduated from Villanova University with a double major in Spanish and English. After undergrad, I went on to complete two years of graduate school before starting my dental school journey at Tufts! As a former Spanish interpreter for a law firm, I hope to use my Spanish to help the Hispanic/Latinx community with their dental needs. In my free time, I enjoy spending time with my loved ones and exploring the amazing places Boston has to offer.
Mariah Matinian – Class Treasurer
My name is Mariah Matinian and I'm originally from Rhode Island. I've spent the last decade or so in Boston, so I consider myself a local. I earned my bachelor's degree in archaeology from Boston University and my master's degree in biomedical sciences from Mississippi College. In my spare time I work on perfecting new recipes, explore new places, and enjoy all the seafood New England has to offer! Feel free to approach me with any questions, concerns, or if you just want to chat.
I am honored to be the D'25 Treasurer. Our unique class deserves to have proper representation and to be heard by administration—I promise to live up to your expectations as a member of the D'25 executive board and make it a fun few years!
D25 Committee Representatives
Patient Care Quality Assurance Committee Rep: Alexis Gordon
Curriculum Committee: Jae Jung
Risk Safety and Infection Control Committee Rep: Matt Wilkinson
Outcomes Assessment Committee Rep: Shouana Vang
Research Committee Rep: Eugenia Cojocaru
Student Library Advisory Committee Rep: Riya Nath
ADEA Class Representative: Juhi Vyas
ASDA Class Representative: Emely Vidal
Community Service Liaisons (2-year positions): Maddie Sigg and Benita Jacob
Wellness Committee: Sam Aroura and Sidney MacKinnon
Social Chairs: Sherese Nornoo (Back Bay), Danny Asfoura (Dorchester), Nicole Avakiants (Exeter)