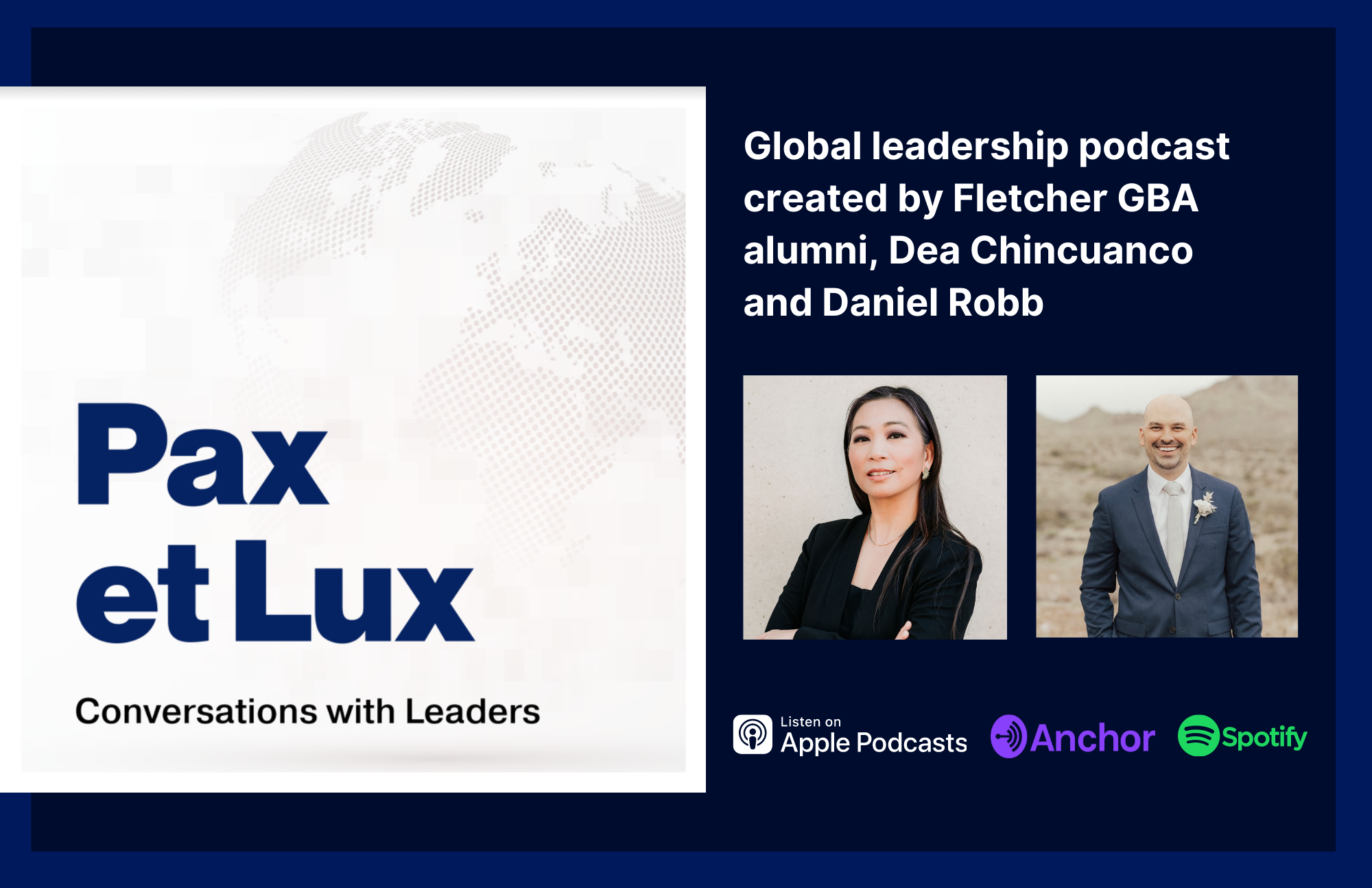 A note from the Pax et Lux creators:
Welcome to Pax et Lux: Conversations with Leaders
Pax et Lux is a global leadership podcast created by Fletcher GBA students Dea Chincuanco and Daniel Robb.
This podcast dissects the leadership journeys of global luminaries in business, international affairs, and the arts. It was inspired by a leadership development course at Fletcher. Dea and Dan, pays homage to Tufts University's motto of Peace and Light by illuminating the stories of people who embody the spirit of leadership and inspire others.
As this podcast was intended to inspire leadership, at its inception, many leaders – GBA classmates, the Tufts community, and our extended networks have already contributed their support for this project. This is just the beginning of a growing list of thanks that will be extended to contributors of this endeavor.
Luminaries:
Elliot Ackerman
Dean Rachel Kyte CMG
Ashok Rao
Andres Valenciano
Contributors:
Rose-Ann Aragon (KPRC News 2, News Reporter)
Phuz Music (Intro and Outro: "Ceiling" and "As One" from Water and Forgiveness Albums)
Hill Vaden (IHS Markit, Energy Podcast creator)
Fletcher GBA Classmates:
Kieley Filepp-Taylor
Bill Hunt
JD Kristenson
Alexandra Schwall
Tufts Community:
Professor Jill Curtis
Marisa Doherty
Elizabeth Dykstra-McCarthy (Tufts Twentytwenty Podcast creator)
Halley Goldman
Kristen Zecchi
Thank you,
Dea Chincuanco & Daniel Robb
Creators of Pax et Lux: Conversations with Leaders
— A Global Leadership Podcast —
THE PAX ET LUX PODCAST EXPRESSLY DISCLAIMS ANY AND ALL LIABILITY OR RESPONSIBILITY FOR ANY DIRECT, INDIRECT, INCIDENTAL, SPECIAL, CONSEQUENTIAL OR OTHER DAMAGES ARISING OUT OF ANY INDIVIDUAL'S USE OF, REFERENCE TO, RELIANCE ON, OR INABILITY TO USE, THIS PODCAST OR THE INFORMATION PRESENTED IN THIS PODCAST.