by Loey, Tufts Civic Semester Participant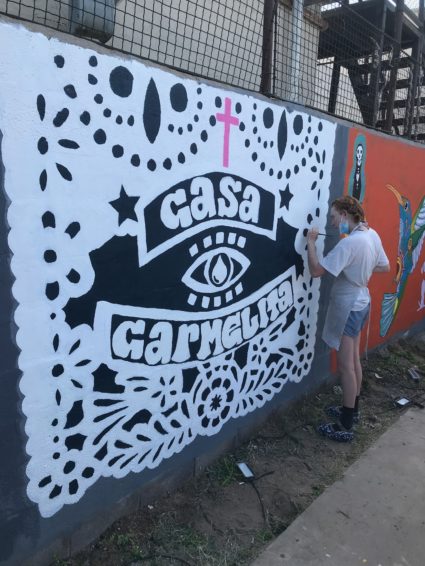 On the 16th and 17th of October, we had the absolute privilege of spending our entire days learning from the founding and contributing members of an organization called "Casa Carmelita" based in El Paso, Texas. No more than 20 yards away from a primary entry point to the U.S.-Mexico border, Casa Carmelita can be described as a home and community for trans migrants who are in the process of becoming documented United States citizens. We were initially greeted by someone named Juan Ortiz, a founding member of the house who is heavily involved in direct action and community organizing. Juan talked with us for the entire day about issues relating to immigration and the carceral archipelago that causes nothing but pain for Black and Brown communities in America. As a group we learned about the extensive discrimination against trans and LGBTQ+ immigrants, with acts of trans abuse accounting for a majority of the violence within detention centers across our country. The suffering that the over militarization and policing in El Paso has caused was made abundantly clear to us, especially when we walked within a neighborhood where the border wall was quite literally the residents' backyards. Juan also did not stop his teachings at the U.S. side of the border. We learned about a sister organization called "Casa de Colores" that is based in the city of Juarez, Mexico, founded by a collective of trans women which houses and provides resources for vulnerable migrants. U.S. intervention in Juarez has made the city an incredibly dangerous place to live, especially for trans women, so there is a large amount of work to be done in supporting the people of the area. Another person who worked with us was named Jennifer Apodaca, who explained with Juan that their organization is not there to judge whatever reasons or justifications people may have for immigration. Casa Carmelita operates under the belief that migration should be a human right, and especially based on skin color and gender identity, this right is disproportionately stripped from certain people. With the profound input from other speakers we met named Karina Brecera, Cami, and Sochil, our discussions with the staff of Casa Carmelita taught all of us the true importance of grassroots, intersectional, community engagement where the voices of those who are directly impacted are placed above all else.
When we weren't having discussions and asking questions about the geopolitical, cultural realities of the Borderlands, we learned the specifics of how to mix paint from a man named Francisco "Frank" Delgado. We spent almost the entirety of Sunday working on murals and different painting projects around the house. This hands-on work highlighted for all of us, once again, how pivotal art can be in the process of social justice and revolution. Our days working with Casa Carmelita were filled will laughter, incredible insight, amazing food from local restaurants, therapeutic reflection through art, and obsessing over the house's dog named "Frijol".
Carmelita Torres was a Mexican woman from Juarez born in 1900 who would cross the border every day in order to work as a maid in El Paso. Tired of the constant humiliation and perverse "cleaning" treatments with pesticides and gasoline from border patrol, she one day refused the abuse and incited what is now known as the El Paso Bath Wars. Casa Carmelita is named after this brave woman, who was 17 at the time, in order to recognize and share her story of civil defiance. Carmelita is a representation of the fight against injustice and oppression that is still needed to this day, and we are all so thankful to have helped continue her story.
Originally posted here.