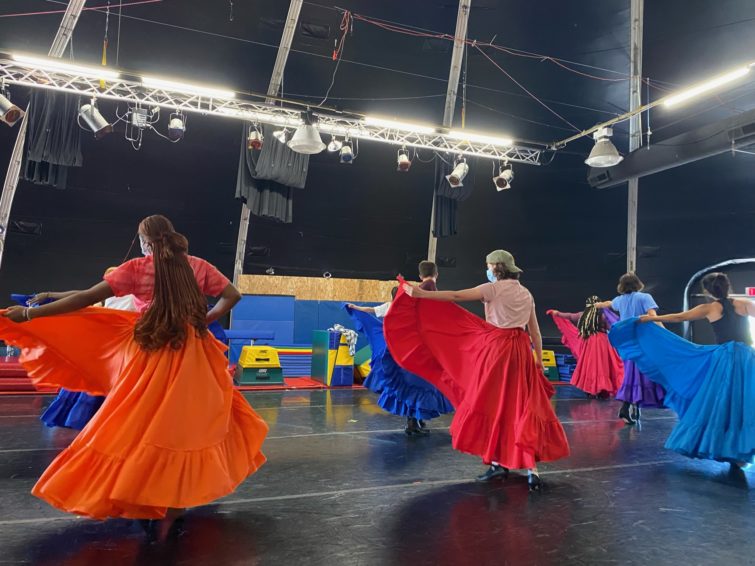 by Biani, Tufts Civic Semester Participant
For the past four weeks the Tufts Civic Semester cohort has been taking Mexican baile folklórico (folkloric dance) every Monday at Moving Arts in the city of Española. Moving Arts is an organization dedicated to building community and cultivating leaders through art and the preservation of culture. Our dance classes were instructed by Salvador Ruiz-Esquivel, who is the executive/school director and co-founder of the organization. Every class we switch from our trainers and crocs into our dance shoes with metal soles, which has been very exciting as they only elevate the performance with their sound. Traditionally, men do the dance with machetes while women wear long, brightly colored skirts. Fortunately, we have been able to play with the role of gender by not separating our group into two and all dancing together with machetes or in skirts.
As Moving Arts deals with much more than dance, we were also able to take a cooking class there with Laura where we made vegetarian Mexican pozole, blue cornmeal muffins, and vegan buckeyes. The meal was absolutely delicious! Dancing with Salvador has been such a wonderful experience as he has been able to share a part of his culture with us. Our last class was truly emotional for all of us, as we are grateful for the organization Moving Arts, and inspired by all the community work that they are able to achieve through the visual, graphic, and culinary arts. We are also super grateful to have worked with Salvador and truly appreciate his patience and kind words throughout our lessons. We are sad to be leaving Truchas and the surrounding communities, and hope to learn from organizations just as amazing and community-oriented as Moving Arts.
Originally posted here .