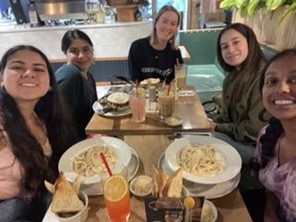 By: Izzy Martinez
This is Izzy Martinez with Tufts Women in International Relations (WIIR). A little bit more about me: I am a rising senior majoring in International Relations with a concentration in globalization. For the next week and a half, I will be researching employment opportunities for female Venezuelan refugees here in Colombia. Here is a quick recap of our day since arriving yesterday evening!
Tufts WIIR landed safe and sound yesterday in Bogota, Colombia. We arrived at our hotel at around 7pm—just in time for dinner! We walked around the area—the neighborhood of El Chicó—and decided to have dinner at 930 Café Parque de la 93—a small cafe with great food and live music! We finished dinner quickly as we were desperately looking forward to finally resting after a full day of traveling.
This morning—May 21st— we woke up refreshed and ready to explore the area a little more. But first, we needed breakfast so we walked to the restaurant Crepes and Waffles for some delicious breakfast. After a filling breakfast and coffee, we walked around and explored different shops, restaurants, and a library. We then regrouped and decided it was time to get work done. We are currently as a local cafe working: prepping more questions for our interviews this week, reaching out to potential interviewees, organizing our calendars, and doing more research! We look forward to meeting everyone this week and can't wait for the week ahead!