Faculty and Visiting Fellows
Fletcher Leadership
Here are some of the Fletcher faculty working in cyber, media and public diplomacy:

Jenny Aker is an Assistant Professor of Development Economics, Deputy Director of the Hitachi Center for Technology and International Affairs, and a Non-Resident Fellow at the Center for Global Development. After working for Catholic Relief Services as Deputy Regional Director in West and Central Africa between 1998 and 2003, Dr. Aker completed her PhD in agricultural economics at the University of California-Berkeley. Dr. Aker works on economic development in Africa, with a primary focus on the impact of information and information technology on development outcomes, particularly in the areas of agriculture, agricultural markets, and financial inclusion.

Miguel Basáñez is Adjunct Professor and Director of the Institute for Cultural Change. An expert on values, culture, and economic development, he is a leader of the global World Values Survey team and a past president of the World Association of Public Opinion Research. His latest book is A World of Three Cultures: Honor, Achievement and Joy. Dr. Basáñez also served as the Ambassador of Mexico to the United States in 2015 and 2016.

Bhaskar Chakravorti is Senior Associate Dean of International Business & Finance and the executive director of Fletcher's Institute for Business in the Global Context. His work and research includes projects focused on the digital economy, the wireless communications industry, and a modern international telecommunications network connecting the continent of Africa. Prior to Fletcher, Dr. Chakravorti was a Partner of McKinsey & Company and a Distinguished Scholar at MIT's Legatum Center for Development and Entrepreneurship. Over his 20+ year career as consultant and educator, he has advised more than 30 companies in the Fortune 500, policymakers, investors, and entrepreneurs, spanning multiple geographies.

Ravi Shankar Chaturvedi is a Research Fellow for Innovation and Change at Fletcher's Institute for Business in the Global Context and Head of the Planet eBiz research stream, which analyzes the forces that drive digital evolution and the future of global commerce. He is the co-author of the Digital Planet report – an influential study ranking 50 countries on their digital readiness. Prior to Fletcher, Mr. Chaturvedi was the Head of Portfolio and Products for the Middle East and North Africa region at American Express. He also worked in various capacities in Asia with organizations such as Standard Chartered, HSBC, and Hewlett Packard. Mr. Chaturvedi holds a Masters in International Business from The Fletcher School.

Antonia Chayes addresses the legal implications of cyber warfare in her new, award-winning book, Borderless Wars: Civil Military Disorder and Legal Uncertainty. The untimely death in January 2015 of Professor William C. Martel slowed work that he and Professor Chayes were doing to develop an international "cyber code of conduct." The new research initiative is now seeking to take up the cudgel again, in association with experts across the country. Professor Chayes previously taught at Harvard University and has extensive U.S. government and private sector experience.

Ming Chow, a member of the Tufts Department of Computer Science, focuses on web and mobile security and engineering. His research focuses on issues of online and web application security, and he maintains a resource for students with questions on cyber-related issues. Professor Chow is an advisor to the Murrow Center, reflecting the growing collaboration between Fletcher and the computer science department.

Julie Dobrow is Director of the Tufts Communications and Media Studies Program. With a PhD from the Annenberg School of Communication, University of Pennsylvania, Dr. Dobrow has a research focus on children and media, ethnicity/gender and media, and adolescents and media use. The Murrow Center is pleased to work with Dr. Dobrow and her team on such annual events as The Edward R. Murrow Forum on Issues in Journalism.
Daniel Drezner is a Professor of International Politics, nonresident senior fellow at the Brookings Institution, and a contributing editor at The Washington Post. He is a frequent media commentator, focusing on grand strategy, global civil society, and statecraft. Dr. Drezner has conducted research on such topics as "The Global Governance of the Internet: Bringing the State Back In," and his blog for Foreign Policy magazine was named by Time as one of the 25 best blogs of 2012.

James Fry is a Visiting Associate Professor of International Law. He is visiting from the University of Hong Kong, where he is Associate Professor of Law and Director of the LLM Program. Dr. Fry has provided legal counsel and expertise to various international organizations throughout the world, including the International Committee for the Red Cross and the World Trade Organization. His research and expertise encompass many areas of international law, including the developing legal structures governing cyberspace.

Carolyn Gideon is Assistant Professor of International Communication and Technology Policy and the Director of the Hitachi Center for Technology and International Affairs. Dr. Gideon holds a PhD from Harvard University and teaches her students how international digital communications impact politics and business. She has extensive private sector experience and previously served as a research affiliate with the MIT Program on Internet and Telecoms Convergence.

Michael Glennon is Professor of International Law. Prior to going into teaching, he was Legal Counsel to the Senate Foreign Relations Committee (1977-1980). Professor Glennon has also served as a consultant to the U.S. State Department and the International Atomic Energy Agency. He is a member of the American Law Institute, the Council on Foreign Relations, and the Board of Editors of the American Journal of International Law.

Alan Henrikson is the Lee E. Dirks Professor of Diplomatic History. A graduate of Oxford and Harvard Universities, Dr. Henrikson led the Diplomatic Studies program at Fletcher for many years. He has worked closely with The Murrow Center on its public diplomacy focus. Recent publications of his include the monograph, "What Can Public Diplomacy Achieve?" and "Niche Diplomacy in the World Public Arena: The Global 'Corners' of Canada and Norway," in The New Public Diplomacy: Soft Power in International Relations.

Michele Malvesti is Professor of Practice in International Security Studies. She teaches international cybersecurity and helps direct the faculty on cyber security concerns. She also is a Senior Advisor to the Financial Integrity Network, and serves on the Advisory Board to root9B, a cyber-security services firm. Previously, Dr. Malvesti served more than five years on the National Security Council staff – including as the Senior Director for Combating Terrorism Strategy – and worked as a Vice President in the National Security Sector at Science Applications International Corporation. She received both a PhD and a MALD degree from The Fletcher School.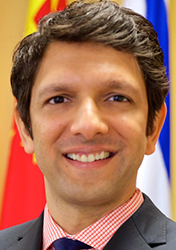 Mihir Mankad is the Deputy Director of The Murrow Center and Lecturer in Communications. His career spans a diverse array of fields, including media, management consulting, and nonprofit leadership. Most recently, Mihir served as a national television anchor with top channels in India such as NDTV Business, Zee Sports, and the public broadcaster Doordarshan. Professor Mankad has developed coursework and annual events that prepare Fletcher students in the arts of communication, whether speaking in public or on camera.

Cheyanne Scharbatke-Church is Professor of Practice in Human Security. She is founder of Besa, a boutique firm specialized in evaluation, performance measurement systems, learning processes, program design, strategic planning and assessments for social change organizations. Her clients have included the UN Peacebuilding Fund, the U.S. State Department, CARE, and the Canadian Government. Professor Scharbatke-Church holds an MSc in International Relations from the London School of Economics.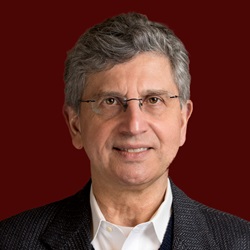 Edward Schumacher-Matos Director of the Murrow Center and Edward R. Murrow Visiting Professor of Public Diplomacy. Prior to Fletcher, Professor Schumacher-Matos taught digital media strategy at Columbia University's Graduate School of Journalism. With an international journalism career spanning such publications as NPR and The New York Times, he is an expert in the changing trends in global news distribution and consumption. As a former director of the Harvard Program on International Migration, Professor Schumacher-Matos also brings insights on how the global movement of digital information and people creates an impact on states, economies, and values.

Bernard Simonin is Professor of Marketing and International Business. His research interest in knowledge management and strategic alliances spans the fields of strategy and management, international business, and marketing. His current research focuses on such topics as nation branding, brand alliances, brand communities, symbiotic marketing and sponsorship, market orientation, nonprofit branding. Dr. Simonin holds a PhD in International Business from the University of Michigan, an MBA from Kent State University, and a graduate degree in computer sciences from a French engineering school.

Admiral James Stavridis is Dean at The Fletcher School. He has set cyber as a priority for the school's future and will continue to bring international visibility and influence to the program through his leadership and outreach efforts. A four-star admiral in the U.S. Navy, Dean Stavridis was NATO's Supreme Allied Commander, leading the alliance in global operations from 2009 to 2013. He is currently Chair of the Board of the US Naval Institute and a member of the Board of Directors of the Council on Foreign Relations. He has published six books and over 100 articles on innovation, strategic communication and planning, and creating security through international, interagency, and public-private partnerships. Dean Stavridis earned a PhD from The Fletcher School and is an active user of social networks, with thousands of followers on Twitter @stavridisj.

Jeffrey Taliaferro is Associate Professor of International Relations and Security Studies in the Tufts Department of Political Science. Holding a PhD from Harvard University, Dr. Taliaferro focuses on security studies, international relations theory, international history and politics, United States foreign policy, intelligence, and U.S. national security. He works with Professor Ming Chow on issues related to the intersection of digital and security spheres. Dr. Taliaferro's participation reflects increased collaboration between Fletcher and the greater Tufts community.

Joel Trachtman is Professor of International Law at Fletcher. An expert in the global legal order, Professor Trachtman featured cyberspace prominently in his recent work, The Future of International Law: Global Government. He offers valuable views for The Murrow Center's work from the perspective of Internet governance and international organizations. A graduate of Harvard Law School, Professor Trachtman has consulted for a number of governments and international organizations, including the United Nations, the World Bank, and the OECD.

Rusty Tunnard is Professor of Practice of International Business and an expert on social and digital networks. In addition to teaching at Fletcher, he is an independent management consultant, and holds teaching positions at HHL-The Leipzig Graduate School of Management, and the Hult International Business School. Until March 2001, he was a Director of the Arthur D. Little (ADL) International Travel, Tourism, and Hospitality consulting practice. At ADL, he was also a senior member of the Professional Development team, and he currently conceives and delivers comprehensive skills-training programs for professional service firms worldwide.
Additionally, the Murrow Center is pleased to work each year with visiting fellows from the U.S. State Department and the European Union.