In the city, outdoor gardening space can be hard to find. Backyards are replaced by balconies, but this doesn't mean you can't still garden for pollinators. You just have to get creative about it. This National Pollinator Week, TPI has tips and tricks for how you can support urban pollinators with container gardening whatever your outdoor space looks like (even if it's just a windowsill!).
1. Choose perennial native plants. Apart from a few species with deep taproots, many native plants will thrive in containers. Since they're perennial, your plants will come back year after year, and support pollinators without any extra cost. Here are some good options that TPI has had success with:
swamp milkweed (Asclepias incarnata)
anise hyssop (Agastache foeniculum)
lance-leaf coreopsis (Coreopsis lanceolata)
smooth aster (Symphyotrichum laeve)
great blue lobelia (Lobelia siphilitica)
cardinal flower (Lobelia cardinalis)
blazing star (Liatris spicata)
virginia mountain mint (Pycnanthemum virginianum)
purple coneflower (Echinaecea purpurea)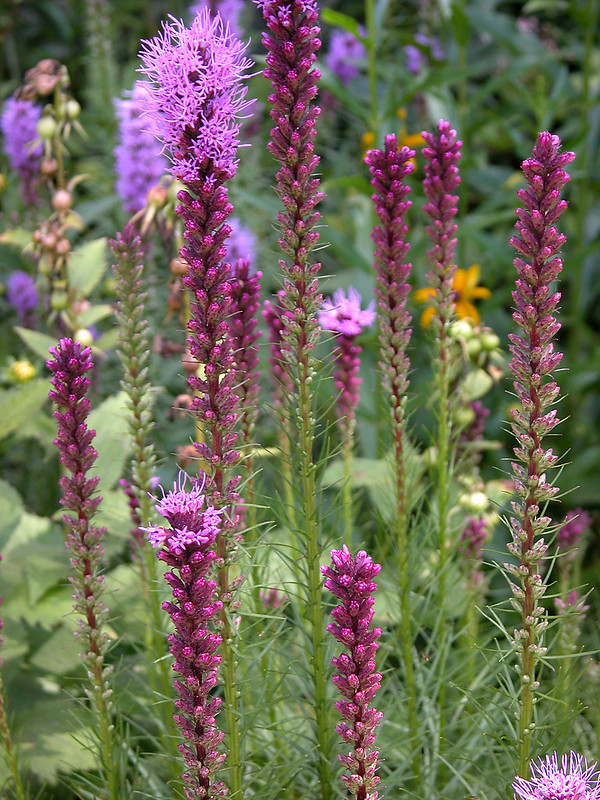 2. Combine plants with complementary bloom times to have the greatest impact. For your first container, try picking three plants: one that blooms in early summer, one in mid-summer, and one in fall.
3. Deep containers are your friend. Choose containers at least 16" deep to allow your native plants to build strong root systems and thrive for years to come.
4. If you only have space for shallow planters (<12" deep), annual or biennial native plants are a great option. These plants don't invest in a deep root system and can survive in shallower soils. Black-eyed susan (Rudbeckia hirta), spotted horsemint (Monarda punctata), and partridge pea (Chamaecrista fasciculata) are three good choices.
5. Flowering herbs are also a great (and tasty) option for small spaces. TPI previously waxed the benefits of letting your herbs for pollinators, and the same applies here. Dill, lavender, thyme, mint, and cilantro are all popular herbs that do well in containers and favorites of pollinators.
6. Water often. Soil in containers dries out faster than those growing below ground, and as your plants become root bound, they will need water more frequently. As always, water the soil rather than the leaves.
7. Don't fertilize. Native plants are adapted to soils that are low in nutrients, and adding fertilizer will result in many big leaves and not many flowers. Amend store-bought potting mix with perlite and sand to create a well draining medium for your plants. Leave the manure and kelp fertilizer for your veggies!
8. Protect your container plants over the winter with 3-4" of leaf mulch, by moving your planter to a less exposed area, and potentially covering with a tarp. The key is to keep the soil warm enough so the roots don't freeze through.