A Thirst for Education, by Alison Horton and Roushani Mansoor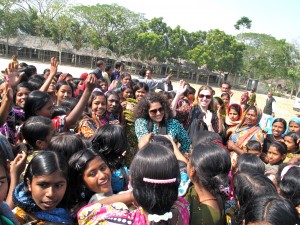 "Shkool kub bhalo lagey!" was the joyous sentiment we heard coming from the crowd of beautiful, young schoolgirls at the Sundarban Girls Secondary School. We asked them if they liked school, and they repeatedly met our question with a resounding "Yes! We love school!"
Unfortunately, access to education for many girls in Bangladesh does not come without constant struggle and steadfast dedication. As is the case in over 95 percent of all secondary schools in Bangladesh, the government did not establish this school.[1] The Bangladeshi Constitution mandates that the government provide free and compulsory education "to such stage as may be determined by law."[2] This stage, evidently, ends after primary school. Additionally, Bangladesh is arguably not honoring its obligation under international law as a signatory to the International Covenant on Economic, Social, and Cultural Rights. Article 13(2)(b) maintains that states should strive for secondary education to be generally available "to all by every appropriate means," including the introduction of free education.[3] Instead, it is the responsibility of villages to organize, plan, build, staff, and maintain schools for their children. Once up and running, the government provides small subsidies for teacher salaries, but the village must cover all additional operation and overhead costs. It is miraculous that many impoverished, rural populations, with so few resources, are able to make these schools a reality.
The classrooms at the Sundarban Girls Secondary School, not unlike those in most rural schools in Bangladesh, have no doors and no walls. The structures are often built of bamboo, mud, straw, and banana leaves. Students sit on long, wooden benches and learn from a small chalkboard in the front of the room. Books, papers, and writing utensils are prized possessions.
Credit is due to the resilient local villagers that this particular school, and thousands like it, are able to operate. The value of education is clearly not lost on the villagers or their children. We were humbled and inspired as the girls giggled and proclaimed their love for school. For them, school is their escape. It is one of the few places they can go and just be happy, young girls. In this setting, they are not worried about childhood marriage nor do they have to think of raising children. They can ignore thoughts of caretaking and day laboring. It is a safe and happy place for them – a place where they receive an education, confidence, and hope.
Until recently, the schoolgirls and villagers at the Sundarban Girls Secondary School drank arsenic-laden water. The groundwater throughout Bangladesh has become increasingly polluted with arsenic in recent decades, making it unsafe to drink. Over 75 million Bangladeshis – close to half the population – have primary access to such contaminated water, putting their health at serious risk.[4] The World Health Organization has called this "the largest mass poisoning of a population in history."[5] Dhaka-based organizations work to provide sustainable filtration systems to high-need areas—among them, the Satkhira District of Bangladesh where Sundarban Girls Secondary School is located. As current Fulbright Public Policy Fellows, we crossed paths with dedicated Bangladeshis working to provide clean water throughout the country, and we jumped at the opportunity to get involved.
We traveled to Sundarban Girls Secondary School to help open a new sand filtration pump in the schoolyard. The Rotary Club of Dhaka and the Gulshan Ladies Club funded the project, in conjunction with the Asia Arsenic Network. The new sand pump, now fully operational, delivers completely clean drinking water to the girls of the school and their families. Each family pays ten taka (approximately $0.13) per month for unlimited access to the water for drinking purposes. This fee covers replacement and maintenance costs and provides a modest stipend to a local family who will organize payments and monitor filter usage.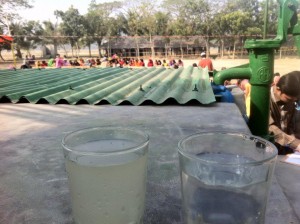 Both the secondary school itself and the sand filtration pump are incredible testaments to the resilience and determination of Bangladeshis. They are examples of local populations furnishing typical state-provided public goods to fulfill their own subsistence and development needs. These initiatives are needed because of institutionalized hurdles, such as the government's limited capacity to provide post-primary education, therefore forcing secondary education to be dependent on the persistent and organized efforts of local populations. Likewise, these initiatives are a de facto necessity in order to provide safe drinking water. In either case, it is a people-focused and people-driven method of development in rural areas where the government is not able, or not willing, to have an institutionalized presence. By providing these services for themselves, the villagers are building a stable and accountable environment and maintaining the ability to tailor public goods to community needs.
At the Sundarban Girls Secondary School, it was a privilege to witness such determined people working hard to provide a healthy and safe education environment to young girls. We will never forget the joy on the girls' faces as they told us about their favorite subjects and relished in the opportunity to practice their English. Undoubtedly, one of the greatest assets of Bangladesh is its people. From the eager students, to the socially conscious Dhaka donors, to the proud rice-growing fathers working tirelessly to keep their girls in school, this community is living proof that it truly does "take a village." Even better, having a well-organized village motivated by a common goal can lead to important, concrete achievements where the state is absent locally.
[1] As of 2011, the last available year of statistics, there are a total of 15,391 secondary schools in Bangladesh.  Of that total, 15,085 are private secondary schools and 306 are public.  "Table 3.1: Number of School, student and teacher by type and management, 2011," Bangladesh Bureau of Educational Information and Statistics, accessed January 23, 2013.
[2] Bangladesh Const. art. 17(a).
[3] United Nations International Covenant on Economic, Social, and Cultural Rights, art. 13(2)(b).
[4] Julie Steenhuysen, "Arsenic Could Kill Millions in Bangladesh," Reuters, June 18, 2010, accessed March 28, 2012.  

[5] AH Smith, E. Lingas, and M. Rahman, "Contamination of Drinking Water By Arsenic in Bangladesh: A Public Health Emergency," Bulletin World Health Organization 78 (2000); see also Steenhuysen, "Arsenic Could Kill Millions in Bangladesh," June 18, 2010.
Alison Horton and Roushani Mansoor are both Fulbright Public Policy Fellows placed in Bangladesh. Alison Horton is a Ph.D. candidate in the Geography Department at Rutgers University and is currently working for the Directorate of Secondary Education in the Ministry of Education. Her work in the Education Ministry has focused on the Female Secondary Education Stipend Project, a successful program that gives money to families to send their daughters to school. Roushani Mansoor holds a J.D. from the Washington College of Law at American University and is placed in the Ministry of Law, Justice, and Parliamentary Affairs. She has been assisting with the implementation of new civil and criminal alternative dispute resolution mechanisms.