The 2013 Edition of PRAXIS is here!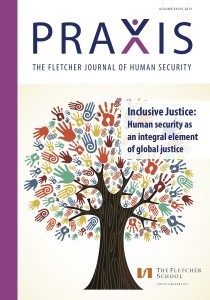 We are proud to announce the on-line publication of the journal's twenty-eighth edition, "Inclusive Justice: Human Security as an Integral Element of Global Justice."
PRAXIS: The Fletcher Journal of Human Security views the complexities of pressing global issues through a multidisciplinary lens. We believe that the security of individuals is best understood by drawing on the intersecting fields of human rights, conflict resolution, humanitarian assistance, and international development. This year we have modernized the journal by expanding our online presence with the PRAXIS blog, as well as developing a new logo and cover design. Along with these exciting new developments, PRAXIS remains fully dedicated to its primary mission as an academic journal, and we are pleased to present the twenty-­eighth edition of scholarly articles. This year's articles focus on different facets of inclusive global justice, with authors investigating  human-centric mechanisms of transitional justice, peace processes, and international development.
In our first article, Adan E. Suazo argues for the importance of long-term political inclusion of former combatants to prevent the reoccurrence of conflict. Through three  case studies, he investigates different political inclusion mechanisms contained in peace treaties and the ability of former warring parties to obtain electoral success in post-conflict. He concludes by defining the types of inclusive strategies that may be the most  conducive to peace by allowing parties a true opportunity to gain political power.
Moving from questions of peace to those of justice, S. Marie Miano presents a child-oriented approach to reparations in our next article. She highlights important identity characteristics of an individual–such as gender, age, and cultural context–that are  essential to understanding children's vulnerabilities and needs, and in turn determining an appropriate response. Her article provides legal clarity and specific policy recommendations for implementing and designing effective reparations for children.
Next, Lauren Marie Balasco imagines an International Criminal Court (ICC) that fully embraces human security. She describes the limitations of past ICC efforts and encourages the Court to increase focus on protecting and empowering those participating  in its proceedings, encouraging rule of law through its own commitment to fair trails, and  aligning its reparation efforts with larger development goals. Balasco argues that the ICC cannot ignore individual vulnerabilities in its quest for global justice.
The final article critiques traditional methods of international development and  advocates greater attention for innovative alternatives advanced in Latin America.  Author Tara Ruttenberg explains how the concepts of wellbeing economics and buen vivir (living well) can be operationalized to advance more inclusive development. She cautions that major structural impediments from neoliberal policies remain, but she champions the endogenous buen vivir movement and its insights into community-­led,  human-­centric development.
This edition also includes two Views from the Field, which provide an on-­the-­ground perspective from practitioners. Evan Thomas Rees describes the unsettling war tourism  that  exists in an isolated district in Sri Lanka where he works. He ponders the identity struggles of Tamil Sri Lankans and the ghosts of ethnic conflict. Madeeha Ansari takes us  into urban Pakistani classrooms, revealing the dreams and hopes of children everywhere.
We extend special thanks to Peter Uvin, the out-­going Academic Dean of the Fletcher School of Law and Diplomacy, and the Founder and Director of the Fetcher Institute for Human Security, for over a decade of dedicated commitment to PRAXIS. He will be deeply missed. We are also grateful to all our authors for their hard work, innovative ideas, and cooperation during a surprisingly seamless editing process. Finally, we thank  our editing and marketing staff for their constant support throughout the year.