Post-doc position in plant microbiome ecology/evolution in the Wolfe Lab @ Tufts University (Boston Area)
The Wolfe lab in the Department of Biology at Tufts University (https://sites.tufts.edu/wolfelab/) is seeking a post–doc to start in April 2018 (start date flexible). Our lab studies the ecology and evolution of microbial communities, using tractable microbial communities isolated from food (cheese, kimchi, fermented tea) as model systems.
This position is funded by a grant from the NSF/USDA Plant-Biotic Interactions program to study the assembly of microbial communities on cabbage leaves (more here). Using field experiments across New England and lab experiments with gnotobiotic cabbages, the post-doc will identify the ecological and evolutionary processes that shape the diversity of the cabbage phyllosphere microbiome. The project also seeks to identify links between cabbage phyllosphere microbiome assembly and fermentation outcomes.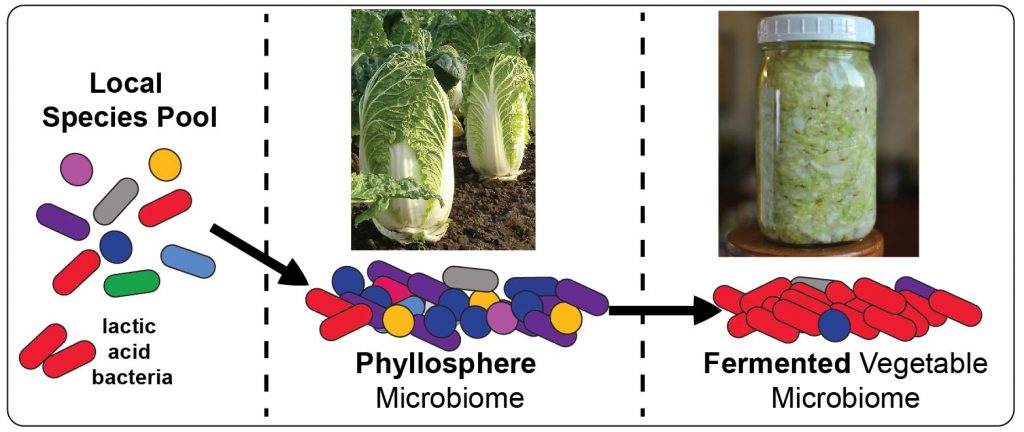 The ideal candidate will be a creative, independent, and integrative scholar with interests in discovering the ecological and evolutionary processes that generate microbiome diversity. She/he will have the following:
a PhD in microbiology, ecology/evolution, plant pathology, or biology
experience in plant microbiomes or plant-microbe interactions

experience generating and analyzing next-generation sequencing datasets

a track record of supporting an engaging, thoughtful, and collaborative lab environment
This position also provides ample opportunities for the post–doc to develop teaching/outreach skills. Our accessible and engaging model systems provide powerful tools to promote microbial literacy in the college classroom as well as in our local communities (https://sites.tufts.edu/wolfelab/open-lab/). Members of the lab communicate their science through social media, writing for online publications, and by developing novel public outreach experiences.
The Wolfe lab is based in a newly renovated lab space associated with the Tufts University Medford Campus. In addition to diverse research being conducted in the Department of Biology that spans the entire breadth of biology (http://ase.tufts.edu/biology/), the Sackler School of Graduate Biomedical Sciences at the Tufts Medical School has an outstanding group of microbiologists (http://bit.ly/WDvgqA). There are also numerous potential collaborators and resources at the Tufts Friedman School of Nutrition and the Cummings School of Vet Medicine. The academic community in the Greater Boston Area has an unprecedented collective wealth of resources in microbiology, ecology, and evolution.
To apply, email Dr. Benjamin Wolfe (benjamin.wolfe@tufts.edu) with: 1) a short description of why you are interested in and qualified for the position, 2) a CV listing peer-reviewed publications, skills, and research experiences, and 3) the names and contact information for three references. Applications will be considered as they are received. For full consideration, apply on or before March 1st, 2018.