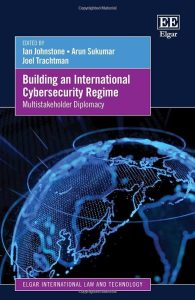 Ian Johnstone, Joel Tratchman, and Josephine Wolff : Building an International Cybersecurity Regime (2023)
This book provides a much-needed study on cybersecurity regime building, this comprehensive book is a detailed analysis of cybersecurity norm-making processes and country positions, through the lens of multi-stakeholder diplomacy. Multidisciplinary and multinational scholars and practitioners use insights drawn from high-level discussion groups to provide a rigorous analysis of how major cyber powers view multi-stakeholder diplomacy.
Looking at how past cybersecurity initiatives and multi-stakeholder negotiations in other fields illuminate its dynamics, this book will help put states" approaches towards multi-stakeholder cyber diplomacy into perspective, and frame the role of private actors in cybersecurity regime building. Evaluating the most promising institutional arrangements and mechanisms for implementing cybersecurity, this book combines top-down analyses relevant to the design of international cybersecurity regimes with bottom-up case studies, tracing the approaches of important states towards multi-stakeholder participation in cyber diplomacy.
With a wealth of policy-relevant findings, this book will be welcomed by practitioners and scholars of international law, international organization and international cybersecurity as well as multi-stakeholder governance and multilateral regimes. Policymakers and diplomats involved in international cybersecurity processes will also benefit from its cutting-edge comparative analysis of the approaches of key cyber powers.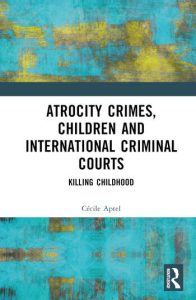 Cecile Aptel: Atrocity Crimes, Children and International Criminal Courts: Killing Childhood (2023)
Atrocity Crimes, Children and International Criminal Courts reviews the practices and jurisprudence of different international and hybrid criminal jurisdictions in the consideration of crimes committed against or by children, starting with the Nuremberg and Tokyo tribunals, and on to the International Criminal Court. The book elucidates the many legal, structural and other obstacles that have contributed to the experience of adults being the main focus of these courts, rendering children almost invisible. The exception to this trend, as analyzed in the book, is cases concerning child-soldiers. But this has been at the cost of obscuring the myriad of other ways children suffer from atrocity crimes.  
Whilst the trend of international criminal courts paying only limited and inconsistent attention to the suffering of children may be changing, following the investigation by the International Criminal Court of President Putin and one of his senior advisors for war crimes for the illegal transfer of children from Ukraine to Russia, there is still a long way in recognizing that, all around the World, many of the victims and witnesses of atrocities are children, and that, as children, they have specific rights, perspectives and needs which cannot merely be subsumed under those of adults. The book calls for international investigative and prosecutorial strategies to be less adult-centric and for a broadening of the scope of crimes against children beyond the focus on child-soldiers.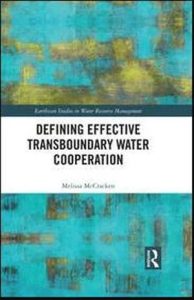 McCracken, Melissa "Defining Effective Transboundary Water Cooperation" (2022)
This book establishes a framework for defining transboundary water cooperation and a methodology for evaluating its effectiveness, which will contribute to more effective and therefore successful cooperation processes.
With the increasing focus on transboundary cooperation as a part of the Sustainable Development Goal Framework, there is global recognition of transboundary water cooperation as a tool for improved governance and management of transboundary surface and groundwaters. However, there is not an agreed upon definition of transboundary water cooperation in the literature or in practice. This book develops the Four Frames of Transboundary Water Cooperation, which is a neutral modular framework for developing context-specific explanatory definitions of transboundary water cooperation in basins and aquifers. The Four Frames of Cooperation are legal, institutional, relational, and outcome. However, we need to move beyond defining cooperation to understand better measures of the quality and effectiveness of cooperative processes. The Weighted Model of Effective Cooperation presents a first step in qualitatively evaluating the effectiveness of transboundary water cooperation. This model defines effective transboundary water cooperation and operationalizes a method to evaluate the effectiveness of cooperative processes over internationally shared waters. Effective cooperation emphasizes the relational and outcome frames of cooperation while working towards equitability and sustainability. Together, the Four Frames of Cooperation and the Weighted Model of Effective Cooperation will improve the understanding of cooperation and encourage a detailed evaluation of the quality, success, and effectiveness of cooperative processes.
This book will be of great interest to students and scholars of water resource management, water governance, and environmental politics. It will also appeal to policymakers and professionals working in the fields of water conflict, water diplomacy, and international cooperation.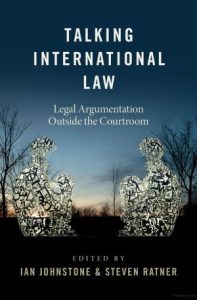 Edited by Johnstone, Ian & Ratner, Steven, "Talking International Law, Legal Argumentation Outside of the Classroom" (2021)
In a decentralized global system that lacks the formal trappings of domestic governance systems, most disputes between and among states and non- state actors never reach either a domestic or an international courtroom for some kind of authoritative resolution. This state of affairs continues, even with the creation of new international tribunals in recent decades. Despite, indeed because of, the relative scarcity of judicial settlement of disputes, international legal argumentation remains pervasive, but notably in a range of nonjudicial settings. States, corporations, nongovernmental organizations (NGOs), and even guerrilla groups make claims in international legal terms in political bodies like the United Nations' organs or domestic parliaments, private diplomatic discussions, and public statements in formal and informal settings. What purpose does such argumentation serve? What are its effects, intended and unintended? Who is engaging in the argumentation? Who is the audience? What, for that matter, counts as a legal argument and how is it different from other kinds of argument? These questions are not all new, but they have never been addressed systematically in one volume. Answering them is critical to a central goal for scholars and practitioners of international law and relations- to understand how international law actually operates in international affairs. This book probes these and other questions related to the place of international legal arguments from a multi- perspectival lens. It brings together a group of scholars and practitioners from around the world who have either written about or engaged in international legal argumentation outside of courtrooms. We draw on various theoretical traditions that address the phenomenon of argumentation in international affairs, either as an element of legal theory or of international relations theory. Yet our approach is largely inductive, looking at the actual practice of legal argumentation in a variety of settings and issue areas. From the cases, we seek to identify patterns and common themes in why, where, how, and to what effect the language of law is used outside of courts. This fills a significant gap in scholarship on international law and international relations by exploring the micro- process of communication using international law.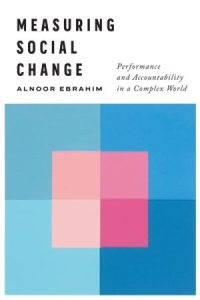 Ebrahim, Alnoor, "Measuring Social Change" (2019)
The social sector is undergoing a major transformation. We are witnessing an explosion in efforts to deliver social change, a burgeoning impact investing industry, and an unprecedented intergenerational transfer of wealth. Yet we live in a world of rapidly rising inequality, where social sector services are unable to keep up with societal need, and governments are stretched beyond their means.
Alnoor Ebrahim addresses one of the fundamental dilemmas facing leaders as they navigate this uncertain terrain: performance measurement. How can they track performance towards worthy goals such as reducing poverty, improving public health, or advancing human rights? What results can they reasonably measure and legitimately take credit for? This book tackles three core challenges of performance faced by social enterprises and nonprofit organizations alike: what to measure, what kinds of performance systems to build, and how to align multiple demands for accountability. It lays out four different types of strategies for managers to consider—niche, integrated, emergent, and ecosystem—and details the types of performance measurement and accountability systems best suited to each. Finally, this book examines the roles of funders such as impact investors, philanthropic foundations, and international aid agencies, laying out how they can best enable meaningful performance measurement.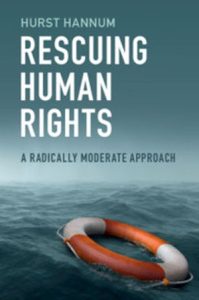 Hannum, Hurst, "Rescuing Human Rights: A Radically Moderate Approach" (2019)
The development of human rights norms is one of the most significant achievements in international relations and law since 1945, but the continuing influence of human rights is increasingly being questioned by authoritarian governments, nationalists, and pundits. Unfortunately, the credibility of human rights is undermined by the proliferation of new rights, the linkage of rights to other issues such as international crimes or the activities of business, and the attempt to address every social problem from a human rights perspective. Rescuing Human Rights calls for understanding human rights as international human rights law and maintaining the distinctions between binding legal obligations on governments and broader issues of ethics, politics, and social change. Resolving complex social problems requires more than simplistic appeals to rights and adopting a "radically moderate" approach that recognizes both the potential and the limits of international human rights law offers the best hope of preserving the principle that we all have rights, simply because we are human.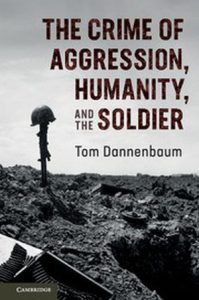 Dannenbaum, Tom, "The Crime of Aggression, Humanity, and the Soldier" (2018)
The international criminality of waging illegal war, alongside only a few of the gravest human wrongs, is rooted not in its violation of sovereignty, but in the large-scale killing war entails. Yet when soldiers refuse to kill in illegal wars, nothing shields them from criminal sanction for that refusal. This seeming paradox in law demands explanation. Just as soldiers have no right not to kill in criminal wars, the death and suffering inflicted on them when they fight against aggression has been excluded repeatedly from the calculation of post-war reparations, whether monetary or symbolic. This, too, is jarring in an era of international law infused with human rights principles. Tom Dannenbaum explores these ambiguities and paradoxes and argues for institutional reforms through which the law would better respect the rights and responsibilities of soldiers.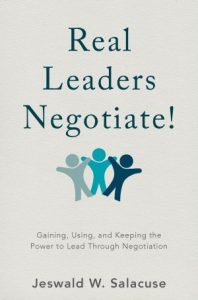 Salacuse, Jes W. "Real Leaders Negotiate! Gaining, Using, and Keeping the Power to Lead Through Negotiation" (2017)
This book examines the central role of negotiation in gaining, exercising, and retaining leadership within organizations, large and small, public and private. Its aim is to instruct readers on the way to use negotiation to lead effectively.
For far too long conventional wisdom has proposed that strong leaders refuse to negotiate, viewing negotiation as a sign of weakness.  Leading people requires charisma, vision, and a commanding presence, not the tricks for making deals. For many executives, negotiation is a tool to use outside the organization to deal with customers, suppliers, and creditors. Inside the organization, it's strictly "my way or the highway."
Salacuse explains that leaders can increase their effectiveness by using negotiation in each of the three phases of the leadership lifecycle: 1) leadership attainment, 2) leadership action; and 3) leadership preservation and loss. Drawing on experience in wide variety of settings, including the author's own
leadership positions, the book will examine high profile leadership cases such as the rise and fall of Carly Fiorina at Hewlett-Packard, the skillful negotiations by Warren Buffet to save Salomon Brothers from extinction, and the successful efforts by the partners at Goldman Sachs to negotiate a new vision and direction for that financial giant.
Leaders and managers should pick up this book to learn how effective negotiation is essential to both gaining and exercising leadership and to overcoming threats to a leader's position.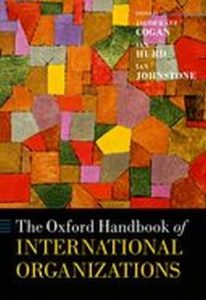 Jacob Katz Cogan, Ian Hurd, Ian Johnstone, "The Oxford Handbook of International Organizations" (2016)
Virtually every important question of public policy today involves an international organization. From trade to intellectual property to health policy and beyond, governments interact with international organizations (IOs) in almost everything they do. Increasingly, individual citizens are directly affected by the work of IOs. This book gives an overview of the world of IOs today. It emphasizes both the practical aspects of their organization and operation, and the conceptual issues that arise at the junctures between nation-states and international authority, and between law and politics. While the focus is on inter-governmental organizations, the book also encompasses non-governmental organizations and public policy networks. The book first considers the main IOs and the kinds of problems they address. This includes chapters on the organizations that relate to trade, humanitarian aid, peace operations, and more, as well as chapters on the history of IOs. The book then looks at the constituent parts and internal functioning of IOs. The text also addresses the internal management of the organization and includes chapters on the distribution of decision-making power within the organizations, the structure of their assemblies, the role of Secretaries-General and other heads, budgets and finance, and other elements of complex bureaucracies at the international level.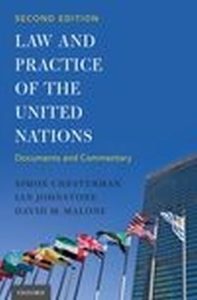 Chesterman, Simon, Ian Johnstone, and David M. Malone, "Law and Practice of the United Nations", (2016)
This book combines primary materials with expert commentary, demonstrating the interaction between law and practice in the UN organization, as well as the possibilities and limitations of multilateral institutions in general. Each chapter begins with a short introductory essay by the authors that describes how the documents that follow illustrate a set of legal, institutional, and political issues relevant to the practice of diplomacy and the development of public international law through the United Nations. This second edition updates the materials in the first edition and introduces new features that reflect a changing global landscape. An additional feature is the inclusion of hypothetical fact scenarios to test the understanding of concepts in each chapter. This edition contains more author commentary with the usual emphasis on primary materials. Such materials enable a realistic presentation of the work of international diplomacy; the negotiation, interpretation, and application of such texts is an important part of what actually takes place at the United Nations and other international organizations.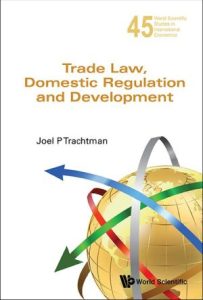 Trachtman, Joel "Trade Law, Domestic Regulation and Development" (2015)
Trade Law, Domestic Regulation and Development is about the relationship between trade, regulation and development. By combining law and economics perspectives on the international trading system, Trachtman takes an interdisciplinary approach in analyzing the topic of globalization and economic development.
In a developing economy, as globalization proceeds, a critical factor is the relationship between liberalization of movement of goods, services, and people, on the one hand, and the right to regulate, including the right to regulate for development, on the other hand. In the context of market access, all countries need the right to restrict imports of goods or services that may hurt consumers or the broader society, and developing countries sometimes need the ability to subsidize their own goods and services, or sometimes to restrict imports of goods or services, in order to promote development. Nonetheless, both developed and developing countries often fall into the trap of regulating for protectionist or corrupt reasons. Finding the right balance between market access and regulation is the subject of analysis in this collected volume of 16 papers by Trachtman, and presented in a manner that is accessible and interesting to both law and economics readers. In Trachtman's own words, "The purpose of [international] trade law in this context [globalization] seems to be to allow states to agree to avoid creating these inefficient policy externalities, not to force all states to dance to the same tune."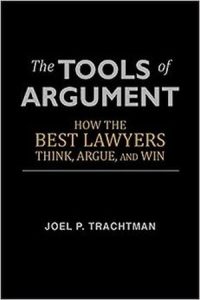 Trachtman, Joel, "The Tools of Argument: How the Best Lawyers Think, Argue, and Win" (2015)
Joel Trachtman's book presents in plain and lucid terms the powerful tools of argument that have been honed through the ages in the discipline of law. If you are a law student or new lawyer, a business professional or a government official, this book will boost your analytical thinking, your foundational legal knowledge, and your confidence as you win arguments for your clients, your organizations or yourself.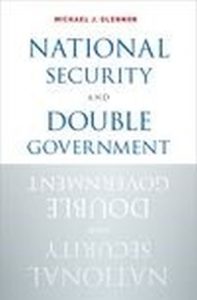 Glennon, Michael J., "National Security and Double Government" (2014)
Why has U.S. national security policy scarcely changed from the Bush to the Obama administration? And why does it matter? The theory of "double government" posed by the nineteenth-century English scholar Walter Bagehot suggests a disquieting answer. The public is encouraged to believe that the visible, "Madisonian institutions"—the presidency, Congress, and the courts—make security policy. That belief sustains these institutions' legitimacy. Yet their authority is largely illusory. Presidential control is nominal, congressional oversight is dysfunctional, and judicial review is negligible. National security policy is made, instead, by a "Trumanite network" of several hundred members that is largely concealed from public view. These officials manage the military, intelligence, diplomatic, and law enforcement agencies that are responsible for protecting the nation. Their primacy is the result not of some nefarious or even purposeful plotting, but rather of structural incentives imbedded deep within the American political system. The Trumanites provide needed expertise, quick-footedness, institutional memory, and policy stability. Their ascendancy is the main reason for the continuity of national security policy. Yet the Trumanites' dominance threatens democratic accountability, for the U.S. Constitution's restraints operate primarily upon the hollowed-out Madisonian institutions, not the Trumanite network. The press and public opinion cannot fill the void; both are too manipulable, and their vitality depends upon robust Madisonian institutions powered by an informed and engaged electorate. Instead, widespread political ignorance prevails—and becomes more acute as Madisonian influence declines. The net result is a secretive, unrestrained, and expanding security apparatus that poses a grave threat to democracy.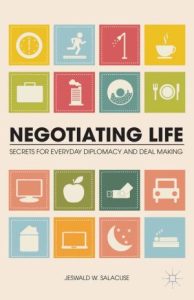 Salacuse, Jes W. "Negotiating Life; Secrets for Everyday Diplomacy and Deal Making" (2013)
A complement to the successful The Global Negotiator: Making, Managing, and Mending Deals Around the World in the Twenty-First Century (Palgrave, 2003), Salacuse's new work is a comprehensive and easy-to-understand look at negotiation in everyday life. Drawing from his extensive experience around the world, Salacuse applies such large-scale examples as the Arab-Israeli conflicts or those in Berlin and shows us how to use such strategies in our own lives, from family and home life to business and the workplace, even to our own thoughts as we negotiate compromises and agreement with ourselves. Arguing that life is really a series of negotiations, deal making, and diplomacy, Salacuse gives readers the tools to make the most of any situation.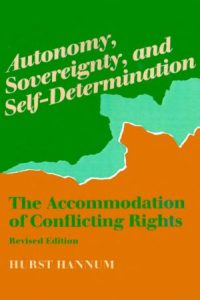 Hannum, Hurst, "Autonomy, Sovereignty, and Self-Determination: The Accommodation of Conflicting Rights" (1990)
Demands for "autonomy" or minority rights have given rise to conflicts, often violent, in every region of the world and under every political system. Through an analysis of contemporary international legal norms and an examination of several specific case studies-including Hong Kong, India, the transnational problems of the Kurds and Saamis, Nicaragua, Northern Ireland, Spain, Sri Lanka, and the Sudan-this book identifies a framework in which ethnic, religious, and regional conflicts can be addressed.
BOOK CHAPTERS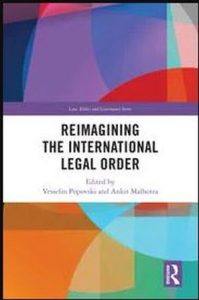 Johnstone, Ian, Chapter titled "Pluralism in International Organisations" in Book: "Reimagining the International Legal Order" (2023)
In this chapter, the author focuses on international organisations as mechanisms for managing pluralism. He turns to a case study of COVID-19 to illustrate both how the pluralism plays out in international organisations and how deliberation in international organisations offers a way of managing the tensions these different forms of pluralism create. The most obvious form of pluralism in the international system is multipolarity. Most international organisations are thought of as venues for reducing the tensions inherent in pluralism, not for embracing it. Pluralism both complicates the work of international organisations and makes it more important. Joining an IO and participating in its activities, even if only by paying lip service to its constitutive act, can generate a shared frame of reference to help manage the tensions and conflicts that are inherent in any society, including international society.