Faculty Directors
Ian Johnstone is Professor of International Law at the Fletcher School of Law and Diplomacy. From 2018 -2019 he served as Dean ad interim. From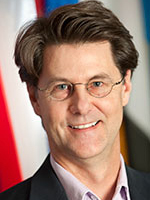 2013 to 2015, he was the Academic Dean at the School.
Prior to joining Fletcher in 2000, Johnstone served in the United Nations' Executive Office of the Secretary-General and Department of Peacekeeping Operations. He continues to work as an occasional consultant to the United Nations.
His most recent books include Research Handbook on Peace Operations and International Law (editor, Edward Elgar Publishing, forthcoming 2020); The Oxford Handbook on International Organizations (co-editor, Oxford University Press, 2016); Law and Practice of the United Nations, Second edition (co-author, Oxford University Press, 2016); and The Power of Deliberation: International Law, Politics and Organizations (Oxford University Press, 2011).
From 2005-2007, he was the lead author and founding editor of the Annual Review of Global Peace Operations. He is currently on the editorial boards of Global Governance Journal and International Organizations Law Review. He is also a Non-Resident Senior Fellow at the Center on International Cooperation, New York University and a Member of the International Advisory Board of the International Peace Institute.
A citizen of Canada, Johnstone holds an LL.M. degree from Columbia University and J.D. and B.A. degrees from the University of Toronto.
Joel P. Trachtman is Professor of International Law at The Fletcher School of Law and Diplomacy. Recent books include "The Future of International Law: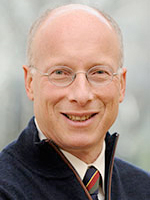 Global Government" (Cambridge 2013), "The Tools of Argument" (Createspace 2013)," The International Law of Economic Migration: Toward the Fourth Freedom" (Upjohn Institute 2009); "Ruling the World: Constitutionalism, International Law, and Global Governance" (Cambridge 2009); "Developing Countries in the WTO Legal System" (Oxford 2009); and "The Economic Structure of International Law" (Harvard 2008).
Prof. Trachtman has served as a member of the Boards of the American Journal of International law, the European Journal of International Law, the Journal of International Economic Law, the Cambridge Review of International Affairs, and the Singapore Yearbook of International Law. He has consulted for a number of governments and international organizations, including the United Nations, the World Bank, and the OECD. From 1998 to 2001, he was Academic Dean of The Fletcher School, and during 2000 and 2001, he served as Dean ad interim. He graduated in 1980 from Harvard Law School, where he served as editor in chief of the Harvard International Law Journal, and practiced in New York and Hong Kong for 9 years before entering academia.
Faculty Affiliates
Eileen F. Babbitt is Professor of Practice of International Conflict Management and Co-Director of the Program on Human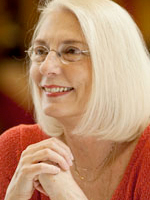 Rights and Conflict Resolution at The Fletcher School of Law and Diplomacy. She is also a Faculty Associate of the Program on Negotiation at the Harvard Law School. Her research interests include identity-based conflicts, coexistence and trust-building in the aftermath of civil war, and the interface between human rights concerns and peace building. Her practice as a facilitator and trainer has included work in the Middle East, the Balkans, and with the United Nations, U.S. government agencies, regional inter-governmental organizations, and international and local NGOs. Before joining Fletcher, Professor Babbitt was Director of Education and Training at the U.S. Institute of Peace in Washington, D.C. and Deputy Director of the Program on International Conflict Analysis and Resolution at the Weatherhead Center for International Affairs, Harvard University. Professor Babbitt's latest publications include: "Preventive Diplomacy by Intergovernmental Organizations: Learning from Practice," International Negotiation (2012); "Conflict Resolution as a Field of Inquiry: Practice Informing Theory," with Fen Osler Hampson, International Studies Review (2011); and Human Rights and Conflict Resolution in Context, co-edited with Ellen Lutz, Syracuse University Press (2009). Professor Babbitt holds a Master's Degree in Public Policy from the Kennedy School of Government at Harvard University, and a PhD from MIT.
John A. Burgess, Professor of Practice and Executive Director of the LLM Program, teaches courses on law of the sea and cross-border mergers and acquisitions.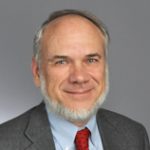 Prior to his retirement in 2013, Burgess practiced law at the global law firm of Wilmer Cutler Pickering Hale and Dorr for 37 years, and during that time chaired the firm's corporate and international practice groups, as well as serving on its Management Committee. He has represented for-profit, NGO, and university clients in a range of transactions throughout Western Europe, Asia, and the Middle East. He is listed in Best Lawyers in America and Massachusetts "Super Lawyers" in areas of international trade, finance, mergers and acquisitions, and securities law. A graduate of Yale University (B.A. in history) and Harvard Law School (JD), he is a member of the Council on Foreign Relations, a Fellow of Branford College at Yale University, an Overseer at WBUR-FM and former President of the Massachusetts Foundation for the Humanities. Burgess has lectured on international mergers and securities law at the University of Iowa and Peking University School of Transnational Law and is a permanent lecturer at St. Gallen University.
John Cerone holds faculty appointments at The Fletcher School of Law and Diplomacy, American University Washington College of Law, and the University of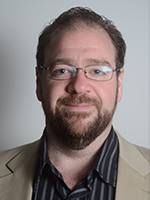 London. Prior faculty appointments have included the Paul Martin Senior Professorship in International Affairs & Law at the University of Windsor Faculty of Law, and Visiting Chair in Public International Law at Lund University Faculty of Law. He has been awarded fellowships at the Nobel Institute (Oslo), the Max Planck Institute for Comparative Public Law and International Law (Heidelberg), and the Raoul Wallenberg Institute (Lund) where he served as the Distinguished Chair in Human Rights & Humanitarian Law. He has been a visiting scholar at the International Criminal Court, and a Fulbright scholar at both the Danish Institute for Human Rights and the Tokyo University of Foreign Studies. As a practicing international lawyer, he has worked for a number of IGOs and NGOs, including the UN, the OSCE, the International Secretariat of Amnesty International, the Norwegian Refugee Council, and the International Crisis Group, and has served as a legal adviser to various international criminal tribunals. He also has extensive field experience in conflict and post-conflict environments, including in Afghanistan, Kosovo, Sierra Leone, and East Timor. He is an elected member of the International Institute of Humanitarian Law (IIHL) and has served on a number of expert groups for the International Committee of the Red Cross (ICRC) and for the Office of the UN High Commissioner for Human Rights. He served as Special Adviser to the first U.S. delegation to the UN Human Rights Council. He received the President's Award of the Boston Bar Association for his legal work on Guantanamo Bay issues, which includes representing human rights organizations in detainee litigation before U.S. courts and international human rights institutions. He has lectured at the IIHL (Sanremo), NATO Headquarters, the Institut International des Droits de l'Homme, the Inter-American Defense College, the Canadian Forces Staff College, the Swedish Defense University, the Academy on Human Rights & Humanitarian Law (AU WCL), and in the ICRC Annual Course, and has been keynote speaker at the U.S. Naval War College and at the 2016 UNDP Transitional Justice Conference in Kathmandu. He has taught in over 40 countries across all regions of the globe and is the author of dozens of articles and book chapters on international law, as well as the casebook "Public International Law: Cases, Problems, and Texts," (with Stephen McCaffrey and Dinah Shelton).
Antonia Chayes is Professor of Practice in International Politics and Law at The Fletcher School.  During the Carter Administration she was Assistant and later,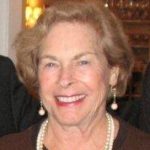 Under Secretary of the US Air Force, where she was awarded the Distinguished Service Medal. She has served on several Federal Commissions, including the Vice President's White House Aviation Safety and Security Commission, and the Commission on Roles and Missions of the United States Armed Forces. Chayes was Vice Chair of Conflict Management Group (CMG), an international nonprofit dispute resolution organization. She mediated corporate disputes for JAMS/Endispute. As Board member of United Technologies Corporation for 21 years, she chaired its Public Issues Review Committee, and served on its Executive Committee until retiring in 2002. She has also practiced law in a Boston law firm. She taught at the Harvard Kennedy School of Government and Law School. She is a member of the Council on Foreign Relations and served on the Executive Council of the American Society of International Law.
She is the author of a number of books and articles. Her new book "Borderless Wars: Civil-Military Disorder and Legal Uncertainty", published by Cambridge University Press, received a 2016 PROSE award in the law category of the American Society of Publishers. Her book, "The New Sovereignty" (Harvard U. Press 1995 with Abram Chayes has been often used and cited academically. Her most recent articles include, Chapter VII1/2 :Is Jus Post Bellum Possible? (24 Eur. Jnl. Int. Law (2013); and How American Treaty Behavior Threatens National Security (33 International Security, 45 2008). "), with chapters published in the Harvard National Security Journal. She received her B.A. from Harvard (Radcliffe), attended Yale Law School, and received the J.D. from George Washington University. She was honored with the Radcliffe Alumnae Award in recognition of her career of distinguished service.
Diana Chigas is Professor of the Practice of International Negotiation and Conflict Resolution at The Fletcher School of Law and Diplomacy and also serves as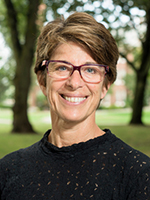 Senior International Officer and Associate Provost at Tufts University. As Senior International Officer, she is also responsible for leading the development and realization of a university-wide global strategy. Prior to joining the Provost's office, Diana was also director of the Reflecting on Peace Practice program and co-director of collaborative learning at CDA, a non-governmental organization dedicated to working with development, humanitarian and peacebuilding practitioners, as well as the private sector, to improve the effectiveness of international assistance in fragile and conflict-affected contexts. At CDA, Diana focused on systemic approaches to conflict analysis, the role and impact of the private sector in peacebuilding, and strategic planning, reflection and evaluation to improve the impact of peace programming. Diana was a contributor to the 2012 OECD DAC guidelines on evaluation of conflict prevention and peacebuilding, and to guidance for DFID on guidance on evaluation of peacebuilding and conflict sensitivity. Diana has over 25 years of experience as a facilitator and consultant in negotiation and conflict resolution. Her work has included development of strategies, training and advice on preventive diplomacy in the OSCE, training for the United Nations and several regional organizations, "track two" dialogue in El Salvador, in South Africa, Ecuador and Peru and in the Georgia/South Ossetia peace process, and facilitation of inter-ethnic dialogue in Cyprus. Her current research interests include cumulative impacts of peacebuilding and understanding the dynamics of corruption in conflict-affected and fragile contexts in order to develop more effective anti-corruption programming. Through the Institute for Human Security at the Fletcher School, Diana currently co-leads with Cheyanne Scharbatke-Church research in Uganda, DR Congo and Central African Republic on corruption in the criminal justice sector and its relationship to state legitimacy.
Tom Dannenbaum is Assistant Professor of International Law. He writes on international law, focusing primarily on the laws of war, the law on the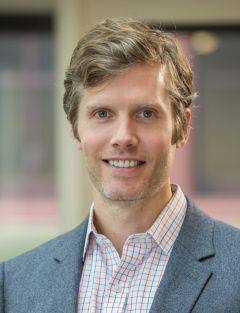 use of force, international criminal law, shared responsibility, and international judging. He has also written on peace negotiations, terrorist strategy, reparations, and the philosophy of international punishment. Dannenbaum's book—The Crime of Aggression, Humanity, and the Soldier—was published by Cambridge University Press in 2018, and his articles have appeared in a range of leading journals, including the Yale Law Journal, the European Journal of International Law, International & Comparative Law Quarterly, the Harvard International Law Journal, and Security Studies. His article, "Why Have We Criminalized Aggressive War?", was awarded the Lieber Prize by the American Society of International Law, and his work on accountability for peacekeeper abuses has been cited by the International Law Commission and the Hague Court of Appeals in the Netherlands. Dannenbaum holds a PhD in politics from Princeton, a JD from Yale, and a BA from Stanford. Prior to joining Fletcher in 2017, he was Lecturer in Human Rights at University College London and Visiting Lecturer in Law and Robina Foundation Visiting Human Rights Fellow at Yale Law School.
Daniel W. Drezner is Professor of International Politics, a nonresident senior fellow at the Brookings Institution, and a contributing editor at the Washington Post.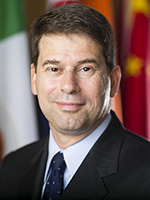 Prior to joining The Fletcher School of Law and Diplomacy, he taught at the University of Chicago and the University of Colorado at Boulder. He has previously held positions with Civic Education Project, the RAND Corporation and the U.S. Department of the Treasury, and received fellowships from the German Marshall Fund of the United States, Council on Foreign Relations, and Harvard University. Drezner has written five books, including All Politics is Global and Theories of International Politics and Zombies, and edited two others, including Avoiding Trivia. He has published articles in numerous scholarly journals as well as in the New York Times, Wall Street Journal, Politico, and Foreign Affairs, and has been a contributing editor for Foreign Policy and The National Interest. He received his B.A. in political economy from Williams College and an M.A. in economics and PhD in political science from Stanford University. His blog for Foreign Policy magazine was named by Time as one of the 25 best blogs of 2012, and he currently writes the "Spoiler Alerts" blog for the Washington Post. His latest book, The System Worked: How the World Stopped Another Great Depression, was published by Oxford University Press in June 2014.
Alnoor Ebrahim is a Professor at The Fletcher School of Law and Diplomacy. His research examines the challenges of performance measurement, accountability,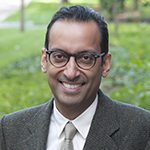 and governance facing organizations with a social purpose. He teaches courses on Leadership, International Business Strategy, and Managing NGOs and Social Enterprises. He also co-chairs the Schwab Social Entrepreneurs executive education program at the Harvard Kennedy School. Professor Ebrahim recently served on a working group established by the G8 to create global guidelines on measuring social impact, and continues to serve on an advisory board of the Global Impact Investing Network. He has worked with the NGO Leaders Forum, an annual gathering of CEOs of the largest humanitarian development organizations based in the US. His previous research on accountability mechanisms within the World Bank led to a Congressional Testimony on improving the Bank's information disclosure policy. Alnoor is author of the award-winning book, "NGOs and Organizational Change: Discourse, Reporting, and Learning," and is co-editor of "Global Accountabilities: Participation, Pluralism, and Public Ethics," (both with Cambridge University Press). He is presently working on a new book, "Measuring Social Change," (Stanford University Press)
Kelly Sims Gallagher is Professor of Energy and Environmental Policy at The Fletcher School, Tufts University.  She directs the Climate Policy Lab and the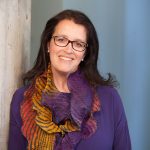 Center for International Environment and Resource Policy at Fletcher.  From June 2014 – September 2015 she served in the Obama Administration as a Senior Policy Advisor in the White House Office of Science and Technology Policy, and as Senior China Advisor in the Special Envoy for Climate Change office at the U.S. State Department.  Gallagher is a member of the board of the Belfer Center for Science and International Affairs at Harvard University.  She is also a faculty affiliate with the Harvard University Center for Environment.  She is a member of the Executive Committee of the Tyler Prize for Environmental Achievement and she also serves on the board of the Energy Foundation.
Broadly, she focuses on energy and climate policy in both the United States and China.  She specializes in how policy spurs the development and deployment of cleaner and more efficient energy technologies, domestically and internationally.  A Truman Scholar, she has a MALD and PhD in international affairs from The Fletcher School, and an AB from Occidental College.  She speaks Spanish and basic Mandarin Chinese, and is a member of the Council on Foreign Relations. She is the author of China Shifts Gears: Automakers, Oil, Pollution, and Development (The MIT Press 2006), editor of Acting in Time on Energy Policy (Brookings Institution Press 2009), The Global Diffusion of Clean Energy Technologies: Lessons from China (MIT Press 2014), and numerous academic articles and policy reports.
Carolyn F. Gideon is Assistant Professor of International Communication and Technology Policy. She is also Director of the Hitachi Center for Technology and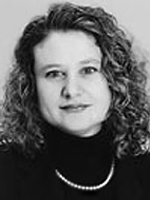 International Affairs. Gideon's research focus is policy, access, and industry structure issues of information and communication technology. She has been a Fellow at the Belfer Center for Science and International Affairs and at the Center for Business and Government at Harvard Kennedy School, and a research affiliate with the MIT Program on Internet and Telecoms Convergence. Past experience includes Asst. Vice President of Parker/Hunter Incorporated, Manager of Manville Personal Injury Settlement Trust, and Consultant with Strategic Planning Associates (now Mercer Management Consulting). She is a member of the International Telecommunication Society, International Communications Association, Society for Benefit Cost Analysis, and President-Elect of the Transportation and Public Utility Group of the American Economic Association.
Michael J. Glennon is Professor of International Law. Prior to going into teaching, he was Legal Counsel to the Senate Foreign Relations Committee (1977-1980).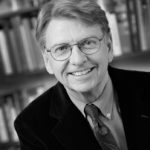 He has since been a Fulbright Distinguished Professor of International and Constitutional Law, Vytautus Magnus University School of Law, Kaunas, Lithuania (1998); a Fellow at the Woodrow Wilson International Center for Scholars in Washington D.C. (2001-2002); Thomas Hawkins Johnson Visiting Scholar at the United States Military Academy, West Point (2005); Director of Studies at the Hague Academy of International Law (2006); and professeur invité at the University of Paris II (Panthéon-Assas) from 2006 to 2012.
Professor Glennon has served as a consultant to various congressional committees, the U.S. State Department, and the International Atomic Energy Agency. He is a member of the American Law Institute, the Council on Foreign Relations, and the Board of Editors of the American Journal of International Law. Professor Glennon is the author of numerous articles on constitutional and international law as well as several books. He has testified before the International Court of Justice and congressional committees. A frequent commentator on public affairs, he has spoken widely within the United States and abroad and appeared on Nightline, the Today Show, NPR's All Things Considered and other national news programs. His op-ed pieces have appeared in The New York Times, Washington Post, Los Angeles Times, International Herald-Tribune, Financial Times, and Frankfurt Allgemeine Zeitung. His most recent book is National Security and Double Government, published by the Oxford University Press in September, 2014.
Hurst Hannum, Professor of International Law, has taught courses on public international law, international human rights law, minority rights, international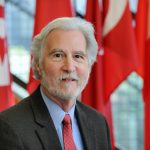 organizations, and nationalism and ethnicity. His focus is on human rights and its role in the international legal and political order, including, in particular, issues such as self-determination, minority rights, and conflict resolution. His scholarly work has been complemented by service as consultant/advisor to a number of intergovernmental and nongovernmental organizations, including the UN High Commissioner for Human Rights and Department of Political Affairs. He has been counsel in cases before European and Inter-American human rights bodies and is a member of the international Council of Minority Rights Group International (London).
A graduate of the University of California, Berkeley, School of Law, he also has taught at the University of Hong Kong, Central European University (Budapest), Harvard, American University, Georgia, and Virginia. Professor Hannum is the author or editor of numerous books and articles on international law and human rights, including International Human Rights: Problems of Law, Policy, and Process; Negotiating Self-Determination; Guide to International Human Rights Practice; and Autonomy, Sovereignty, and Self-Determination: The Accommodation of Conflicting Rights. He serves on editorial advisory boards of Human Rights Law Review and Human Rights Quarterly.
Michael W. Klein is the William L. Clayton Professor of International Economic Affairs. He served as the Chief Economist in the Office of International Affairs of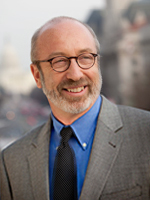 the United States Department of the Treasury from 2010-2011. He is a Research Associate of the National Bureau of Economic Research, and the Founder, Research Director, and co-Executive Editor of "EconoFact," a website that provides economic analysis on timely policy issues (econofact.org). He has been a visiting scholar at the International Monetary Fund, the Board of Governors of the Federal Reserve, the Bank of England, and the Federal Reserve Banks of Boston, New York, San Francisco and Dallas. His research and teaching focus on international macroeconomics. He has published three books and over two dozen articles on topics such as exchange rate policy, international capital flows, the impact of trade on the U.S. labor market, and the determinants of foreign direct investment. His research has been supported by grants from the Upjohn Institute for Employment Research and the Bill and Melinda Gates Foundation. He received a PhD in economics from Columbia University and a B.A. from Brandeis University.
Jette Steen Knudsen is Shelby Cullom Davis Chair in International Business focusing on sustainability at the Fletcher School of Law and Diplomacy, Tufts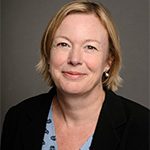 University. She is also a Velux Fellow at Copenhagen Business School.  Her research centers on the interface between government regulation and business actions. She is currently studying the ability of governments in economically advanced industrialized nations to promote social change through the regulation of social practices of home country multinationals in developing countries. Her new book (with Jeremy Moon) titled "Visible Hands: Government Regulation of Corporate Social Responsibility in Global Business" was published with Cambridge University Press in November 2017. She has published in journals such as British Journal of Industrial Relations, Business and Politics, Comparative Political Studies, Journal of Business Ethics, Policy and Politics, Political Studies and Regulation and Governance. From 2003-2007 Knudsen headed a government-sponsored think tank, The Copenhagen Centre for CSR. She then served as project leader of a CSR task force for the CEO at Maersk, a shipping, oil and retail conglomerate. Knudsen graduated from MIT in 2001 with a PhD in Political Science.
Susan Landau is Bridge Professor of Cyber Security and Policy at the Fletcher School of Law and Diplomacy and the School of Engineering, Department of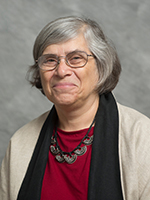 Computer Science, Tufts University. Landau's new book, Listening In: Cybersecurity in an Insecure Age, was just published by Yale University Press; she is also the author of Surveillance or Security? The Risks Posed by New Wiretapping Technologies (MIT Press) and co-author, with Whitfield Diffie, of Privacy on the Line: The Politics of Wiretapping and Encryption (MIT Press). Landau has testified before Congress, written for the Washington Post, Science, and Scientific American, and frequently appears on NPR and BBC. Landau has been a senior staff Privacy Analyst at Google, a Distinguished Engineer at Sun Microsystems, and a faculty member at Worcester Polytechnic Institute, the University of Massachusetts Amherst, and Wesleyan University. She was inducted into the Cybersecurity Hall of Fame in 2015, was a 2012 Guggenheim fellow, a 2010-2011 fellow at the Radcliffe Institute for Advanced Study, and received the 2008 Women of Vision Social Impact Award. She is a fellow of the American Association for the Advancement of Science and the Association for Computing Machinery.
Jeswald W. Salacuse, Tufts University Emeritus Distinguished Professor, served as The Fletcher School Dean for nine years and was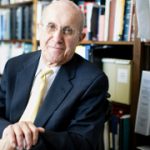 previously Dean of the Southern Methodist University Law School. His teaching and research interests include international negotiation, law and development, and international investment law. With a J.D. from Harvard University, Salacuse has been a lecturer in law at Ahmadu Bello University, Nigeria, a Wall Street lawyer, professor and research director at the National School of Administration, Congo, the Ford Foundation's Middle East advisor on law and development based in Lebanon, and later the Foundation's representative in Sudan. He has been a visiting professor in the United Kingdom, France, and Spain and held the Fulbright Distinguished Chair in Comparative Law in Italy. He has also served as a Visiting Professor of Law at Harvard Law School. Salacuse has been the Chairman of the Institute of Transnational Arbitration, Chairman of the Board of the Council for International Exchange of Scholars, and the founding President of the Association of Professional Schools of International Affairs (APSIA).A consultant to multinational companies, government agencies, international organizations, universities, foundations and foreign governments, he is a member of the Council on Foreign Relations, the American Law Institute, and the executive committee and faculty of the Program on Negotiation at Harvard Law School. He is also Chairman of the India Fund and Asia Tigers Fund, president and member of international arbitration tribunals of the World Bank's International Centre for Settlement of Investment Disputes, and was formerly lead independent director of the Legg Mason closed-end funds. The author of sixteen books, his recent works include "The Three Laws of International Investment," (Oxford University Press, 2013), "Negotiating Life," (Palgrave Macmillan 2013), "The Law of Investment Treaties," (Oxford University 2nd ed. 2015), "Seven Secrets for Negotiating with Government," (2008), "Leading Leaders," (2006), and "The Global Negotiator,"(2003). His newest book, "Real Leaders Negotiate! – Gaining, Using, and Keeping the Power to Lead through Negotiation," was published by Palgrave Macmillan in July 2017.
Monica Duffy Toft is a Professor of International Politics and Director of the Center for Strategic Studies at The Fletcher School of Law and Diplomacy. Before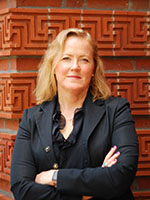 joining Fletcher, Professor Monica Duffy Toft taught at Oxford University's Blavatnik School of Government and Harvard University's John F. Kennedy School of Government. While at Harvard, she directed the Initiative on Religion in International Affairs and was the assistant director of the John M. Olin Institute for Strategic Studies. She was educated at the University of Chicago (MA and Ph.D. in political science) and at the University of California, Santa Barbara (BA in political science and Slavic languages and literature, summa cum laude). Prior to this, she spent four years in the United States Army as a Russian linguist. Monica's areas of research include international security, ethnic and religious violence, civil wars and demography. Her most recent books include: "Securing the Peace," (Princeton, 2011); "Political Demography," (Oxford, 2012); and "God's Century," (Norton, 2012). In addition she has published numerous scholarly articles and editorials on civil wars, territory and nationalism, demography, and religion in global politics. Monica can also be found on Twitter @monicaduffytoft. Affiliations: Monica is a research associate of the Blavatnik School of Government at the University of Oxford and at Harvard Kennedy School's Belfer Center for Science and International Affairs. She is a supernumerary fellow at Brasenose College, University of Oxford, a Global Scholar of the Peace Research Institute Oslo, a member of the Council on Foreign Relations, the Minorities at Risk Advisory Board and the Political Instability Task Force. In 2008 the Carnegie Foundation of New York named her a Carnegie Scholar for her research on religion and violence, in 2012 she was named a Fulbright scholar, and most recently served as the World Politics Fellow at Princeton University.
Chidi Anselm Odinkalu is Professor of Practice in International HumaRights Law at the Fletcher School. He previously chaired Nigeria's National Human
Rights Commission and served on the panel of eminent persons that negotiated the return of The Gambia to the Commonwealth in 2017.
Odinkalu has acted as counsel in international human rights litigation before Africa's regional human rights courts and tribunals and was involved in the creation of the African Court on Human and Peoples' Rights. He is associated with several advocacy initiatives for the protection of human rights, including the International Refugee Rights Initiative.
His research focuses on contemporary challenges of multilateralism in regional systems in development, human rights and governance. He is the co-author of Too Good to Die: Third Term and the Myth of the Indispensable Man in Africa (Kachifo, 2018).
Senior Fellow 
Deborah Turner Kochevar served for 12 years as dean and Henry and Lois Foster Professor at Cummings School of Veterinary Medicine and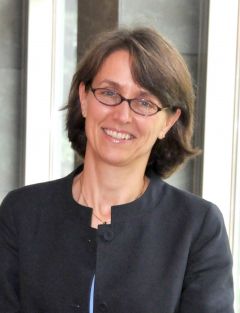 subsequently as provost ad interim for Tufts University. Dr. Kochevar fostered interdisciplinarity and One Health collaboration across multiple Tufts campuses and schools. She is a former Congressional Science Fellow to the Senate Labor and Human Resources Committee, a diplomate and past president of the American College of Veterinary Clinical Pharmacology, and has been active in the American Veterinary Medical Association, having chaired its Council on Education and the Educational Commission for Foreign Veterinary Graduates. She is a former president and chair of the board of directors of the Association of American Veterinary Medical Colleges. Dr. Kochevar has published in peer-reviewed research and teaching journals, garnered extramural funding for her work and is a dedicated teacher with special interests in translational medicine, international aspects of inter-professional One Health education and global One Health diplomacy. Advancing institutional diversity, equity and inclusion is a priority and ongoing challenge.
Non-Resident Senior Fellows 
Nahid Bhadelia, MD, is an infectious diseases physician, assistant professor at the Boston University School of Medicine and the Director of Infection Control and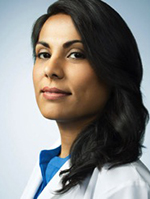 Medical Response at National Emerging Infectious Diseases Laboratory at Boston University. Her specialization is in infection control issues related to emerging pathogens and highly communicable infectious diseases. She is the director of the medical response program for BU's biosafety level 4 laboratories at the National Emerging Infectious Diseases Laboratory, one of six such programs in the United States. She has previously worked on projects with United Nations International Strategy for Disaster Reduction and the Global Fund to Fight AIDS, Tuberculosis and Malaria. She has served as a front line physician providing care to Ebola patients in Sierra Leone with World Health Organization. She is a Senior Policy and Technical Advisor to Partners in Health for their Ebola response program in Sierra Leone. She has also been an instructor for the US CDC/FEMA and Taiwan CDC's healthcare worker preparedness courses for the Ebola Response.
James D. Fry is Associate Professor of Law and Director of the LL.M. Program at the University of Hong Kong.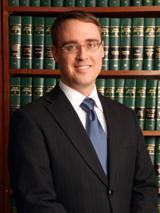 He served as a member of the teaching faculty of the Graduate Institute of International and Development Studies in Geneva before joining the University of Hong Kong in 2008. Before that, Dr. Fry worked with the U.S. Department of State's Office of the Legal Adviser, the International Litigation and Arbitration Group of the law firm Skadden, Arps, Slate, Meagher & Flom LLP in New York and Chief Judge Judith S. Kaye on the New York Court of Appeals. Dr. Fry has provided legal counsel and expertise to various international organizations throughout the world, including the International Committee for the Red Cross, the International Organization for Migration, the Organization for the Prohibition of Chemical Weapons, the United Nations Conference on Trade and Development, the World Meteorological Organization and the World Trade Organization, and he has represented the New York City Bar Association in the United Nations Commission on International Trade Law. Dr. Fry also has worked on a variety of international cases under ICSID, UNCITRAL and ICC rules. Since joining HKU, Dr. Fry has held visiting academic positions with such reputable institutions as the Fletcher School of Law and Diplomacy at Tufts University, the University of Fribourg Faculty of Law, the International Maritime Law Institute, the Max Planck Institute for Comparative Public Law and International Law, the McGill University Faculty of Law, the SMU Dedman School of Law, the University of Tokyo Graduate School of Law and Politics, and the University of Vienna School of Law.
Joshua Lincoln  is a Senior Fellow (non-residential) at the Center for International Law and Governance as well as a board member of the Global Governance Forum and a Senior Advisor to the Cambrian Futures Group.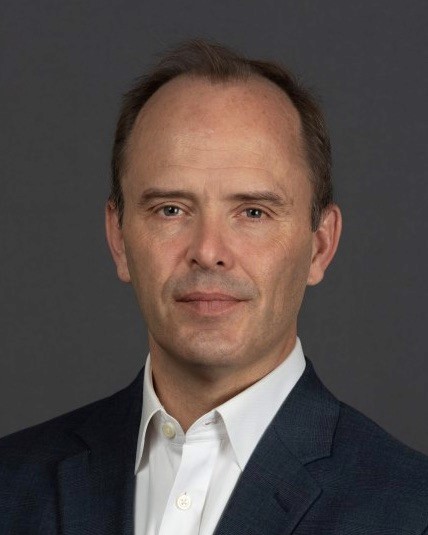 Between 2013 and 2019, Dr. Lincoln served as Secretary-General of the Bahá'í International Community.  In that role he represented the international governing council of the Bahá'í community in its external affairs; managed relations with governments, municipalities, universities and civil society; and developed multi-year programs and partnerships.
Between 2000 and 2013, he worked on global peace and security issues at the United Nations, including postings as Directeur de Cabinet to the Director-General of the UN Office at Geneva/Secretary-General of the Conference on Disarmament and as Senior Officer in the Executive Office of Secretary-General Ban Ki-moon in New York.
He also worked in mediation and preventive diplomacy with the UN Cameroon-Nigeria Mixed Commission (implementing the Bakassi ruling of the International Court of Justice) and in UN peacekeeping missions in Ethiopia/Eritrea (as Secretary to its tripartite Military Coordination Commission and before the Boundary Commission in the Hague) and North/South Sudan (implementing the 2005 Comprehensive Peace Agreement).
Earlier, as an academic and policy researcher, he carried out projects for several universities, think tanks and institutions like the World Bank.  He holds a BSFS from Georgetown University in international politics, and both a MALD and a PhD from the Fletcher School focusing on international law and the politics of identity (minority group rights) and comparative political institutions (federalism). He speaks fluent French and basic Arabic, Hebrew, and Spanish.
Stephen Park is Associate Professor of Business Law and the Satell Fellow in Corporate Social Responsibility at the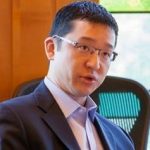 University of Connecticut School of Business. His research is in the areas of international financial regulation, international trade law, corporate social responsibility and accountability, and corporate compliance. His current work focuses on new and evolving forms of transnational regulation and public-private governance in the global financial markets, specifically in sovereign debt finance, sustainable finance and socially responsible investing, and corporate environmental and social reporting. Professor Park is a recipient of the Distinguished Early Career Faculty Award from the Academy of Legal Studies in Business, given in recognition of demonstrated excellence and exceptional promise in research, teaching, and service in the business law discipline.
At the University of Connecticut, Professor Park is the inaugural Director of the Business and Human Rights Initiative and Co-Director of the Corporate and Regulatory Compliance Graduate Certificate Program. He holds a J.D. from Harvard Law School, a M.A.L.D. from The Fletcher School of Law and Diplomacy, and a B.A. in Ethics, Politics, & Economics from Yale University. He will be a Visiting Professor of International Law at Fletcher during the 2018-19 academic year.
Pre-Doctoral Research Fellow
Arun Sukumar is a PhD candidate at the Fletcher School of Law and Diplomacy, Tufts University. He is currently on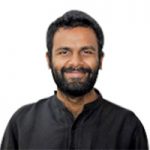 leave from the Observer Research Foundation in New Delhi, where he headed its Cyber Initiative (2015–17). Arun was a member of the multi- stakeholder group set up by India's National Security Advisor in 2017 to recommend policy and strategy for the promotion and negotiation of cyber norms. By invitation from the UN Institute for Disarmament Research (UNIDIR), Arun served as an independent legal expert in 2016 to the United Nations Group of Governmental Experts (UNGGE), the intergovernmental forum tasked with conceiving cyber norms, and to the UN First Committee on disarmament and international security in 2017.
As its outgoing, elected Vice Chair, he recently completed a two-year term as one of the stewards of the Asia-Pacific Regional Internet Governance Forum. During the 2016 Tallinn Manual 2.0 consultations on the international law applicable to cyber operations, he joined the Indian delegation as its non-governmental representative. Arun is a member of the World Economic Forum's Global Future Council on the Digital Economy and Society.