Tufts Technology Services has more than 60 classrooms on the Medford campus set up for hybrid teaching and learning, so that students can attend class sessions remotely at the same time as those attending in person. All of these spaces offer Zoom and many offer Echo360 as well. Some also offer special Zoom Room software and additional hardware for interacting with remote students. Instructors have flexibility in these rooms with how they include remote students and, at instructor discretion, make recordings of class sessions to share with students on Canvas.
See a list of Tufts classrooms equipped for multi-modality instruction. Portable units will be available for rooms not on the list.
Using These Classrooms
For detailed instructions on using multi-modality classrooms, see the following guides, and reach out to edtech@tufts.edu for support —
For rooms equipped with Zoom on a computer plus standard AV equipment:
For rooms equipped with integrated "Zoom Room" software and hardware:
For Echo360-equipped rooms:
Microphones Note
A few classroom microphone technologies in use before the pandemic are now being used in a different way due to Covid protocols, or are not currently in use:
Wireless Microphones: In rooms which have had wireless microphones in the past, they are still available as follows:For each instructor who uses these rooms, a wireless lavalier microphone will be issued to keep and bring from room to room (see photo below).
These lavalier mics will only work in classrooms that have wireless microphone capability.
The microphone plugs into the wireless BeltPack Transmitter which is unique in each location and cannot be removed from the room as it will not work elsewhere on campus.
To request your individual wireless lavalier microphone for use in these rooms, please email it@tufts.edu
CatchBoxes, which are throwable wireless microphones that have historically been used in some of Tufts larger venues, are not allowed to be used at this time. This policy has been set by Dr. Michael Jordan, Tufts' Infection Control Health Director.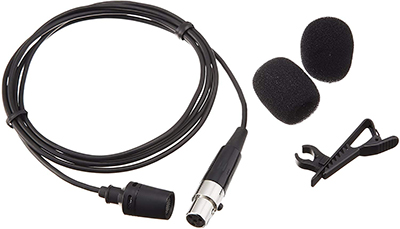 Classroom Technology Update Fall 2021
Technical checks are being conducted for every classroom on the Medford campus.
New signage in multi-modality rooms clearly indicates which microphone and speaker should be selected for an optimal experience.
We have added microphones to large lecture halls to make it easy for remote students to hear in-person students. This includes Cohen, Hill Hall, ASEAN, Distler, Crane Room, Terrace Room, Elliot Pearson, Tisch MPR, Alumnae Lounge.
We have installed acoustic control material in rooms where poor acoustics caused issues, including Alumnae Lounge, Hill Hall, and Paige Hall's Crane Room and Terrace Room.
We have upgraded computers in many of the rooms.
We have piloted a more immersive classroom experience for mixed modality rooms in Mugar and Cabot that includes an additional display configured to automatically display up to 49 remote students in Zoom even when the instructor is sharing his/her screen. We will add this capability to additional rooms as the semester progresses.
See Also
List of Tufts Multi-Modality Classrooms (ETS)
Teaching Tips for Multi-Modality or Hybrid Teaching (CELT)
Face-to-Face Classrooms with Masking (CELT)
Engaging Students in Active Learning Asynchronously (CELT)