Blockades, Bots, and the Future of Gulf Unity
Caroline Hayes (MALD '22), Juliana Rordorf (MALD '22), Will Crass (MALD '22)
Examining Emirati Foreign Policy Interests in the Horn of Africa
Kyrre Berland (MALD '22), Chris Brew (MALD '22), Delia Burns (MALD '22)
Syria Study Group
Khulood Fahim (MALD '22), Amal Rass (MALD ' 22), Julie Salloum (MA '22), Marija Tesla (MALD '22)
Elizabeth Dykstra-McCarthy (MALD '21), Max Klaver (A'19, MALD '21), Mario Zampaglione (MALD '21)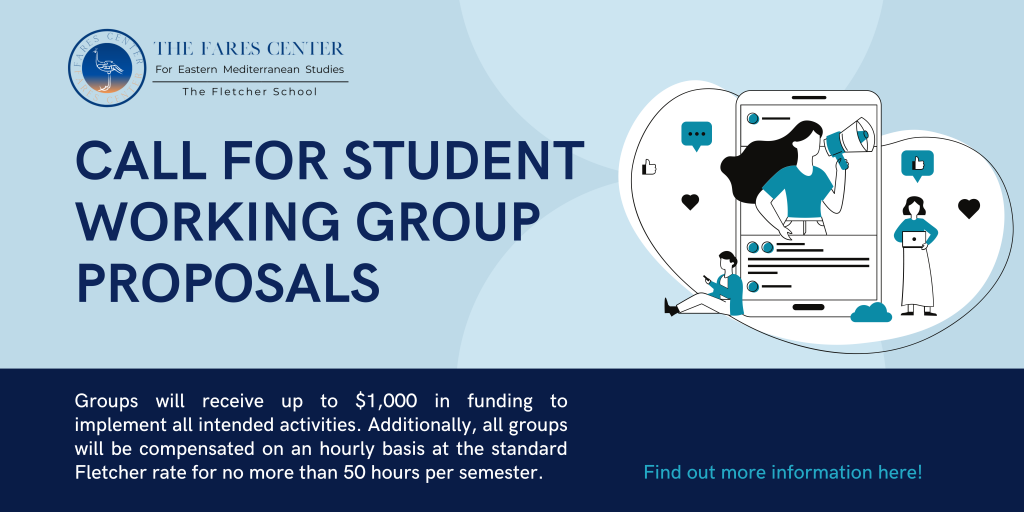 Working Groups 2022 – 2023
In Spring 2021, Fares Center Director Nadim N. Rouhana announced Fares Working Groups based at the Center. These groups will be focused on a country, area, or theme related to the Middle East and North Africa (MENA) and may engage in several academic activities, including but not limited to: conducting research, organizing speaker events, preparing publications, and creating a podcast. If desired, the Fares Center will match each study group with a faculty advisor from Fletcher, Tufts, the greater Boston area, or a university in the Middle East and North Africa.
The coordinators will act as Research Assistants based at Fares and will be responsible for leading the group and serving as the liaison between students and the Center. Groups may be formed for Academic Year 2021-2022 or Spring 2022. Students interested in the RA position should email Amaia Elorza Arregi for more details.
Each group will receive up to $1,000 in funding (for Spring Semester 2022) in order to implement all intended activities. In addition to the grant, all groups will be compensated on an hourly basis at the standard Fletcher rate for no more than 50 hours per semester.
If desired, the group may ask the Fares Center to match them with a faculty advisor from Fletcher, Tufts, the greater Boston area, or a university in the Middle East and North Africa. If a group wishes to identify an advisor prior to proposal submission, please contact the Fares Center as soon as a theme has been solidified. The group members and/or the coordinator may work with this advisor on their Capstone Project (provided their main advisor is a Fletcher faculty), help with research, or engage in a practicum at the professor's home institution. The Fares Center will work with your group's theme in order to find a suitable faculty advisor.
Fletcher School students interested in participating should include:
Please send the following information as part of your application to Amaia Elorza Arregi before Sunday, October 31st:
Resume or CV
Proposal of their study group , including rationale and envisioned activities (minimum 500 words)
Names of group members
Research methodology
Tentative budget (in chart form)
Deliverables with timeline included
A template is available should you like to see an example, and we encourage all applicants to review the work of current groups.
Please reach out with any questions. We look forward to receiving your applications.