Stories from Migrants and Refugees
In this issue of Fresh FINDings, we are excited to share our newest report titled Racism and Displacement: Stories from Migrants and Refugees as well as Volume II of our Financial Biographies Project.
Please visit the Journeys Project at Tufts University for previous studies, ongoing research, videos, maps, and artwork on refugees and migrants in the Middle East and Mediterranean, Latin America, and Africa.
This month…
Racism and Displacement: Stories from Migrants and Refugees
Volume II: Financial Biographies of People Coping with New Surroundings
Hello Neighbor Project
---
.
Racism and Displacement: Stories from Migrants and Refugees
We are thrilled to announce the launch of the Racism in Displacement Report by Padmini Baruah. Racism—the delineation of people as the "other," as inferior on the basis of race or ethnic identity—is neither new nor unique. This form of discrimination is formed and upheld by societal and political structures invested in maintaining differences between people who hold different identities, to the benefit of the dominant group. What are the lived experiences of migrants when they confront racism in their lives after moving to host countries? While much has been written about the racist encounters migrants have with the state and society in Europe, such accounts are much less visible for the "other" forms of migration between countries that are not always at the focus of international attention, but in no small way contribute to migratory flows worldwide. We sought to explore the journeys of migrants outside the framework of the Western hemisphere.
Our exploration led us to migrants in three different countries, namely Tunisia, Jordan, and Mexico. Our examination of the forms of racism—through the state and otherwise—that migrants were experiencing emerged from interviews that focused on livelihoods and financial health. This paper explores racist acts of discrimination faced by migrants, detailing in their own words such encounters against the larger context of livelihood-building. It is hoped that through this discussion, some of the concerns around the racialized rights and experiences of migrants are rendered visible, especially in regions of the world that are not often part of mainstream discourse on the subject. mainstream discourse on the subject.
Click here for a link to the full report
---
.
Volume II: Financial Biographies of People Coping with New Surroundings
This collection of profiles, Volume II, Financial Biographies of People Coping with New Surroundings, takes up where Volume I, Financial Biographies of Long-Distance Journeyers, left off. In Volume I, we traced refugees' and migrants' journeys on the move, viewing their passages through an economic lens. In Volume II, we examine the lives of migrants and refugees who are managing new environments, be they displaced for long periods, in limbo waiting for the chance to move onward, or settling into their final destinations.
Drawing on research undertaken in 2019 and 2020 of over 400 in-depth interviews, our profiles include material from Tijuana, Mexico; Tunis, Tunisia; Quito, Ecuador; Jijiga, Ethiopia; Kampala and Bidi Bidi Camp, Uganda; as well as Nairobi, Kenya and Amman, Jordan. In Ethiopia, respondents had been near Jijiga for between 10 and 20 years. Most respondents had been coping in their new surroundings for between two and four years. These biographies explore stories of adaptation, adjustment, and in some cases, integration.
.
Story Highlight: Making Do by Making Brew
Easther fled her village in Eastern Equatoria when violence came to her doorstep. She and seven of her children fled together on foot and reached the Ugandan border after two days.
"We came to Uganda in August 2016, I think. After crossing, we spent two weeks at a camp on the border, then spent a week at the camp near Moyo, then finally Bidi."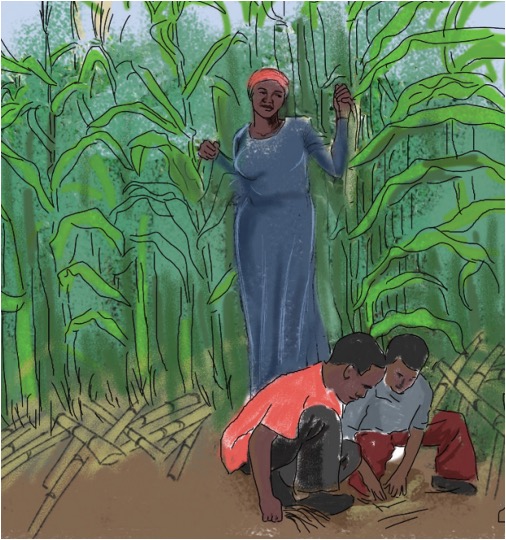 Each refugee family in Bidi Bidi receives a plot of land to build a home on and grow some crops or raise animals. The land provided cannot produce enough food to sustain a family, so Bidi Bidi residents like Easther tend to grow what they can monetize or use to add flavor and nutritional value to their monthly food ration.
Easther grows maize on her plot, which is typical for Bidi Bidi. However, instead of eating or selling all the maize, she grows two types of grain. One variety is grown for sustenance, the other is used to brew high-proof liquor.
This is a significant amount of money in cash-poor Bidi Bidi, and Easther uses her earnings to buy fresh vegetables in the nearby market. The monthly rations consist of maize, salt, oil, and similar staples that don't provide much nutritional value, so the additional vegetables are crucial for her and her family's well-being.
"The ration is not enough. We receive twelve kilos of maize every month, and I ground two kilos of it for flour and we eat the rest. When we didn't receive rations in June, our situation became much harder. I had to take a loan from my savings group to buy food."
Click here for a link to the full report
.
---
.
Spotlight: Refugees in Towns and Hello Neighbor
Working with the U.S.-based NGO Hello Neighbor, Dr. Karen Jacobsen, founder of the Refugees in Towns project at Tufts, is investigating how refugees learn about race relations in the US both before refugees are resettled and after they arrive there.
Stay tuned for more information and check out the Refugees in Towns site to explore case reports of refugee experiences across the globe.
.
---
Fresh FINDings is made possible through a partnership among Tufts University, the Katholische Universität Eichstätt – Ingolstadt (Catholic University or KU), the International Rescue Committee and GIZ. Fresh FINDings also features work sponsored by Catholic Relief Services, Mercy Corps, and the International Organization for Migration.
Contact: Kimberley.Wilson@tufts.edu
.