In summer, pollinators are not often hard-pressed to find flowers. In fact, you might support them without even knowing it: community gardens, flowering herbs on front steps and balconies, or milkweed growing in a tree-well all provide food for pollinators during the hottest, longest days of the year.
But what about in spring? It's not as easy to accidentally support pollinators during these cooler months of the year when the ground has just begun to thaw; there haven't been that many warm days; and persistent rain (as continues this year) can impede pollinators from finding food. Indeed, queen bumble bees emerge from hibernation in early spring and need immediate access to both nectar and pollen in order to start their colonies for the year, and many solitary bees and hover flies are only active for several weeks in spring: no flowers means these pollinators cannot make it.
So, how can you support pollinators in April and May? Think big. Plant native flowering shrubs or trees. In New England, you'll be hard-pressed to find better forage for insects than these woody plants. Not only do these larger plants produce copious amounts of flowers, but they are often important host plants for caterpillars of moths and butterflies. Plus, with the exception of woodland wildflowers, there simply aren't enough growing days by mid-spring for most smaller, herbaceous (soft-stemmed) perennials to flower.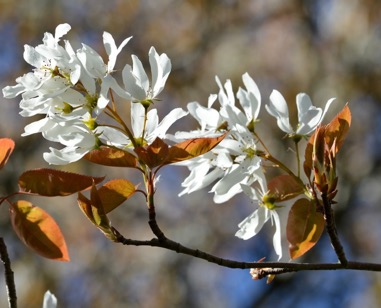 Choose plants that bloom sequentially from April through early-June. By selecting plants with overlapping flowering times, you will support a high diversity of pollinators regardless of when they emerge. To help you decide, here are several hardy options of native trees and shrubs that support bees, followed by average flowering times in Massachusetts:
pussy willow (Salix discolor, early-April)
red maple (Acer rubrum, early-April)
eastern redbud (Cercis canadensis, late-April/early-May)
serviceberry (Amelanchier sp., late-April)
chokecherry (Prunus virginiana, May)
red elderberry (Sambucus racemosa, May)
nannyberry(Viburnum lentago, May)
black cherry (Prunus serotina, late-May/early-June)
red osier dogwood (Cornus sericea, May/early-June)
ninebark (Physocarpus opulifolius, June)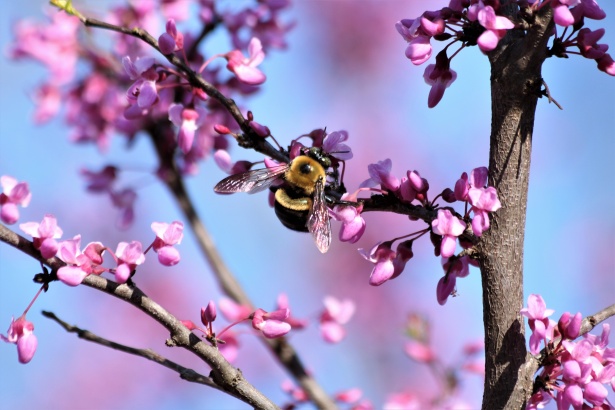 Although many ornamental flowering trees are pretty, the frills that we enjoy often do little to help pollinators. Even worse, some ornamental cherry trees sometimes lack pollen and/or nectar altogether, making them essentially useless to flower visitors. In contrast, many ornamental crab apple varieties (Malus sp.), though non-native, are one alternative that appeal to both humans and insects.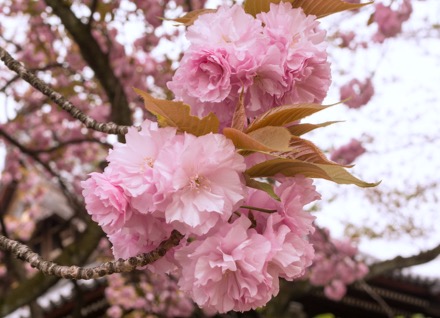 One last note: to further help early-spring pollinators in a different way, try "leaving the leaves" until early-May. It is tempting to clean up your yard as early as possible, but many insects overwinter as various life stages in the messy leaf piles and ground cover, e.g. butterfly eggs, chrysalises, and adults of different species. Give them a chance to emerge by delaying your clean-up a few weeks. You'll be rewarded when all these beautiful pollinators return to visit the flowers in your garden!