In mid-October, gardens are abuzz with wild bees—eastern carpenter bees, bicolored striped-sweat bees, and common eastern bumble bee queens, to name a few. After mating, those bees have one goal: fatten up before winter. They are getting ready to hibernate for the next six months, and every flower counts.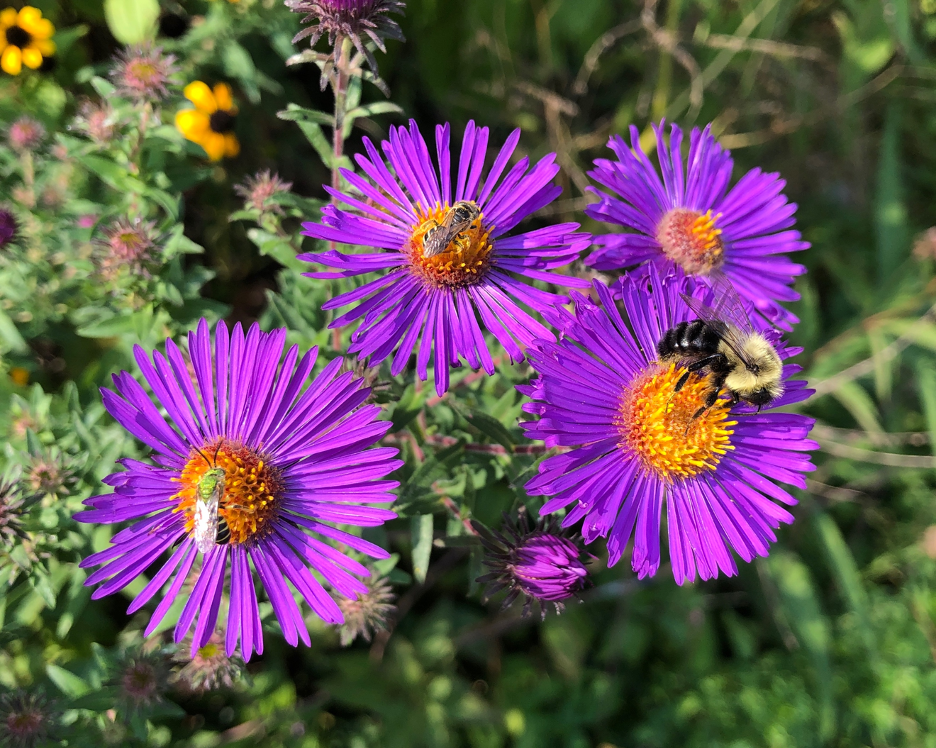 Cueing into dropping temperatures and shorter days, the bees tuck away in quiet, secluded spots. Think: under leaves, rotting logs, long forgotten debris piles, or even back in their natal nests. Once in their resting place, they enter diapause—a state of lower metabolic activity—and cross their antennae. They will need enough energy to survive the next six months before spring.
Importantly, unlike honey bees, wild bees—of which there are more than 350 kinds in New England—are not active during winter. They cannot exit and re-enter diapause during a warm spell in February. Breaking hibernation before spring is a death sentence, and bees have many checks in place to ensure that this does not happen.
Although some species (like those mentioned above) actively fuel up before winter, most take a different strategy: they remain in their natal nest, surviving entirely on the nutrient-rich provisions left by mom. They have never seen the bright beautiful world. These bees will remain in the dark confines of their nest until emergence the following year.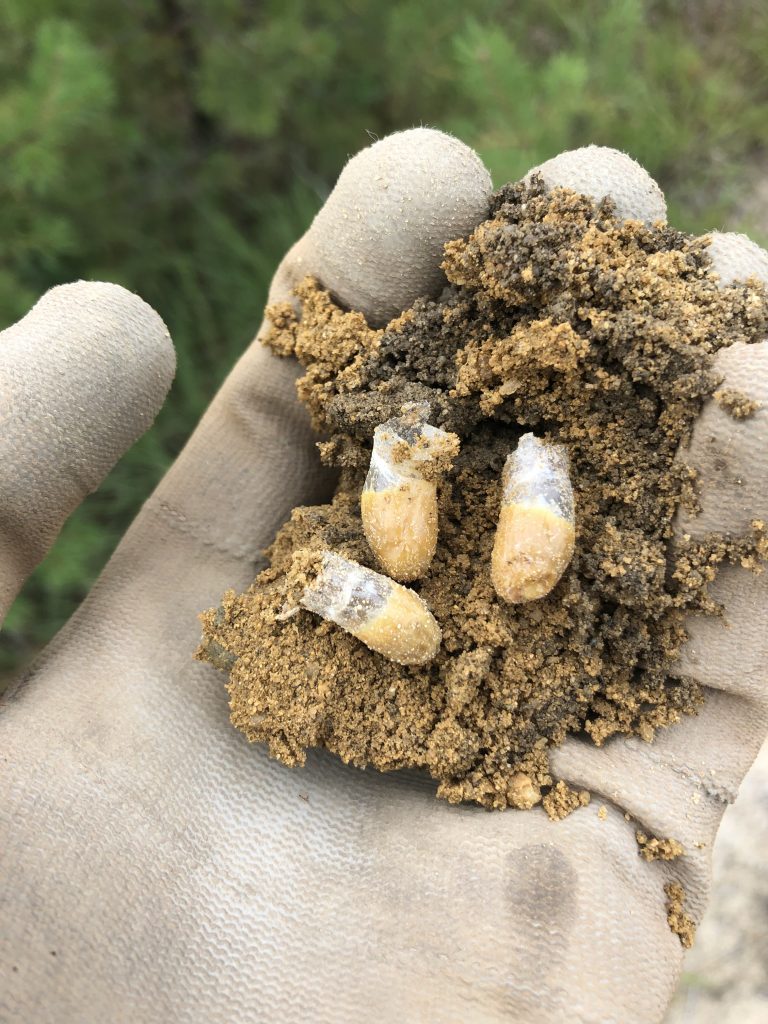 Bees that emerge in the spring overwinter as adults. In the fall, larvae metamorphose into adults before winter (yes, just like butterflies, bees undergo metamorphosis). They overwinter as adults in the nest, emerging when the temperatures rise in spring. For example, unequal cellophane bees Colletes inaequalis are harbingers of spring to eastern North America, emerging when there's still snow on the ground because they overwintered as ready adults.
In contrast, bees that emerge in summer or fall hibernate as post-feeding larvae, also known as prepupae. Prepupae resume development after winter and pupating into adults sometime the following summer. Adults emerge when their favorite flowers are in bloom, but it is still a grand mystery how late-season solitary bees time their emergence so perfectly. Each year, when goldenrod blooms in our gardens in early August, hairy-banded mining bees Andrena hirticincta are there without fail.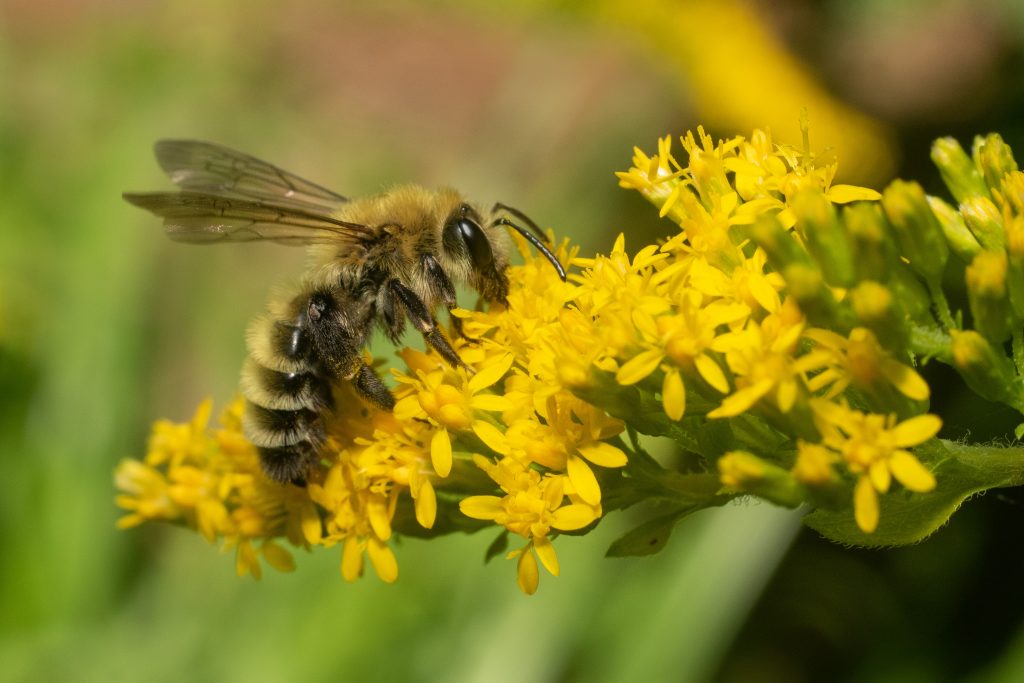 Hibernating bees may be out of sight, but they can't be out of mind. Think of the bee life cycle like a series circuit: if a single connection goes faulty, if a single life stage goes unsupported, all the little lights on our summer flowers go out. In this way, ensuring bees survive the winter is as important as ensuring adults find flowers in your garden in summer. Knowing how bees survive the winter, then taking intentional actions informed by this knowledge is the way forward:
Plant fall blooming native plants: Asters and goldenrods are fountains of energy-rich nectar. Bees that fuel up before winter require enough fall-blooming flowers to build sufficient fat reserves. The very best pollinator gardens bloom until frost.
#Leavetheleaves: Provide undisturbed nesting sites like patches of soil insulated with fallen leaves or intact hollow stems the right way. Resist the urge to neaten up your yard. Leave it messy until May and the bees will thank you. (Posting signage can help others know your good intentions!)
Pay attention: And last, take time to notice wild bees in your gardens in fall. Are females drinking nectar, or are they still collecting pollen and provisioning nests? What flowers do they like best? Or maybe you spotted bumble bee queens digging their winter hibernacula (if so, get in touch with Queen Quest)? Often the most important life stages are the ones hiding in plain sight.