Ukraine was once part of the largest kingdom of medieval Europe, known as Kyivan Rus. Centered around the city of Kyiv – today the capital of Ukraine – Rus stretched from the Baltic Sea in the north to the Black Sea in the south and covered the territories of several modern countries, including Ukraine, Belarus, Russia, and Poland. Rus fostered political, diplomatic, economic, artistic, and religious contacts with Central and Western Europe, the Byzantine Empire, and other neighboring regions. The Mongols also played a key role in shaping Rus and its environs, with periods of intense conflicts, followed by negotiations and collaborations.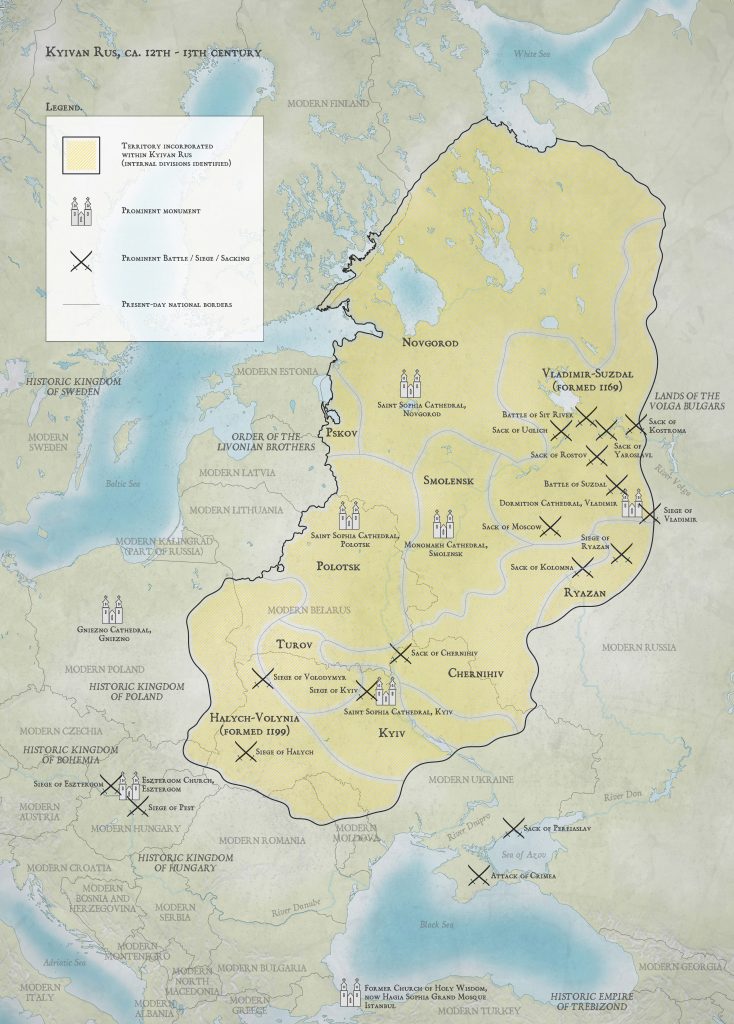 Artistic and literary works flourished in the region for most of the Middle Ages, as evident in the impressive monuments, remarkable collections, and expansive archives that still survive. Important historical figures, buildings and sites, as well as objects and textual sources, demonstrate how expansive, well-connected, and diverse this region of Eastern Europe was during the medieval and early modern periods. The material, textual, and visual records also illuminate a history that has been reimagined, transformed, manipulated, and delegitimized to fit certain narratives, especially during the Soviet era, and are now endangered once more by Russia's war against Ukraine.
The escalation of Russian pressure on Ukraine began in the early 2000s, simultaneously with the Russian invasion of Georgia. The conflict was limited to the political and economic spheres, but intensified during the 2014 invasion of eastern Ukraine and the subsequent annexation of the Crimean Peninsula, and part of Russia's broader effort to claim in full the heritage of Kyivan Rus. This conflict is also part of Russia's broader effort to claim in full the heritage of Kyivan Rus. The ongoing aggression, loss, and destruction further threatens the historical record and efforts to reveal the complexity, diversity, and creativity of the region from the ninth century onward.
Ukraine: Connected Histories and Vibrant Cultures highlights key historical interactions, monuments, and objects related to Kyivan Rus and the territory of modern Ukraine. The individual panels address the development of local history and culture at the crossroads of competing traditions, as well as the later transformation and even destruction of monuments, collections, and archives, including during the current war. Featuring a timeline, maps, key sites, in addition to textual and visual sources, the exhibition also details recent efforts to document, study, and preserve the history and heritage of Ukraine and Kyivan Rus, including recorded lecture series, publications, and digital archiving projects.
Finally, this exhibition highlights the work of Ukrainian artists, Oleksandr Klymenko and Sofia Atlantova, specifically three icons painted on repurposed wooden ammunition boxes that are part of their larger project "Buy an Icon – Save a Life," begun after Russia's 2014 invasion of Ukraine.
Co-organizers: Alice Isabella Sullivan (History of Art and Architecture), Anna Kijas (Lilly Music Library), Francesca Bisi (MA 2023), Rileigh K. Clarke (MA 2023), Emmi Farrell (MA 2023), Jillian Lepek (MA 2023), Artem Dinh (2023), Charlie Kong (2024), Defne Ulusoy (2024), Kate Shymkiv (2026), W. Miles Donovan (Tisch Library)