SEPA STEM Mentorship Program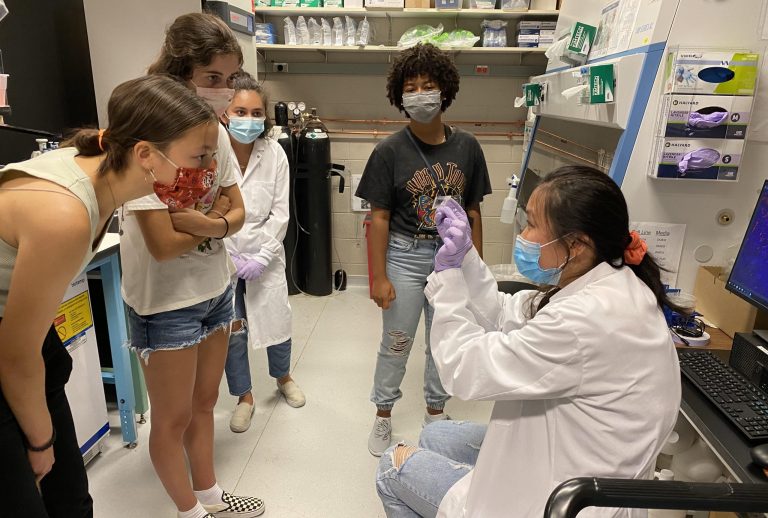 The Center for STEM Diversity (CSD) and the Center for Science Education (CSE) present an opportunity for 2-3 Tufts sophomores and juniors to participate as SEPA STEM Mentors in a National Institute of Health funded program called Mini-Med Connect. The goal of Mini-Med Connect is to offer experiences, friendships, and mentorship to support high school students from backgrounds that are underrepresented in STEM as they explore career pathways. 
SEPA STEM Mentors will take part in two major activities:
Mentoring Mini-Med Connect high school students in the summer and following year
Completing a paid summer internship in a STEM lab
SEPA STEM Mentors will be paired with 4-5 high school students from Boston Public Schools who are interested in STEM. Mentors will be trained in near-peer mentoring, offer weekly check-ins for MMC students, participate in mentor-mentee bonding activities, and will co-facilitate one workshop. We hope mentors will foster relationships that last beyond the program! In the school year following the summer program follow-up events will be held at Tufts. We expect mentors to show up to at least three of these events. 
Before the start of the summer, the program directors from CSE will work with the mentors to identify a lab for the research internship. This 8 week summer internship will run from June 20 to August 12 and mentors are expected to be present in their labs full-time (outside of mentorship duties). At the end of the internship, the mentors will present their work to their research lab and their high school mentees. 
To learn more about our mentors from summer 2021 check out this article.
To learn more about the Mini-Med Connect high school program, click here.
Students enrolled in programs through the Tufts Center for STEM Diversity are highly encouraged to apply. Additionally, interested applicants must meet the following criteria:
Be a current sophomore or junior at Tufts University
Be a U.S. Citizen or permanent resident (i.e. Green Card holder)
Excited about mentoring high school students
Enrolled in a STEM major or planning on selecting a STEM major
Interested in a STEM career, but do not need to be on a pre-med path
No previous research experience is required, but applicants must demonstrate a strong interest in STEM research
Commitment to DEIJ initiatives
Program start date: June 20, 2022
Mentorship Training Workshop: TBD
Dates of Mini-Med Connect Program: July 5, 2022 to July 29, 2022
Program end date: August 12, 2022
The timing of follow-up informal events in Fall 2022 and Spring 2023 will be determined at a later date.
Upon acceptance into the program, mentors will be required to sign a contract that outlines their expected duties.
Mentors are expected to be fully present for the 8 weeks of the program, working the equivalent of 9 am - 5 pm, 5 days a week. Please note that the actual hours of the research internship will be dependent on the research project and lab that is selected; many scientific approaches go beyond normal business hours.
We expect mentors to prioritize their mentorship duties so that they can fully support their mentee. These mentorship duties include:
A mentorship training workshop prior to the start of Mini-Med Connect (date TBD)

Weekly mentee check-ins

Participation in 7-10 bonding events and workshops throughout the Mini-Med Connect summer program

Co-facilitate one workshop during the Mini-Med Connect summer program

Participation in 3-5 informal meet-ups with mentees during the 2022-2023 school year
Each student will select a research lab that fits their interests. Prior to the start of their internship, Dr. Jacque from the CSE will meet with the lab P.I. to explain the mentorship program and duties of the SEPA STEM Mentors outside of their lab internships. Additionally, students are expected to have a conversation with their lab P.I. to confirm their expectations for the summer. We will provide guidelines and a contract for this conversation.
This program is funded by an NIH grant, and as such participants are asked to complete surveys and interviews that help us evaluate the efficacy of the program. While this is not required it is an important part of the program!
Participants in the program will be provided with monetary compensation of $4,460, which can be used towards housing, food, and transportation costs. An additional $100 is provided upon completion of research study related tasks as outlined in the study information sheet, if the mentor chooses to take part in the study.
Applications are open! Please click here to start your application. Please note that you should be able to leave the application survey and return to your saved responses. However, we cannot guarantee the system will work as expected. Therefore, we highly recommend that you write out the short answer responses in a separate document so that you have access to them if any of your responses are lost.
Applications open:December 15, 2021
Application close (NEW DATE!!): February 14, 2022
Interviews with the top candidates will be held during February and final decisions will be sent by March 15, 2022.
In addition to your contact and personal information, the application requests that you respond to the following questions:
What types of research experience have you had?
(No prior research experience is required for this opportunity)
What type of research experience interests you?
Name three Tufts faculty members you would like to work with (in their lab). These faculty can be at either the Medford campus or the medical campus downtown.
In 500-600 words, please tell us why you are excited about becoming a SEPA STEM Mentor and what you plan on getting out of the experience.
What are your thoughts on how a mentor can contribute to someone's life?
In what way do you think past experiences you've had could contribute to your role as a mentor?
We recommend that you write out your responses to the short answer questions before starting the application so that they are saved elsewhere.
You will need to ask a teacher or mentor to submit a letter of recommendation on your behalf. This should be someone who can talk about your experience and/or interest in STEM and mentorship.
When you submit your application, the system will send a reminder to the contact email you provide for your recommender. This email will include instructions for how your recommender should share their letter with us.
You may also share this link with your recommender and ask them to upload their letter here:
https://bit.ly/SEPA-mentor-letter-2022
For questions about the program, eligibility, or applications, please contact Dr. EmilyKate McDonough at emilykate.mcdonough@tufts.edu