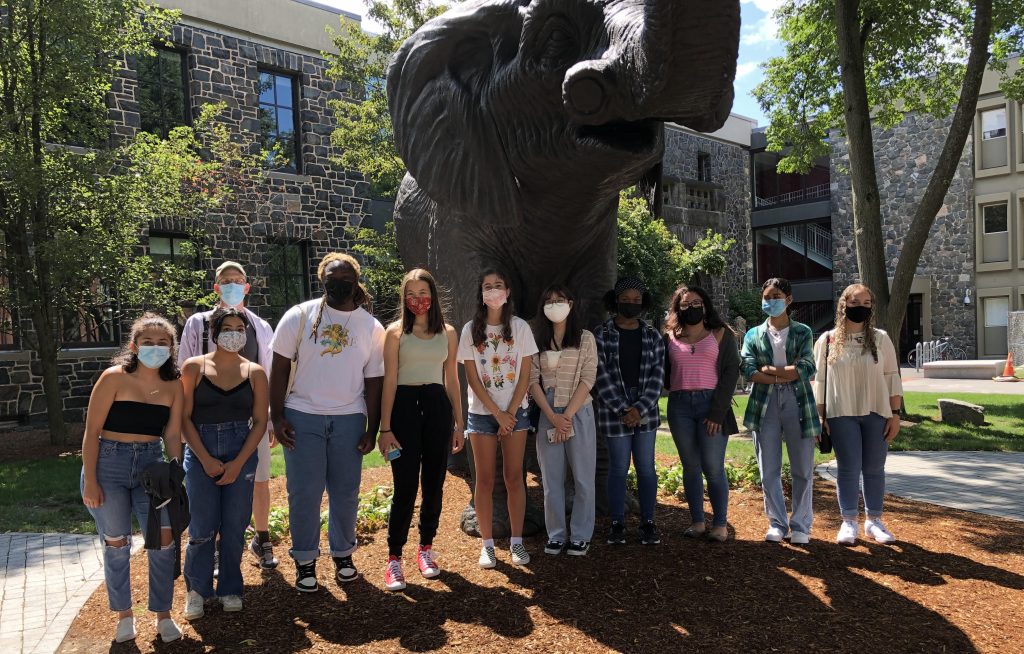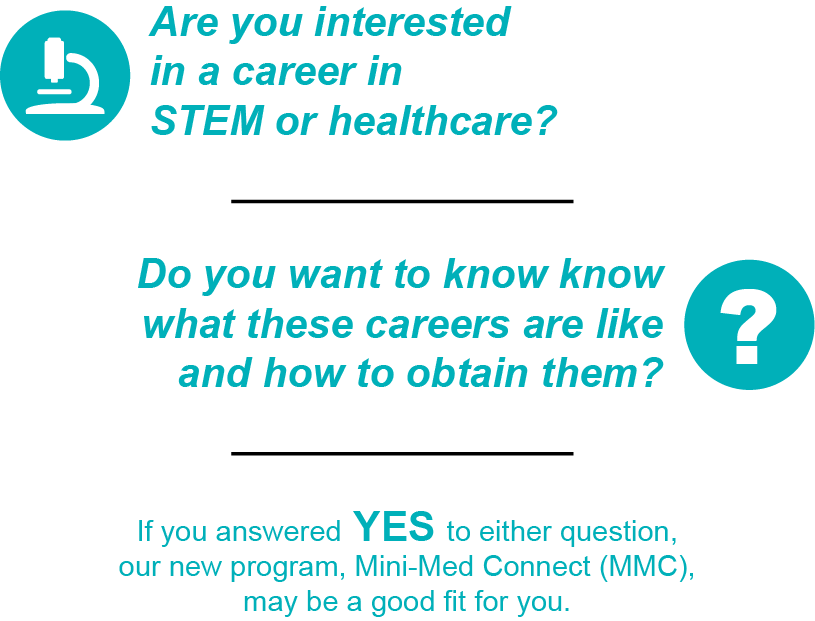 MMC adds social, academic, and career-exploration support to the Tufts University Mini-Med School experience, which enrolls students from around the world. The MMC program includes mentoring from Tufts Medical School faculty and motivated undergraduates who are recruited through the Tufts University Center for STEM Diversity. These undergraduate mentors share their experiences with MMC students as they provide support before, during, and up to a year after Mini-Med School. The program is funded by the National Institutes of Health and other generous donations. Students who are accepted into the MMC program are automatically enrolled in Mini-Med School.
Our goal is to offer experiences, friendships, and mentorship to support students as they explore career pathways and build their STEM networks!
To learn more about the Mini-Med School program click here.
To read about our MMC mentors from 2021 check out this article.
The MMC curriculum has FIVE main strands:
Let's Have Fun - Bonding activities to build trust between high school students and mentors
The Hidden Curriculum - Workshops about professional and life skills that are rarely explicitly taught
Celebrating Diversity in STEM - Scientist spotlights of various BIPOC professional role models
Let's Learn Some Science - Activities such as reviewing biology concepts prior to Mini-Med School and tours of lab spaces
Individual Mentoring - Structured weekly check-ins with undergraduate mentors for support throughout the program
Sample schedule (subject to change):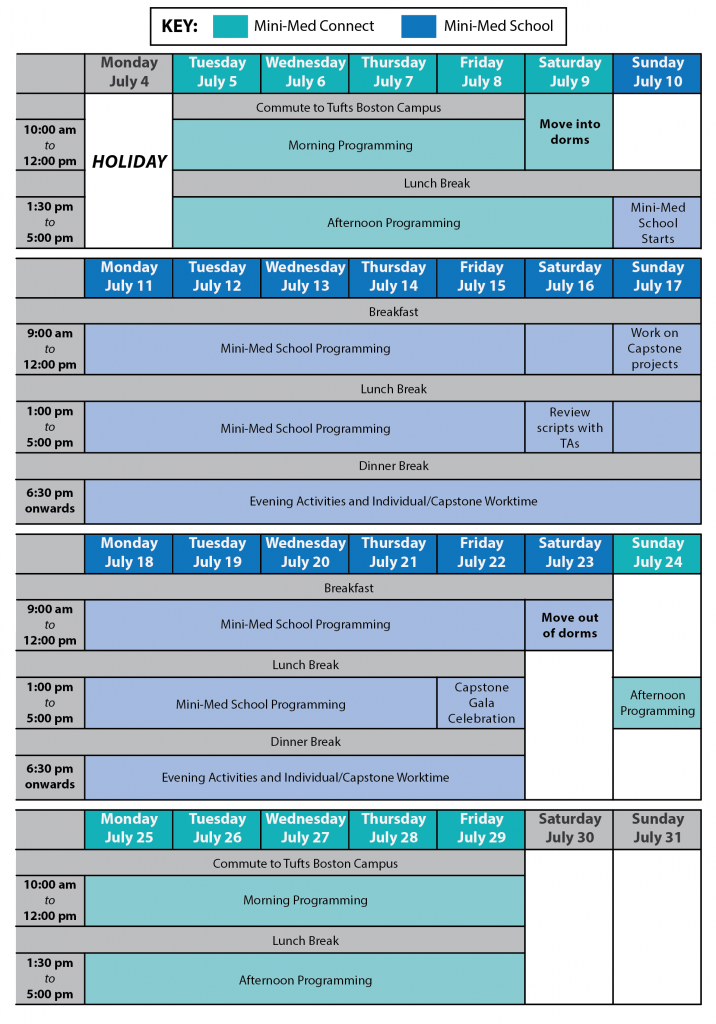 To be eligible, you must:
Be nominated by your science or math teacher

Be a current sophomore or junior (graduation year 2023 or 2024)
Be interested in STEM and/or health sciences
Be a US citizen or permanent resident (Green Card holder)
Attend a Mandatory Information Session after being nominated (January 26 or 28)
Complete our online application, which includes a recommendation letter from the teacher who nominated you
Students from backgrounds underrepresented in the sciences (e.g. minority, low-income, women, from families without a history of college-going, or students with disabilities) will be prioritized for this program.
Currently, the program is only open to students in the Boston area who have the ability to commute daily to the Tufts University Boston Health Sciences Campus.
The program runs from July 5-29, including weekends. 
Housing will be provided for students to live on the Tufts Medford Campus during the two weeks of the Mini-Med School program (July 9-23). When students are not living on campus, they will be expected to commute to the Tufts Campus. Programming will run from 10 am to 5 pm most weekdays. There will be some free time built into the weekends.
The timing of follow-up informal events in Fall 2022 and Spring 2023 will be determined at a later date.
Your teacher must nominate you for the program by January 21. Once the nomination has been submitted, you will receive an email with instructions detailing how to sign up for a Mandatory Information Session. If you do not receive this email by January 22, have your teacher contact Dr. EmilyKate McDonough.
You must attend a Mandatory Information Session on either January 26 or 28. If you are unable to attend a session on either of these dates, please contact Dr. EmilyKate McDonough.
After you attend the Mandatory Information Session, you will receive a personal link to the application that must be filled out online. Applications are due by midnight on February 28.
Letters of recommendation are due by midnight on March 14. These will be submitted directly to us by your nominating teacher. However, you are responsible for making sure they submit a letter for you!
We will carefully review each application and may contact top candidates for an interview. Final acceptance letters will be sent by April 15. A total of 8-12 students will be selected for this opportunity.
Note: You should be able to leave the application survey and return to your saved responses. However, we cannot guarantee the system will work as expected. Therefore, we highly recommend that you write out your responses to the short answer questions before starting your application so that they are saved elsewhere.
Upon acceptance into the program, students and their parents will be required to sign a contract that outlines their expected duties.
The program is highly competitive and students are expected to be fully present for the 4 weeks of the program. Additionally, we hope students will participate in 3-5 informal meet-ups with their mentors on the Tufts Campus during the 2022-2023 school year.
This program is funded by an NIH grant, and as such participants are asked to complete surveys and interviews that help us evaluate the efficacy of the program. While this is not required it is an important part of the program!
Students enrolled in MMC will be provided with a full scholarship to the on-campus Mini-Med School program. This includes housing on Tufts Medford Campus and 3 meals a day from July 9-23. Additionally, students will be provided compensation of $1,400 upon completion of the four-week program. 
Please note, housing and food are not provided from July 5-8 or July 24-29.
Expenses for travel to and from the Tufts campus can be reimbursed if receipts are submitted. 
Students who opt to participate in the research study will receive $100 upon completion of the research related tasks as outlined in the study information sheet.
For questions about the program, eligibility, or applications, please contact Dr. EmilyKate McDonough at emilykate.mcdonough@tufts.edu