Wednesday March 31st from 3:00-6:00 PM EST.
Pre-registration at https://mpde.careerfairexpo.com/en/registration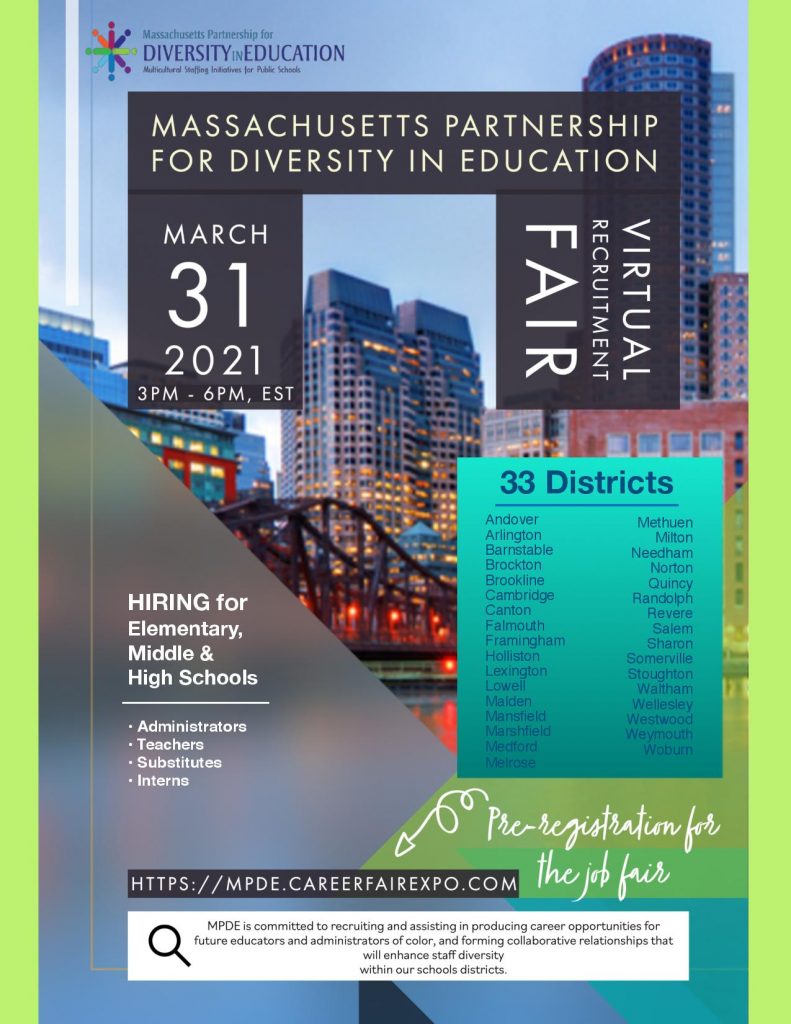 2020-2021 SCHOOL YEAR
SOMERVILLE HIGH SCHOOL
Job Goal: Somerville Public Schools strives to create an inclusive and racially affirming environment that welcomes and values the diversity of our staff and students. We foster fairness, equity, and inclusion to create a workplace environment where everyone is treated with respect and dignity.
We welcome and value different perspectives and experiences in our staff, recognizing the powerful impact that a diverse workforce has on all students. We are committed to supporting educators through a strong induction and mentorship program, educator-driven professional development, and opportunities for professional growth and advancement.
As a district, we are also committed to supporting the whole child by promoting a trusting, mutually respectful and inspiring culture that values the individuality of our students and the professionalism of the field.
Qualifications:  
•Appropriate Department of Elementary and Secondary Education Educator's Physics Licensure and SEI endorsement required. 
•Experience working with Grades 9-12 students preferred
•Bilingual speaker preferred
Responsibilities: As per the Somerville Teachers Association, Unit A Collective Bargaining Agreement
Position Reports to: The School Principal and the Somerville High School Science Department Chair
NOTE:  
•Applications are only accepted online through School Spring.  
•Please do not mail or email resumes. Only resumes that are submitted through School Spring will be considered.  
•Should you need assistance with the online application process, please contact the Human Resources Office via email at jcabral@k12.somerville.ma.us  
Somerville Public Schools is an Equal Opportunity Employer. Somerville Public Schools actively seeks applicants with diverse backgrounds. Grade level and content licensure is required when applicable. Dual licensure including SPED, ESL, ELL, or bilingual licensure and/or proficiency in a language or languages other than English is preferred.
Position Type: Full-time
Positions Available: 1
More information on the employer and the application can be found on the following link: https://www.schoolspring.com/job.cfm?jid=3348580