Photographer Rania Matar Discusses Portraits and Identity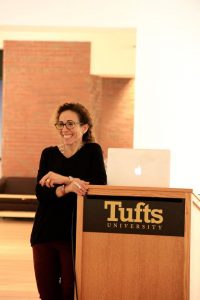 By: Hilary Ross
Rania Matar is a Lebanese-American photographer who photographs women and girls living in the United States and the Middle East. I was in the audience at the Tufts Art Gallery on November 1, 2016 as she discussed her work. Rania was born in Lebanon. In the 1980s, she came to the United States to study architecture at Cornell, and to escape the war in Lebanon and its aftermath. She thought she'd stay for a few years and then return to her homeland. As so often happens, life didn't work out that way. Today, she lives in Massachusetts with her family, and frequently visits Lebanon for work.
Rania started taking photos in 2000. She was thirty-six, had just had her fourth child, and was staying home with her children. She came to photography as a way to document their childhoods. She quickly fell in love with both photography's intimacy and the ability to capture beauty in mundane moments. Then came the terrorist attack of September 11, 2001. She was distressed by the story of the Middle East that subsequently unfolded in the media. As a Lebanese-American, she decided to use photography to tell a different story, because as she said, "I am them and I am us."
So, she went to Beirut looking to connect her two homes through images. Over the next four years, she built relationships with refugee women and girls in a Palestinian camp. She took their portraits in and near their homes – which had often been reduced to rubble. She realized that she felt most comfortable taking photos of women and girls, as the process of photography is so physical and intimate. She was often standing over her subject to get the right angle or light, and this felt most comfortable with other women.
These years of work led to a beautiful body of black and white photography called Ordinary Lives. In her discussion of this work, Rania highlighted the changing norms in Lebanon around wearing the veil. Today, it's more common than when she was young. In the West, we often associate the veil with stories of oppression. But Rania emphasized that the real story is more nuanced. Women wear the veil not just for religious reasons, but also as a political statement or simply for fashion.
In 2006, after years of primarily taking photos in the Middle East, Rania and her children got stuck in Lebanon during the war. They were able to return to the U.S. eventually, but after this experience she decided she wanted to photograph in the U.S for a while. She started taking photos of American girls in their rooms, eventually leading to a larger project shot in both Lebanon and the U.S. called A Girl And Her Room. In discussing them, Rania intermingled photos regardless of their subject's nationality. Her work shows a human universality across difference in opportunity. The girls are seen reading, putting on make-up, and standing awkwardly in their rooms. Their spaces range from colorful walls with shelves full of clothes, to bare walls with dangling electric wires.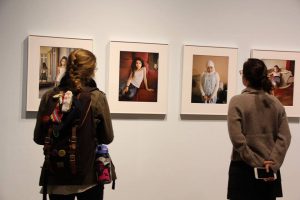 Today, Rania is capturing Syrian refugee children in Beirut against walls of graffiti, with some proceeds donated to refugee charities. She is also finishing up a deeply personal project called L'Enfant-Femme, capturing mothers and daughters in both Lebanon and the United States.
We are lucky enough to live in walking distance of her work. I encourage you to stop by the Tufts Art Gallery or the Museum of Fine Arts in Boston to see it in person.