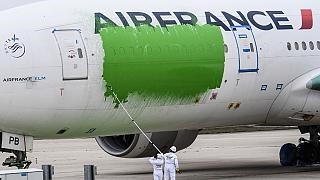 When nine Greenpeace activists scaled a fence at Charles de Gaulle airport in Paris and painted an aircraft green this past May, they helped bring to the world's attention a global problem: the greenwashing of aviation. This refers to the hiding or understating of the ecological harms associated with flying.
Take Qantas, for example. In March 2021, Australia's largest airline announced that its non-stop flights from Sydney and Melbourne to Frankfurt, London, New York, and Paris, scheduled to begin in 2024, will be "carbon neutral." Qantas will miraculously achieve this neutrality by "offsetting" these 18-20-hour flights–the CO2 emissions for which average 5.6 tons per business class traveler and 8.75 tons for those who fly first class.
Many–including Parke Wilde on this website–have offered hard-hitting critiques of carbon offsets. Central to these critiques is a recognition of the hollowness of the concept of carbon neutrality or what some call net-zero. As climate scientist Peter Kalmus recently wrote in The Guardian, "'net zero' is a phrase that represents magical thinking rooted in our society's technology fetish. Just presuppose enough hypothetical carbon capture and you can pencil out a plan for meeting any climate goal, even while allowing the fossil fuel industry to keep growing."
And growth is certainly on the mind of the aviation industry as it seeks to lock in its high-emitting practices in various ways. Currently, for example, airport operators are spending hundreds of billions of dollars to expand airports or construct new ones (with 673 projects worldwide underway)–and from Barcelona to Seattle, airport authorities are laying the groundwork for additional expansions. In February, Airbus revealed that the planes it had sold in the previous two years (in 2019, it sold a record 863 planes) will emit more than 1 billion tons of carbon dioxide over their lifetime.
Such projects and estimates are predicated on the assumption that the infrastructure and aircraft will be utilized as intended. But they may instead become "stranded assets" that don't realize their promise. Indeed, given marked economic, political, and ecological instability, this is more than a theoretical possibility.
To give one example, a recent paper by two earth systems engineers (Aaron N. Yesudian and Richard J. Dawson. 2021. "Global analysis of sea level rise risk to airports." Climate Risk Management 31: 100266) asserts that many major airports are already at risk due to coastal flooding. The authors find that sea level rise associated with a 2-degree-Celsius increase in average global temperature will lead to 100 airports below mean sea level. The cost to maintain risk at present levels in 2100 , they estimate, will be between US$39 billion (the median-case scenario) and US$57 billion (the highest case).
This irony, of course, is that flying exacerbates these very risks. And there is little indication that those most dedicated to jet-setting will change their profligate ways voluntarily. According to a recent report, for example, "Private jet providers are experiencing 'unprecedented demand' from wealthy customers seeking to avoid the "mosh pit" of commercial flights on autumn getaways as coronavirus travel restrictions ease."
And just last week, the Manchester United football (soccer) team took a flight of less than 20 minutes to Leicester–a distance of 74 miles (119 km) as the crow flies–for a game with its Premier League rival. (Given such recklessness, we might consider Leicester City's 4-2 victory a small slice of climate justice.) Dale Vince, the chairman of the Forest Green Rovers, a team in the English Football League Two, called Manchester United's decision to fly "shocking." "To fly 100 miles is an egregious act," he stated. "It's wanton climate vandalism."
In the face of such vandalism, some recent developments and ongoing struggles provide some hope.
The Campaign for Better Transport, an organization in the United Kingdom, has called upon the UK government to ban all domestic flights that can be completed in less than five hours. Were this ban to be approved, it would end air routes such as London to Manchester, London to Edinburgh and Birmingham to Glasgow. These flights, says Paul Tahoy, Campaign for Better Transport's chief executive, are "a climate disaster, generating seven times more harmful greenhouse emissions than the equivalent train journey "
In April, French legislators voted to end short-haul flights within France that cover routes that one could travel by train in two and a half hours or less. The vote took place about two months after the French government decided not to go forward with a plan to expand Charles de Gaulle airport because it did not conform with the country's commitments to cut CO2 emissions.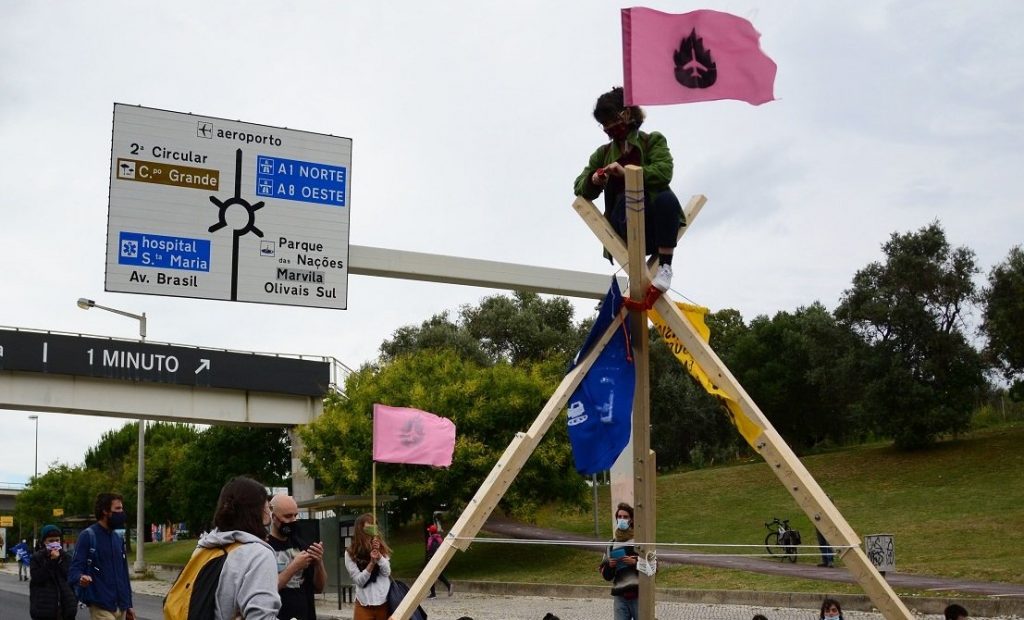 Meanwhile, in Portugal, that country's aviation regulator blocked plans to build a new airport Lisbon area in March–and did so in part for environmental reasons. Still, the Portuguese government is pursuing various avenues to advance the project. But climate justice activists are intensifying their efforts to prevent this from happening. In May, for example, activists blocked the road to Lisbon Airport to protest the government's plans.
In the United States, fights against airport expansion are not as high-profile, but they are present–particularly in California. In the San Francisco Bay Area, for instance, numerous organizations have come together to stop the proposed expansion of the Oakland International Airport (OAK). (OAK happens to be among the world's 100-most-threatened airports by sea level rise–see above.) The Stop OAK Expansion Coalition is comprised of groups ranging from Flight Free USA to Railroad Workers United, the latter a manifestation of the coalition's commitment to including organized labor and workers in their efforts. (Relatedly, earlier this year, Stay Grounded and the London-based Public and Commercial Services Union published a helpful discussion paper on a "just transition" that centers the well-being of workers in the effort to bring about climate-safe forms of mobility.)
Central to the challenge of downsizing aviation are the many parties invested in the maintenance of high-fossil-fuel emitting status quo. Just last week, The New York Times reported that New York City is preparing an "aggressive campaign" to lure back "big-spending foreign tourists." The $6 million campaign by the City's tourism agency (NYC & Company) involves partnerships with airlines such as British Airways (Europe's second-biggest airline polluter) and major travel agencies abroad.
Officials in New Zealand offer a different path, or at least the beginnings of one. In February, the country's parliamentary commissioner for the environment proposed that people departing New Zealand by air (including citizens) pay a departure tax to compensate for the environmental harm caused by flying. The next month, Air New Zealand's chief environmental adviser voiced support for raising the price of airline tickets, saying that there's "no going back" to pre-Covid levels of international tourism. The adviser, Jonathan Porrit, categorized air travel as a privilege, not a right. "I just don't believe in the idea that the number of international visitors to New Zealand can grow and grow and grow without limits," he said. "So, if a higher price for the privilege of flying to New Zealand puts some people off, good."
Recent academic publications
Academic research and publishing on matters of climate change and aviation–and often in regard to how its relates to the academy–continues to grow. In addition to our discussion above of the article from Climate Risk Management, we provide brief overviews here of some recent publications.
An article by Agnes Kreil of ETH Zurich focuses on two research questions: 1) What normative arguments do academics make for and against reduced air travel in academia? and 2) What are their assumptions about the ties between academic air travel and 'good' academic work? To explore these questions, Kreil examines her home institution, which has made one of the strongest efforts of top research universities to decrease academic air travel and has set clear reduction targets. While the author finds robust support among academic professionals at ETH Zurich for reduced air travel, many expressed concerns. A "dominant narrative" that Kreil identifies is that reductions will harm academic work. It is a concern, she says, that is "tightly bound up with the internationalization" of, and rising competition within academia. She thus advises that reduction advocates take seriously the concerns underlying such narratives, while working to "redefine … what 'good' academic work means" in order to align "the goals of 'good' academic work and air travel reduction." See: Agnes Kreil, "Does flying less harm academic work? Arguments and assumptions about reducing air travel in academia." Travel Behaviour and Society 25 (2021): 52-61.

In a time of intensifying climate change and a global pandemic, new conference formats are emerging. A fully virtual conference, asserts a team of four authors, is sustainable and inclusive, but lacks the benefits of face-to-face interaction. In contrast, the hybrid model (an in-person conference at a central location that allows for virtual participation) tends to discriminate against non-fliers (due to an inferior experience) and also encourages flying. The authors thus embrace a multi-hub model, which is a combination of in-person and virtual interaction. Much of the article is dedicated to describing and exploring the multi-hub model (and variations of it) in detail. It helpfully considers the choice of location for hubs, the structure of the conference program across time zones, as well as matters of diversity, equity, and inclusion. It also considers technical setup, financial issues, and the facilitation of virtual socializing and networking. See: Richard Parncutt, PerMagnus Lindborg, Nils Meyer-Kahlen, and Renee Timmers. "The multi-hub academic conference: Global, inclusive, culturally diverse, creative, sustainable." Frontiers in Research Metrics and Analytics (2021): 53.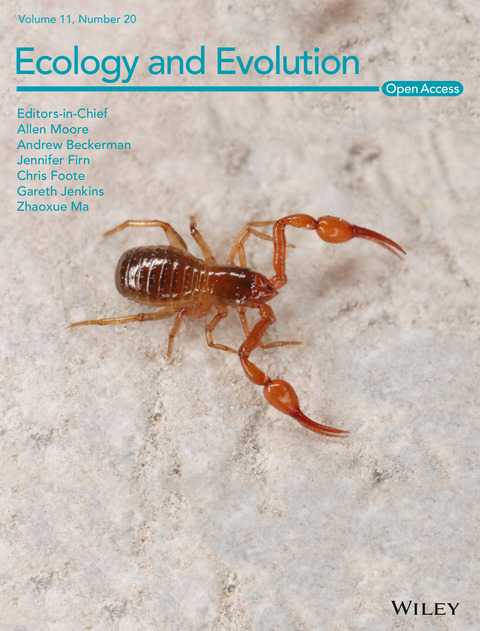 An international trio of authors investigate the relationship between conferences, meetings, and workshops involving international air travel and the academic production (via publications) that result (directly or indirectly). They assert that because the benefits of in-person meetings in terms of knowledge production and dissemination are difficult to assess objectively, publications are "one of the most straightforward metrics." The authors thus survey 211 marine biologists and oceanographers in 27 different countries, 36% of whom responded. They find that over 60% of respondents are willing to attend virtual meetings, and consider the trade-off worthwhile given the ecological benefits of remote participation. They also find "that scientific productivity decays with the number of meetings attended and that the less productive people exhibit the largest carbon footprint." See: Laurent Seuront, Katy R. Nicastro, & Gerardo I. Zardi. "Heads in the clouds: On the carbon footprint of conference‐seeded publications in the advancement of knowledge." Ecology and Evolution (2021).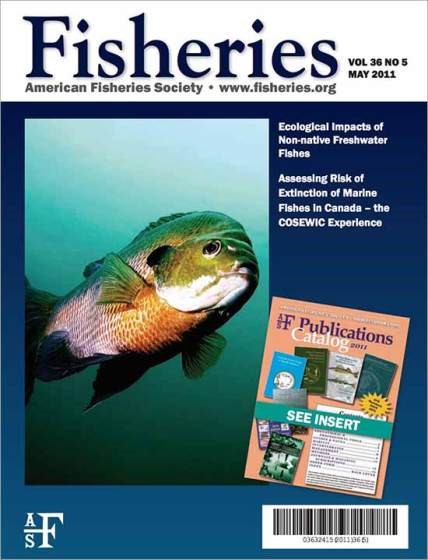 Two fisheries scientists, Karin Limburg (United States) and Françoise Daverat (France), consider the shared and unique challenges they face in trying to transform their professional practices, particularly in relation to travel. Their essay ( "COVID, Climate Change, and Professional Travel: Reflections by Fisheries Scientists during the Pandemic." Fisheries [2021]) takes the form of a "transcontinental conversation." Within, they exchange their experiences and analyses regarding the practical obstacles to decreasing reductions in their work-related CO2 emissions. They also raising matters for all environmental scientists to consider in relation to mobility and participation in professional gatherings. These include matters of accessibility and equity–e,g, resource availability, familial responsibilities, and gendered divisions of labor. In the end, the authors together note that human populations and our economies are growing, putting us on a collision course with the biosphere. The violent climate events of 2020 are a stark warning of what is to come if we continue on this path." A different, more sustainable path, they say, requires both systemic change and individual reductions.
Large travel footprints are not limited to jet-setting academics. It turns out that Canadian medical students are also high-emitters. Each spring, thousands of them travel across Canada to interview for residency positions. An interdisciplinary group of researchers conducted an online commuter survey among the participants in the annual Canadian Residency Matching Service (CaRMS) interview tour in 2020 to measure the flight-related carbon footprint. Based on responses from 960 of the 2943 participants (32.6%), the authors find that CaRMS -related flights emitted 4,239 tons of CO2e (carbon dioxide equivalents), an average of 1.44 tons per applicant. They also find that, were the interviews centralized in a single city, flight-related emissions could decrease by up to to 74.7%. And were the interviews conducted virtually, the resulting emissions would be at least at least 98.4% lower. See: Kevin E. Liang, Jessica Q. Dawson, Matei D. Stoian, Dylan G. Clark, Seth Wynes, and Simon D. Donner. "A carbon footprint study of the Canadian medical residency interview tour." Medical Teacher (2021): 1-7.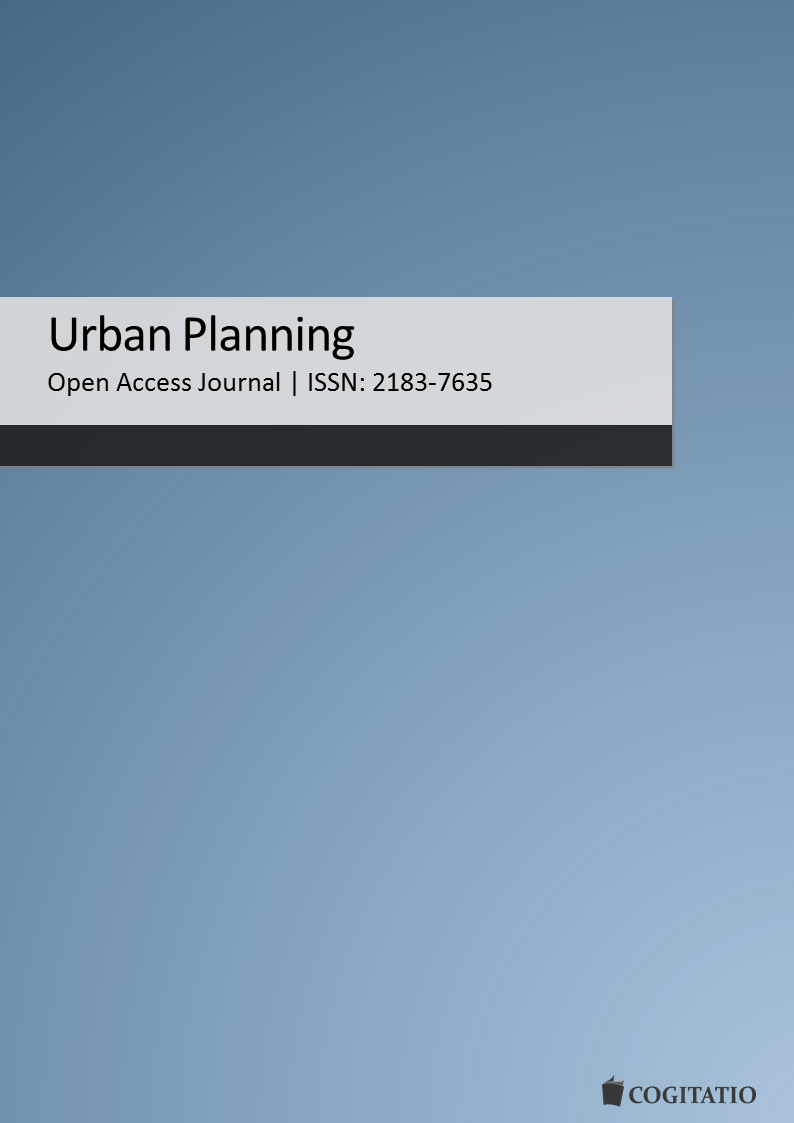 Who "owns" CO2 emissions is one matter. Figuring out where they belong is another–especially when emissions involve mobility. Many cities, regions and countries thus do not include long-distance transport in their carbon accounting. This is especially the case for extra-territorial air travel. Kobe Boussauw and Jean-Michel Decroly, two Belgian scholars, help remedy this in their article ("Territorializing international travel emissions: geography and magnitude of the hidden climate footprint of Brussels." Urban Planning 6, no. 2 (2021): 285-298). The authors research the geography and magnitude of the climate footprint of international travel with Brussels as a destination. In doing so, they estimate that international travelers added the equivalent of 2.7 million tons of C02 to the official climate footprint of the Brussels-Capital Region, which was 3.7 million tons equivalent in 2017. Not surprisingly, travelers from greater distances are responsible for a disproportionate share, a key reason being their reliance on air transport. People from the United States, for example, comprise 7.6% of all travelers, but they are responsible 21% of the additional emissions. In conclusion, the authors argue that territorializing carbon emissions associated with international travel is a necessity as failure to include them distorts debate about climate change mitigation. They also assert that a sustainable future is "one where jet aircraft will no longer play a substantial role."