by Jonathan M. Harris & Brian Roach
---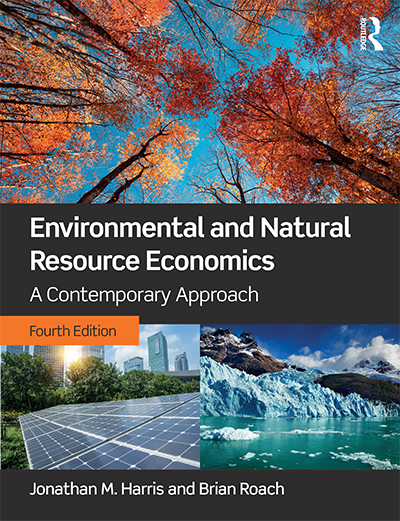 This text introduces students to the expanding field of ecological economics. It balances coverage of standard environmental economics topics with a global perspective on current ecological issues such as population growth, global climate change, "green" national income accounting, and the relationship between trade and the environment. Order via Routledge.
Instructors
For a free exam copy, contact Routledge.
To access teaching materials, including test banks, contact us. Please indicate what course you teach and provide proof of your instructor status (e.g. a link to your bio).
---
Sample chapters:
Chapter 1: Changing Perspectives on the Environment
Updated presentation of environmental and ecological economics

Chapter 11: Energy: The Great Transition
A focus on recent trends in renewable energy
---
Student Supplements
Chapter Review Questions
Web-Based Exercises
---
Updates on contemporary issues:
GDAE's Theory and Education Program offers a series of short (1-3 page) updates on contemporary environmental and natural resource economics issues. They serve as extensions to the material covered within the textbook authored by Harris & Roach.
---
New material in Fourth Edition:
Note the chapter numbering has changed from the third edition. See Table of Contents.

The former Chapter 6 on valuing the environment has been expanded to create a new Chapter 7 on cost-benefit analysis.
Revised chapter ordering: the chapter on Pollution Analysis and Policy becomes Chapter 8 to facilitate dealing with analytical material in the first half of the course.
Energy and Climate chapters expanded and reorganized to create a new section on "Energy, Climate Change, and Greening the Economy", focusing on the rapid spread of renewable energy, the increased urgency of climate change and new policies to respond to it, including the Paris Agreement and recent Intergovernmental Panel on Climate Change reports, and addressing the broader questions involved in developing an economy compatible with environmental sustainability.
New, expanded and updated material on population, agriculture, forests, fisheries, water systems, and other major topics.
---
Purchase the book
List Prices – Print: $94.95 eBook: $66.47
Purchase print copy: AbeBooks.com, Amazon, Routledge
eBook: GooglePlay, Vital Source
---
Reviews
"The book is simply great! It is really one of a kind. It fills an important need in the field, which will become more and more important in the future, no doubt – integrating standard environmental economics and ecological economics. The book is very clear, very informative, flows very well, and indeed is written as a very interesting and fascinating story. The students like it. The additional materials that come with the book are also very good. In short, job well done!"


-Rafael Reuveny, School of Public and Environmental Affairs at Indiana University
"An important achievement. This is a carefully crafted textbook that should appeal to students from the natural sciences, as well as those from economics and other social sciences. The text covers a number of important topics that most texts neglect, including agricultural sustainability, the relationship between trade and the environment, and the role of local and national institutions in promoting environment-friendly development. The tone of the book is formal yet friendly, and the layout of text, tables, and figures is top notch. Each chapter includes numerous useful links to material on the worldwide web. This book should prove popular with students and instructors alike."


-Gerald Shively, Purdue University
"I think that you have written the perfect introductory text covering environmental and natural resource economics. The production is first-rate – very clear and uncluttered, excellent diagrams and examples, well thought out discussion questions and problems. The choice and sequence of topics is excellent and you have provided for the right balance between the neoclassical and ecological approaches. It is a most appealing text."


-Prof. Steven Kemp, Curtin University, Australia