The Northeast Healthy Soil Network Presents:
Agriculture and Climate in the Northeast: Soil and Ecosystem Health
Friday, February 21, 2020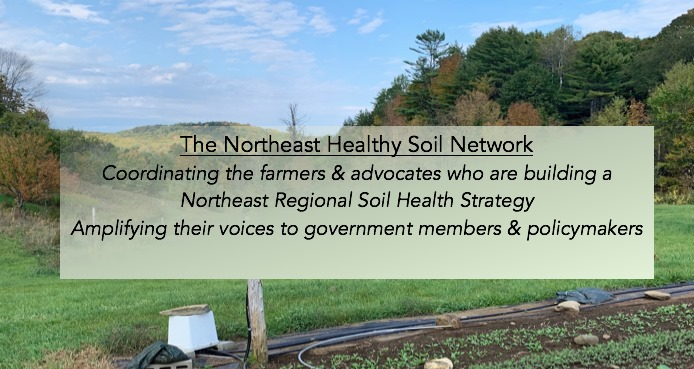 The United States is poised for a farming "revolution" centered around building healthier soils throughout the country. This soil health movement is being led by farmers, policymakers and non-governmental groups. In the Northeast, healthy soils initiatives that reward farmers for using healthy-soil-practices have been proposed and in some cases adopted at the state level.
The Northeast Healthy Soil Network will strengthen and aid the healthy soil movement in the Northeast region by fostering communication and collaboration. Building on an initial conference in April 2019, we will bring together policymakers, farmers, academics, and students for a symposium aimed at advancing healthy soils policies and practices throughout the Northeast.
The event will begin on Thursday, Feb 20th, with an all-day in-depth policy working group for members of the Northeast Healthy Soil Network. Click here to see the Thursday, February 20th working group schedule.
The program of Friday Feb. 21st is open to the general audience.
---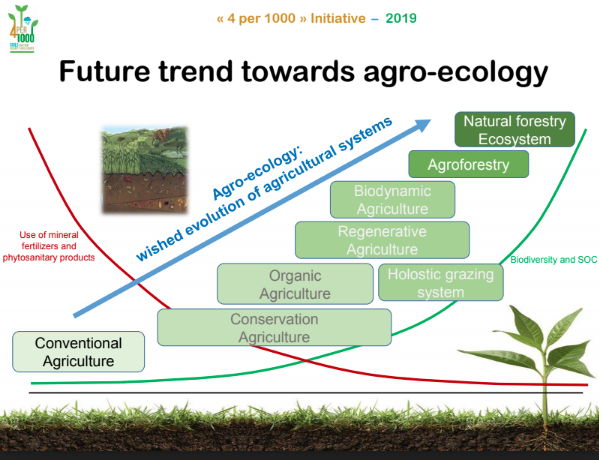 ---
Friday, February 21st Schedule
8:30 am: Registration and Welcome
9:00 – 10:45 am: Panel 1 on climate emergency and potential for agriculture to be part of the solution – framing the issue at the global/international level
4per1000, a global network for international cooperation on accelerating the adoption of best practices of agricultural transition.
Agroforestry in the developing world as a win-win strategy for food security and climate adaptation and mitigation.
The status of soil health science: towards a systemic approach including both carbon storage and ecosystem services.
The challenges of agricultural transition at the global scale: the cases of the EU and China.
How to incorporate agricultural transition into a Green New Deal at the national level in the US.
11:00 – 12:45 am: Panel 2 on the agricultural transition in the northeast: healthy soils for stronger viable farms and for climate adaptation and mitigation
Advancing Healthy Soils policies in Massachusetts, Vermont, Maine, New York and beyond: incorporating soil building goals into state policymaking
Forests and wetlands and their key carbon sink role in the Northeast
Challenges of dairy farming in the Northeast and the potential of partnerships to enable transition
The Soil Health Initiative and Green America's Soil Carbon Initiative – case studies, methodology and funding challenges
Ecosystem services market consortium and funding strategies
12:45 – 1:30 pm: Luncheon Buffet
1:30 – 5:00 pm: Afternoon Workshops
Track 1:
Building the Healthy Soil Network in the Northeast: a group dynamic exercise with farmers, NGO activists and policymakers from the Northeast.
Strengthening and Broadening the Northeast Healthy Soil Network: towards a regional coalition (2 sessions)
Session 1: Economic incentives and funding streams needed to ensure the implementation of successful healthy soils policies
Progress from the day before is recapped.
Review of existing practices for healthy soils funding.
Development of specific proposals for economic incentives and funding.
Session 2: Reviewing and discussing healthy soil bills in Northeast States
Progress from the day before is recapped.
Sciences and measurement methodology.
Strategy for promoting and implementing healthy soil legislation
Track 2:
National and International Case Studies: Case studies from California, France, Canada, and from several Developing Countries.
5:00 pm: light refreshments/closing reception.

---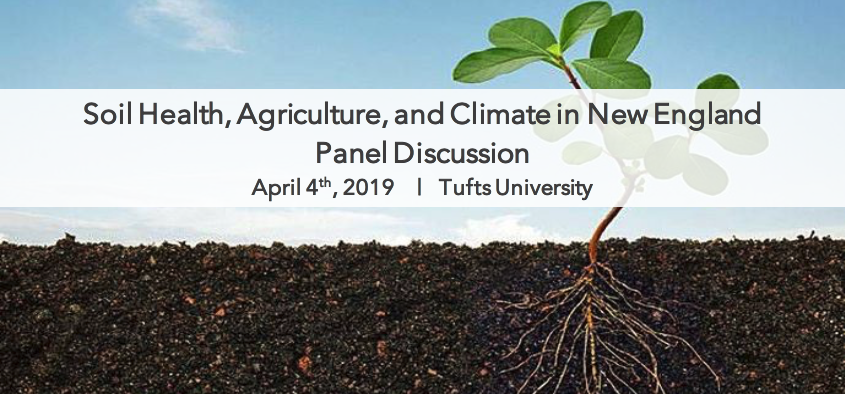 On April 4th, GDAE, in collaboration with the Consulate General of France, Tufts Institute of the Environment, and the International 4 per 1000 Initiative, sponsored a forum and panel discussion on "Soil Health, Agriculture, and Climate in New England". Presentations at the panel reflected the work of a team of food system advocates, including farmers, researchers, students, and policymakers aiming to launch a Soil Health Initiative that will enhance and expand the regional system of soil management in New England States.
Speakers included:
Dr. Timothy Griffin, Tufts Friedman School
Ellen Griswold, Maine Farmland Trust
Julie Davenson, Executive Director of Stonewall Farms
Didi Pershouse, Author of "The Ecology of Care"
Sylvain Maestracci, French Embassy in Washington D.C.
View event meeting notes
See event flyer
Presentations
Jonathan Sanderman, Woods Hole Research Center, "Soil carbon sequestration: from potential to reality"
Paul Luu, Executive Secretary of 4 per 1000 Initiative, "The 4 per 1000 InitiativeGeneral Presentation"
The International 4 per 1000 Initiative, launched by the French government, aims to promote greenhouse gas emissions reduction though greater carbon absorption in agricultural soils. "4 per 1000" refers to the great potential for carbon absorption through practices that increase soil carbon sequestration by 0.4% per year, both to combat climate change and to increase food security.
Will Szal, Economics at Regen Network, "Regen Network"
Sylvain Maestracci, Agricultural Counselor, French Embassy in Washington D.C, "Soil Health, Agriculture & Climate in New England – 4p1000 initiative"
Steven Keleti, Tufts Northeast Healthy Soils Initiative, "Healthy Soils Legislation and Policy"
Julie Davenson, Executive Director of Stonewall Farms, "Stonewall Farms"
Didi Pershouse, Author of "The Ecology of Care", "The Soil Sponge: The living matrix that supports life on earth"
Related GDAE Publications
Climate smart or regenerative agriculture? Defining climate policies based on soil health, Anne-Marie Codur and Josephine Watson, GDAE Climate Policy Brief #9, April 2018

Hope Below Our Feet Soil as a Climate Solution, Anne-Marie Codur, Seth Itzkan, William Moomaw, Karl Thidemann, and Jonathan Harris, GDAE Climate Policy Brief #4, April 2017
Additional Articles and Resources
Soil Health Initiatives in New York: Building Momentum, NOFA-NY, 2019
Farmers Are Excited About Soil Health. That's Good News for All of Us., Karen Stillerman, Union of Concerned Scientists, April 2019

Healthy Soils to Cool The Planet: A Philanthropic Action Guide , Betsy Taylor, Breakthrough Strategies and Solutions, February 2019

Climate Instability and Agriculture: The Challenge and Solution, Fact Sheet, Earthjustice, February 2019

Managing for soil carbon sequestration: Let's get realistic, William H. Schlesinger, Global Change Biology, November 2018

Summary of State Efforts To Promote Healthy Soils and Soil Carbon Sequestration, Regeneration International, July 2017

"Understanding Soil Health and Watershed Function: A Teacher's Manual", Didi Pershouse, August 2017

Soil Health Institute
The Regen Network
Soil Carbon Coalition
Sponsors
This event was sponsored by GDAE at Tufts University, the Friedman School at Tufts University, Tufts Institute of the Environment, the international 4 per 1000 Initiative, and the Consulate General of France in Boston.