Listed below are some opportunities created for animal people, by animal people. Click the links for more details about requirements/previous projects, etc.!
1.) Career Center Summer Internship Grants:
"Each summer we fund 40-50 undergraduate students doing unpaid internships for a minimum of 300 hours. These funds offer students the opportunity to explore career fields and gain experience. Selected students will receive $4,500. Students must secure an internship prior to the deadlines. Because of the ongoing pandemic and risks imposed to health and safety, please read through the COVID Expectations for Students Regarding Summer Internships, and know that The Internship Grant Program is subject to change with any evolving Tufts policies and/or guidance."
Deadline: March 19, 2023 11:59 PM EST.
https://careers.tufts.edu/experiences/summer-internship-grants/
2.) Lily Glidden Award:
"With the Lily Glidden Award, Lily's family and friends honor her memory and carry on her spirit of curiosity, never-ending adventure, irreverent tolerance of the rules, determination to surmount all obstacles, and above all, the wonder and joy she took at immersing herself in and learning about the natural world. Her life was about finding and seizing opportunities to turn her dreams to realities, and she would wish to help others do the same."
Deadline: February 10, 2023*
https://as.tufts.edu/biology/resources/awards-and-funding-opportunities/lily-glidden-award
3.) Russell L. Carpenter Summer Internship:
"The Russell L. Carpenter Fund for Teaching and Research in Biology at Tufts University was established in 1987 by Cynthia McFadden and Russell F. Carpenter in honor of their father, distinguished Tufts alumnus and Professor of Zoology, Russell LeGrand "Bud" Carpenter, A24, H77. Bud first entered Tufts as a student in 1920, intending to study English. But thanks to the inspiring lectures of Tufts biology professors Herbert Neal and Fred Lambert, Bud decided to study biology and a lifelong passion began."
Deadline: March 17, 2023
https://as.tufts.edu/biology/research/awards-and-funding-opportunities/russell-l-carpenter-summer-internship
4.) Anne E. Borghesani Memorial Prize:
"The Anne E. Borghesani Memorial Prize is an incentive award that enables the recipient(s) to undertake a research project, internship, volunteer activity, or plan of study in any field involving international issues. Designed to foster the spirit of the award, the prize encourages personal growth and independence, while increasing one's understanding of all peoples and encouraging a commitment to the world community. Since 1991, students from a variety of Tufts majors have used the prize to venture abroad and study, conduct research, participate in international internships, and become involved in social change movements. Borghesani award recipients have carried out their plans worldwide."
Deadline to Apply: February 15, 2023*

https://as.tufts.edu/ir/research-scholarship/funding-opportunities/anne-e-borghesani-memorial-prize
5.) Tufts Global Research Assistant Program (GRAP)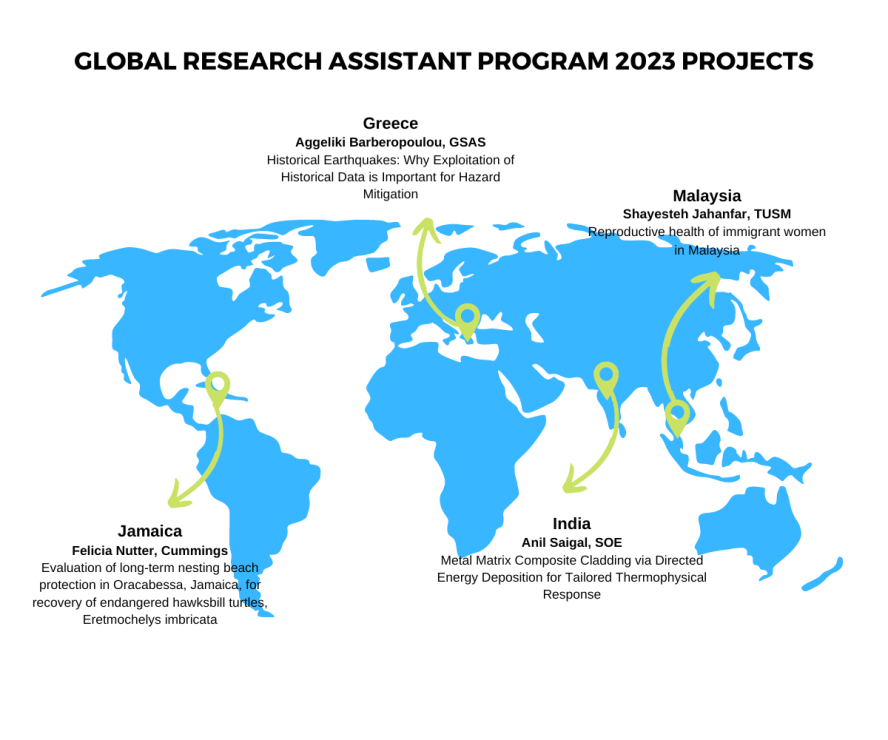 "The Global Research Assistant Program (GRAP) provides the opportunity for Tufts students to work with Tufts faculty members on international research and impact projects for a minimum of eight weeks during the summer. This initiative is sponsored by the AS&E Career Center and Summer Scholars Program, the Office of the Provost, and Tisch College. This opportunity is open to all Tufts undergraduates currently in their first, second or third year of study. Graduate students are eligible to apply, but priority will be given to undergraduate students. Graduating seniors may only apply if they are continuing into a Tufts graduate program."
Deadline to Apply: March 15, 2023
https://global.tufts.edu/GRAP-students
__________________________________________________________________________
*We are past the deadline for this cycle, but keep this in mind for next year!