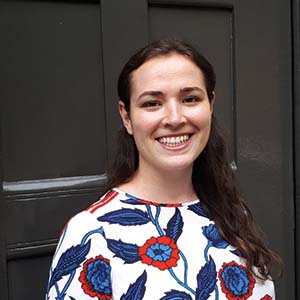 Bethany Tietjen is a PhD student at The Fletcher School and a Junior Research Fellow at the Climate Policy Lab. She received her M.A. in Law and Diplomacy from Fletcher and her B.A. in International Studies and German Studies from American University in Washington, D.C. Her current research looks at adaptation policy gaps in the United States as well as international adaptation assistance and its integration into foreign policy decision-making. In addition to her dissertation research, Bethany has conducted research on climate migration, urban climate adaptation, climate finance, and the gendered impacts of climate change. Prior to Fletcher, Bethany worked at NGOs and schools in Guatemala, Vietnam, and Thailand.

Email: bethany.tietjen@tufts.edu; Twitter: @bethany_tietjen
Publications
Tietjen, B. (2021). "CIERP Alumni Perspectives: A Conversation with Dr. Nichola Minott." Community Voices. CIERP and Climate Policy Lab.
Tietjen, B. (2021). "Defining Climate Migration." Climate Smart. Climate Policy Lab.
Tietjen, B. (2019). "Finance to adapt: Making climate funding work for agriculture at the local level." ECDPM.