The Fletcher School's Rising Power Alliances project is a multi-year project that analyzes the changing nature of alliances and coalitions in global governance. It examines when and how rising powers ally with one another, the robustness of their alignments (especially BRICS – Brazil, Russia, India, China, and South Africa), and their impact on the United States.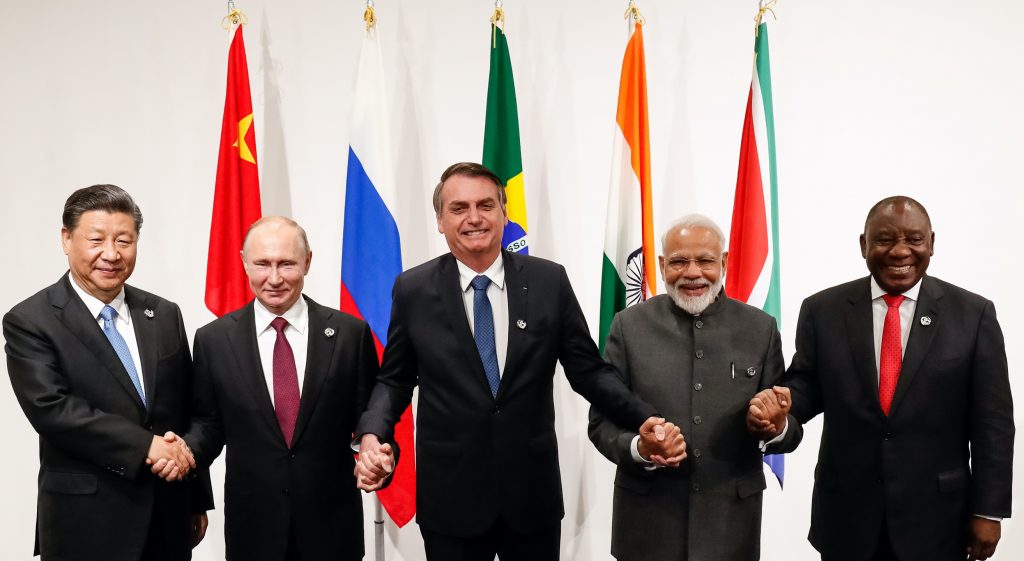 Our research is broadly organized into three main themes:
Defining alliances from the BRICS countries' perspectives: we examine how close strategic relationships have been conceptualized and analyzed in the BRICS countries since 1990s.
Rising powers' coalitional behavior across key strategic areas: our researchers investigate BRICS cooperation and policy convergence in the areas critical for American strategic interests.
U.S. policy response to rising power alliances: the project analyzes negotiation challenges and opportunities for managing U.S. relations with rising powers.
BRICS leaders' summit in 2019 (Photo by Klimentyev/AFP)
Leadership/Investigators: Kelly Sims Gallagher (PI) and Mihaela Papa (co-I)
This project is federally funded by the Minerva Research Initiative, a university-based, social science research program focused on areas of strategic importance to the United States. Any opinions, findings, and conclusions or recommendations expressed in this material are those of the authors.

---
Publications
Year
Preview
Citation
2023
Han, Z. and Papa, M. (2023). Leadership and performance in informal institutions: the internal dynamics of BRICS. Contemporary Politics.
https://doi.org/10.1080/13569775.2023.2264065
2023
Papa, M., Han, Z., & O'Donnell, F. (2023). The dynamics of informal institutions and counter-hegemony: introducing a BRICS Convergence Index. European Journal of International Relations
https://doi.org/10.1177/13540661231183352

2023
Nurullayev, D. & Papa, M. (2023). Bloc politics at the UN: How other states behave when the United States and China–Russia disagree. Global Studies Quarterly 3(3): 1-11.
https://doi.org/10.1093/isagsq/ksad034


2022
Han, Z., & Papa, M. (2022). Brazilian alliance perspectives: Towards a BRICS development-security alliance?
Third World Quarterly 43 (5),1115-1136.
doi: 10.1080/01436597.2022.2055539.

2022
Liu, Z., & Papa, M. (2022). Can BRICS de-dollarize the global financial system? (Elements in the Economics of Emerging Markets)
Cambridge: Cambridge University Press.
doi: 10.1017/9781009029544.
2022
Locoman, E., & Papa, M. (2022). Transformation of alliances: Mapping Russia's close relationships in the era of multivectorism.
Contemporary Security Policy 43 (2): 274-307.
doi: 10.1080/13523260.2021.1994692.
2021
Verma, R., & Papa, M. (2021). BRICS amidst India-China rivalry. Global Policy 12 (4): 509-513.
[Introduction, Special Section "India-China conflict and BRICS: business as usual?"]
doi: 10.1111/1758-5899.12977.
2021
Papa M. & Verma, R. (2021). Scenarios for BRICS evolution in light of the India-China conflict. Global Policy 12 (4): 539-544.
[Conclusion, Special Section "India-China conflict and BRICS: Business as usual?"]
doi: 10.1111/1758-5899.13010.
2021
O'Donnell F., & Papa, M. (2021). India's multi-alignment management and the Russia–India–China (RIC) triangle.
International Affairs 97 (3): 801-822.
doi: 10.1093/ia/iiab036.
2021
Han, Z., & Papa, M. (2021). Alliances in Chinese international relations: are they ending or rejuvenating?
Asian Security 17 (2): 158-177.
doi: 10.1080/14799855.2020.1825380.
2020
Williams C. & Papa, M. (2021). Rethinking "alliances": The case of South Africa as a rising power.
African Security 13 (4): 325-352.
doi: 10.1080/19392206.2020.1871796.
Join us for our upcoming conference!