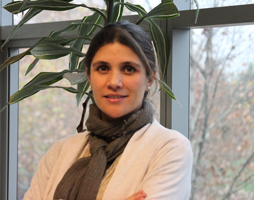 Dr. Reyes received her Ph.D in International Relations from the Fletcher School of Law and Diplomacy, Tufts University, Boston, United States and her Master of Arts in Law and Diplomacy, from the same University and is currently a Political Scientist at the Pontificia Universidad Católica de Chile. She has previously studied at the Institute of Political Studies in Paris, where she obtained the Certificate of Political Studies.
Her research area is International Relations, with a special emphasis in International Negotiation and Conflict Resolution, Environment and Natural Resources. She worked as a researcher at the Chilean Copper Commission between 1998 and 2000
She is currently Head of the Master Program in Political Science, Coordinator of the GAMA-UC group and researcher responsible for the Environmental Voting project. Learn more here.