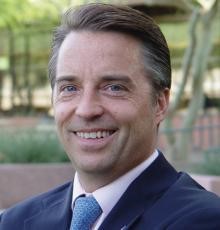 Dr. Gregory Unruh is currently a Sustainability Guest Editor at the MIT Sloan Management Review and the Arison Endowed Professor of Values Leadership at George Mason University.
As an outspoken advocate of environmental sustainability, ethics and corporate social responsibility, Dr. Unruh co-founded the Center for Eco-Intelligent Management with the renowned "green" designer William McDonough and also has served as a technical reviewer for the Intergovernmental Panel on Climate Change, the group that shared the 2007 Nobel Peace Prize with former Vice President Al Gore. In addition, he has contributed to the development b of the "United Nations Principles for Responsible Management Education" which he presented to UN Secretary General Bon Ki Moon in 2007 at the UN Palais des Nations in Geneva.
Dr. Unruh was previously an Associate Professor of Sustainability at the Thunderbird School of Global Management. Additionally, Dr. Unruh was the IE Alumni Professor of Corporate Sustainability at the top ranked IE Business School in Madrid. He also served on the faculty of Columbia University through Jeffrey Sach's Earth Institute and at Tufts University's Fletcher School, where he was interim director of the Center for International Environment and Resource Policy. Prior to his academic career, he spent eight years as an environmental consultant in California and northern Mexico.
Dr. Unruh has been a frequent contributor to the Harvard Business Review including his recent articles The Biosphere Rules, Growing Green: Three Smart Paths to Developing Sustainable Products and Winning in the Green Frenzy. He is the author of two books including the Amazon best-selling "Earth, Inc.: Using Nature's Rules to Build Sustainable Profits" and "Being Global: How to Think, Act, and Lead in a Transformed World" a work endorsed by President Bill Clinton. Professor Unruh also publishes extensively in academic journals including Energy Policy, Journal of Business Strategy and the Environment, Journal of Economic Issues, Ecological Economics, and Journal of Environment and Development Economics.
Dr. Unruh is a blogger for both Forbes magazine and the Huffington Post and is often sought out for interviews in popular media outlets such as BusinessWeek, the BBC, Financial Times, the Boston Globe and the Spanish-language dailies Expansion, Diaro, ABC (Spain) and El Mercurio (Chile).
Dr. Unruh earned his Ph.D. in international technology and environmental management from the Fletcher School at Tufts University; his MA in international affairs and business from Schiller International University in Madrid and Paris; and his BS in the earth sciences from the University of California. Learn more here.