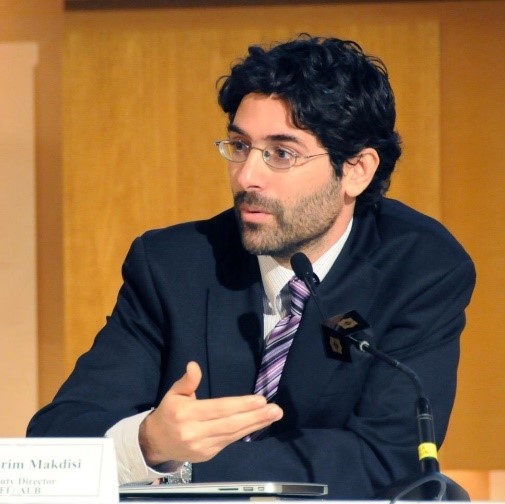 Karim Makdisi is an Associate Professor of International Politics and founding director of the Program in Public Policy and International Affairs at the American University of Beirut (AUB).
Makdisi was a founding member of Arab Council for the Social Sciences, where he is an Affiliated Researcher in the Critical Security Studies working group. He is primary investigator of two 3-year European Union projects: a Horizon 2020 research project entitled Middle East and North Africa Regional Architecture (MENARA, 2017-2019), a consortium of universities and research institutes looking into regional transformation in MENA; and Erasmus+ network project, EU-Middle East Network In Action (EUMENIA, 2018-2021).
His latest publications include The Land of the Blue Helmets: United Nations in the Arab World (Los Angeles: University of California Press, 2017, with Vijay Prashad); Between Regional Autonomy and Intervention: New Conflict Dynamics in the Middle East and North Africa (eds. Boserup et al. Copenhagen: Danish Instituter for International Studies, 2017); and Interventions in Conflict: International Peacemaking in the Middle East (New York: Palgrave Macmillan, 2016, with R. Khouri and M. Wählisch). Recent articles include: "Writing about Insecurity and Global Politics in Beirut," APSA MENA Newsletter (Spring 2019, with W. Hazbun and C. Hindawi); "Contested Multilateralism: The United Nations And The Middle East," in MENARA Working Papers (2019); "Exploring the UN and OPCW Partnership in Syrian Chemical Weapons Disarmament: Inter-organizational Cooperation and Autonomy, "Global Governance: A Review of Multilateralism and International Organizations (2019, with C. Hindawi); "The Syrian Chemical Weapons Disarmament Process in Context: Narratives of Coercion, Consent, and Everything in Between" (with C. Hindawi) in the Third World Quarterly (2017); and "Intervention and the Arab Uprisings: from Transformation to Maintenance of Regional Order" (in eds. Boserup et al, 2017).