Adnan Amin visits Tufts for a CIERP and CREATE Solutions Lecture and Reception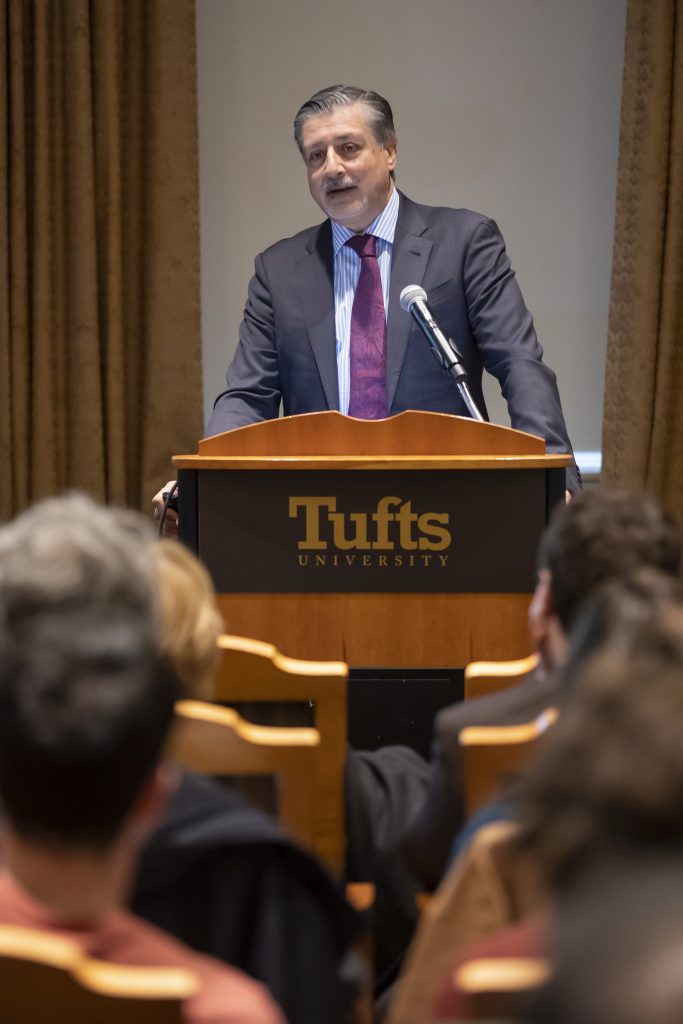 Former Director-General of the International Renewable Energy Agency (IRENA) and Harvard University Belfer Center Senior Fellow, Adnan Amin, visited Tufts University on February 26, 2020 to speak at the CIERP and Tufts CREATE Solutions Lecture and Reception in the Coolidge Room at Ballou Hall.
Amin discussed how renewable energy is reinventing the current global energy system with its falling costs and the increase in technology and market design innovation. Amin noted that there are major opportunities and major risks that lie ahead for countries and private companies in the renewable energy sector.
Amin was welcomed to Tufts by over 50 attendees and was introduced by Fletcher Professor and CIERP Co-director Kelly Sims Gallagher. Fletcher School Dean Rachel Kyte also attended, contributing to the Q&A portion of the evening. Attendees continued the discussion during the reception after Amin's lecture.
Did you miss the lecture? Watch it here. View the presentation slides here.
---
Adnan Amin is a Senior Fellow at Harvard Kennedy School's Belfer Center where he works on the Geopolitics of Energy Project. Following a distinguished career at the United Nations which included leading UN reform for system wide coherence and as head of the UN System Chief Executives Board Secretariat in New York, he was elected as the first Director General of the International Renewable Energy Agency. IRENA is the first universal treaty-based multilateral organization headquartered in the Middle East in Abu Dhabi, UAE, and which participates regularly in the work of institutions such as the G7, G20 and the United Nations. As DG, Adnan led the building of a new institution to support the international community in the transition to a sustainable energy future, turning the agency into a leading player in the global energy transition based on its cutting edge analytical, technical, and advisory services to member countries.