New report on relationship between clean energy policy and expanding markets
Clean Energy Policy and Expanding Markets: Insights from Corporate, Labor and Investor Leaders
We are pleased to publish and share the results of our research project on the relationship between clean energy policy and expanding markets. Our interviews with corporate, labor and investor leaders across the U.S. economy sought to assess what they need to successfully implement business strategies that both advance the transition to a low-carbon economy and spur company growth, profits, job creation, shareholder value and investor returns.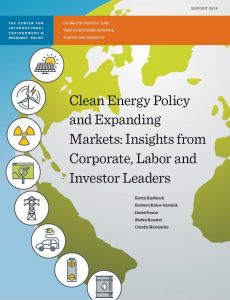 We interviewed 53 economic leaders, with 47 agreeing to be quoted extensively on the record and another four agreeing to let us attribute their quotes anonymously. You'll see that we identified a striking number of areas of consensus, which informed our ten policy findings, with the following topline messages:
Corporate, labor and investor leaders across the economy see economic opportunity in moving toward a decarbonized economy.
These leaders want government to help clarify that course with far-sighted, coherent and consistent public policies and public investments in clean energy RD&D.
Therefore, policy changes are needed in Washington and in all 50 states to strengthen the abilities of companies and investors so they can thrive in an accelerated transition to a decarbonized economy.
We think the insights compiled here can help shape energy and climate policy discussions in the months and years ahead. We welcome your thoughts!
Thank you,
Kevin Knobloch                                Barbara Kates-Garnick
kevin.knobloch@tufts.edu             Barbara.Kates_Garnick@tufts.edu