Putin's Wars: From Chechnya to Ukraine (Mark Galeotti, 2022)
Putin's Wars is a timely overview of the conflicts in which Russia has been involved since Vladimir Putin became prime minister and then president of Russia, from the First Chechen War to the two military incursions into Georgia, the annexation of Crimea and the eventual invasion of Ukraine itself. But it also looks more broadly at Putin's recreation of Russian military power and its expansion to include a range of new capabilities, from mercenaries to operatives in a relentless information war against Western powers. This is an engrossing strategic overview of the Russian military and the successes and failures on the battlefield. Thanks to Dr Galeotti's wide-ranging contacts throughout Russia, it is also peppered with anecdotes of military life, personal snapshots of conflicts, and an extraordinary collection of first-hand accounts from serving and retired Russian officers.
Russia continues to dominate the news cycle throughout the Western world. There is no better time to understand how and why Putin has involved his armed forces in a variety of conflicts for over two decades. There is no author better placed to demystify the capabilities of the Russian military and give a glimpse into what the future may hold.
Putin's Wars is an engaging and important history of a reawakened Russian bear and how it currently operates both at home and abroad to ensure Russia is front and centre on the world stage.
---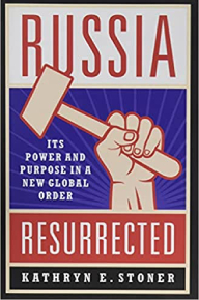 Russia Resurrected: Its Power and Purpose in a New Global Order (Kathryn Stoner, 2021)
Too often, we are told that Russia plays a weak hand well. But, perhaps the nation's cards are better than we know. Russia ranks significantly behind the US and China by traditional measures of power: GDP, population size and health, and military might. Yet 25 years removed from its mid-1990s nadir following the collapse of the USSR, Russia has become a supremely disruptive force in world politics. Kathryn E. Stoner assesses the resurrection of Russia and argues that we should look beyond traditional means of power to assess its strength in global affairs. Taking into account how Russian domestic politics under Vladimir Putin influence its foreign policy, Stoner explains how Russia has battled its way back to international prominence.
From Russia's seizure of the Crimea from Ukraine to its military support for the Assad regime in Syria, the country has reasserted itself as a major global power. Stoner examines these developments and more in tackling the big questions about Russia's turnaround and global future. Stoner marshals data on Russia's political, economic, and social development and uncovers key insights from its domestic politics. Russian people are wealthier than the Chinese, debt is low, and fiscal policy is good despite sanctions and the volatile global economy. Vladimir Putin's autocratic regime faces virtually no organized domestic opposition. Yet, mindful of maintaining control at home, Russia under Putin also uses its varied power capacities to extend its influence abroad. While we often underestimate Russia's global influence, the consequences are evident in the disruption of politics in the US, Syria, and Venezuela, to name a few. Russia Resurrected is an eye-opening reassessment of the country, identifying the actual sources of its power in international politics and why it has been able to redefine the post-Cold War global order.
---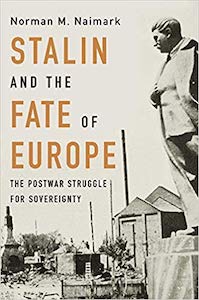 Stalin and the Fate of Europe: The Postwar Struggle for Sovereignty (Norman Naimark, 2019)
Was the division of Europe after World War II inevitable? In this powerful reassessment of the postwar order in Europe, Norman Naimark suggests that Joseph Stalin was far more open to a settlement on the continent than we have thought. Through revealing case studies from Poland and Yugoslavia to Denmark and Albania, Naimark recasts the early Cold War by focusing on Europeans' fight to determine their future.
As nations devastated by war began rebuilding, Soviet intentions loomed large. Stalin's armies controlled most of the eastern half of the continent, and in France and Italy, communist parties were serious political forces. Yet Naimark reveals a surprisingly flexible Stalin, who initially had no intention of dividing Europe. During a window of opportunity from 1945 to 1948, leaders across the political spectrum, including Juho Kusti Paasikivi of Finland, Wladyslaw Gomulka of Poland, and Karl Renner of Austria, pushed back against outside pressures. For some, this meant struggling against Soviet dominance. For others, it meant enlisting the Americans to support their aims.
The first frost of Cold War could be felt in the tense patrolling of zones of occupation in Germany, but not until 1948, with the coup in Czechoslovakia and the Berlin Blockade, did the familiar polarization set in. The split did not become irreversible until the formal division of Germany and establishment of NATO in 1949. In illuminating how European leaders deftly managed national interests in the face of dominating powers, Stalin and the Fate of Europe reveals the real potential of an alternative trajectory for the continent.
---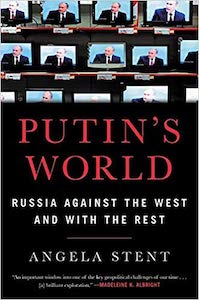 Putin's World: Russia Against the West and with the Rest (Angela Stent, 2019)
How did Russia manage to emerge resurgent on the world stage and play a weak hand so effectively? Is it because Putin is a brilliant strategist? Or has Russia stepped into a vacuum created by the West's distraction with its own domestic problems and US ambivalence about whether it still wants to act as a superpower? Putin's World examines the country's turbulent past, how it has influenced Putin, the Russians' understanding of their position on the global stage and their future ambitions — and their conviction that the West has tried to deny them a seat at the table of great powers since the USSR collapsed.
This book looks at Russia's key relationships — its downward spiral with the United States, Europe, and NATO; its ties to China, Japan, the Middle East; and with its neighbors, particularly the fraught relationship with Ukraine. Putin's World will help Americans understand how and why the post-Cold War era has given way to a new, more dangerous world, one in which Russia poses a challenge to the United States in every corner of the globe — and one in which Russia has become a toxic and divisive subject in US politics.