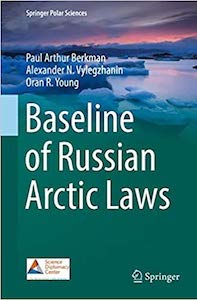 Baseline of Russian Arctic Laws (Paul Arthur Berkman, Alexander Vylegzhanin, Oran Young, 2019)
This book is the first comprehensive and authoritative translation into English of national and international laws of Russia that relate to the Arctic from the early 19th century to the present, revealing the historical and current context of sovereignty, sovereign rights and jurisdiction across nearly half of the north polar region. The Russian original version was coordinated by Igor Sergeyevich Ivanov, former Foreign Minister of the Russian Federation and currently the President of the Russian International Affairs Council.This unique translation complements all legal, geopolitical and governance analyses of the Arctic as a primary source of information, without interpretation or bias. TheBaseline of Russian Arctic Laws is a treasure trove for diplomats, scholars and students who are involved with the international environmental, economic and societal dynamics of the Arctic, balancing national interests and common interests to achieve sustainability of the high north for the benefit of all across generations in our globally-interconnected civilization.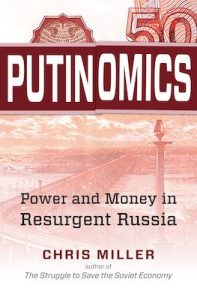 Putinomics: Power and Money in Resurgent Russia (Chris Miller, 2018)
When Vladimir Putin first took power in 1999, he was a little-known figure ruling a country that was reeling from a decade and a half of crisis. In the years since, he has reestablished Russia as a great power. How did he do it? What principles have guided Putin's economic policies? What patterns can be discerned? In this new analysis of Putin's Russia, Chris Miller examines its economic policy and the tools Russia's elite have used to achieve its goals. Miller argues that despite Russia's corruption, cronyism, and overdependence on oil as an economic driver, Putin's economic strategy has been surprisingly successful.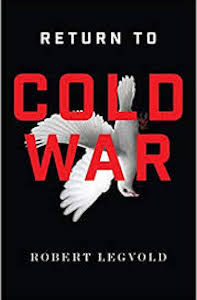 Return to Cold War (Robert Legvold, 2016)
The 2014 crisis in Ukraine sent a tottering U.S.-Russian relationship over a cliff – a dangerous descent into deep mistrust, severed ties, and potential confrontation reminiscent of the Cold War period. In this incisive new analysis, leading expert on Soviet and Russian foreign policy, Robert Legvold, explores in detail this qualitatively new phase in a relationship that has alternated between hope and disappointment for much of the past two decades. Tracing the long and tortured path leading to this critical juncture, he contends that the recent deterioration of Russia-U.S. relations deserves to be understood as a return to cold war with great and lasting consequences. In drawing out the commonalities between the original cold war and the current confrontation, Return to Cold War brings a fresh perspective to what is happening between the two countries, its broader significance beyond the immediate issues of the day, and how political leaders in both countries might adjust their approaches in order, as the author urges, to make this new cold war "as short and shallow as possible."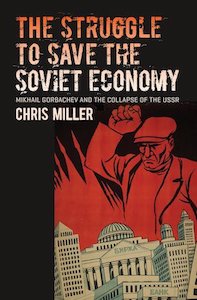 The Struggle to Save the Soviet Economy: Mikhail Gorbachev and the Collapse of the USSR (Chris Miller, 2016)
For half a century the Soviet economy was inefficient but stable. In the late 1980s, to the surprise of nearly everyone, it suddenly collapsed. Why did this happen? And what role did Soviet leader Mikhail Gorbachev's economic reforms play in the country's dissolution? In this groundbreaking study, Chris Miller shows that Gorbachev and his allies tried to learn from the great success story of transitions from socialism to capitalism, Deng Xiaoping's China. Why, then, were efforts to revitalize Soviet socialism so much less successful than in China?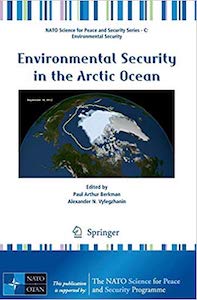 Environmental Security in the Arctic Ocean (NATO Science for Peace and Security Series C: Environmental Security) (Edited by Paul Arthur Berkman and Alexander Vylegzhanin, 2013)
This seminal book results from a NATO Advanced Research Workshop at the University of Cambridge with Russian co-directorship, enabling the first formal dialogue between NATO and Russia about security issues in the Arctic Ocean.  Involving interdisciplinary participation with experts from 17 nations, including all of the Arctic states, this workshop itself reflects progress in Arctic cooperation and collaboration. Interests now are awakening globally to take advantage of extensive energy, shipping, fishing and tourism opportunities in the Arctic Ocean as it is being transformed from a permanent sea-ice cap to a seasonally ice-free sea.  This environmental state-change is introducing inherent risks of political, economic and cultural instabilities that are centralized among the Arctic states and indigenous peoples with repercussions globally.  Responding with urgency, environmental security is presented as an "integrated approach for assessing and responding to the risks as well as the opportunities generated by an environmental state-change."  In this book – diverse perspectives on environmental security in the Arctic Ocean are shared in chapters from high-level diplomats, parliamentarians and government officials of Arctic and non-Arctic states; leaders of Arctic indigenous peoples organizations; international law advisors from Arctic states as well as the United Nations; directors of inter-governmental organizations and non-governmental organizations; managers of multi-national corporations; political scientists, historians and economists; along with Earth system scientists and oceanographers.  Building on the "common arctic issues" of "sustainable development and environmental protection"established by the Arctic Council – environmental security offers an holistic approach to assess opportunities and risks as well as develop infrastructure responses with law of the sea as the key "international legal framework" to "promote the peaceful uses" of the Arctic Ocean.  With vision for future generations, environmental security is a path to balance national interests and common interests in the Arctic Ocean for the lasting benefit of all.