My Experience
By Nick Tsitos
I asked the students at Tufts of the Assistive Technology Class to work on a project to feed myself without any help from my PCA. Each student brought different ideas about my project and I learned a lot of new ways. I had asked the students to work on this project because I would like the freedom to go out on a date or hang out with friends without the assistance of my PCA. I am so thankful to have my PCA, but I was excited for the opportunity to work on this project with the professors and the students.
Students from Engineering, Physical, Speech and Occupational Therapy helped me on this feeding project. Each Spring Semester that I worked with Tufts, the students were very helpful in building a feeding robot to feed myself. We are trying a lot of different assistive technology equipment out in the community in everyday life to help feed myself.
The students made up some products for me to test with them in the class. I tested out three different products but my favorite was the robot arm because it was so small and portable. If other clients were to get involved with a similar project, I think that their experience would be fantastic like mine was. The students really listen to what is needed to help in everyday life. They can make any kind of assistive technology product to help people with disabilities function easier everyday. People who have disabilities love the freedom to do daily things all by themselves. For example, I am an independent young man and I love being able to do an activity all by myself. When I accomplish a task without any help, it is an awesome feeling and I feel very proud of myself.
People who work with me need to know a few important things. The most important thing people need to know is how to be patient when they are working with me. The most irritating thing is when a person does not listen to me. Especially when I know what works best and what does not in my life. As long as the people have the patience to work with me, there is less of a chance of myself getting frustrated. For example, I got very frustrated with some of the therapists I had helping me when I was younger. At that time, I did not have a communication device to help with speaking. I was not able to say simple things like "something is wrong or hurting me," or simply ask that "I needed to use the bathroom or that I was hungry or thirsty." Plus, not being able to say that "I was tired and I needed a break" from working with the therapists.
I am very grateful for this opportunity to work with Tufts. I love helping the Assistive Technology Professors every Spring semester. I also love working with the students from Engineering, Physical, Occupational and Speech Therapy and seeing what they can come up with in a test product.
Uber & Lyft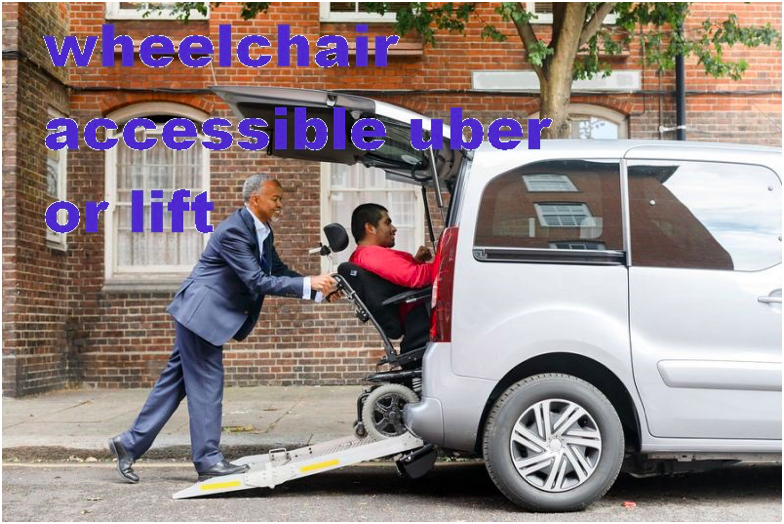 The Uber and Lyft transportation companies are accessible for people who are in power or manual chairs. These companies have varied size vehicles with wheelchair lifts to support all the different models of powered or wheeled chairs. The Uber and Lyft mobile apps are easy to use and I can get a ride within minutes versus calling on the phone to book a time. These companies make my life a lot better and easier because it makes me feel a lot more independent in my daily life.
Beach Wheelchair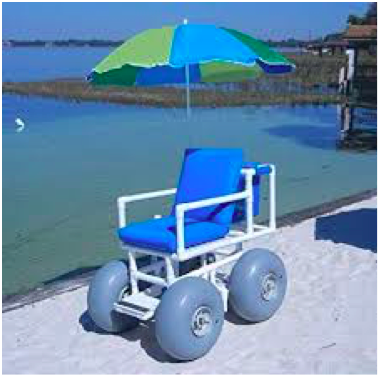 This is a beach wheelchair for people with special disabilities. The beach wheelchair has big tires to make it easier to get around on the sand. Some beach wheelchairs have more straps on them to help float in the water. The beach wheelchairs allow for a quick moving access incase there is an emergency on the beach. People with disabilities love to go to the beach, but before the invention of the beach wheelchair, they could not go. I love being able to use the beach wheelchair to go outside and go to the beach.
Therapy Bike
This is a therapy bike and it is used by people of all ages who need special bikes to ride by themselves. The therapy bikes come in different models with lots of straps and seatbelts to hold the person on securely. Some therapy bikes have special seats because some people need more support on the bike. The therapy bikes also have special straps on the pedals to hold the feet. I think that the therapy bikes are a fantastic workout for people who have disabilities. All the security fasteners on the bike allow people to ride all by themselves.
Ball Pits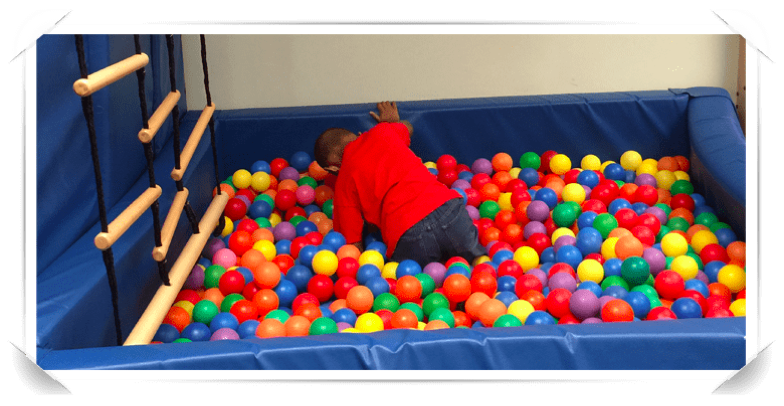 This ball pit helps those with special needs. It can also help kids to reduce stress. I used a ball pit when I was younger to learn how to use my muscles and now I can move my body a lot better by myself. I think that ball pits are also a good way to learn how to swim. They can help kids who are scared of swimming in the pool and slowly ease them towards swimming in water. I think that ball pits are good for people with disabilities because they can stand up by themselves with the balls around them for support. I love the ball pit and I think it is awesome because it helps a lot.
Body Jacket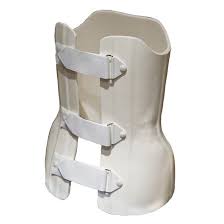 People or kids that have a disability most often have scoliosis. This body jacket is designed to keep the back in proper alignment to prevent the scoliosis from decreasing. The body jackets purpose is to support the back of anybody wearing it and to improve their strength. People can wear the body jacket while eating as it forces them to sit up properly and it makes it easier to eat. When I was little, I had to wear a hard body jacket because my scoliosis was in a bad condition. The body jacket fixed my scoliosis and now I do not have to wear one as an adult.
iBook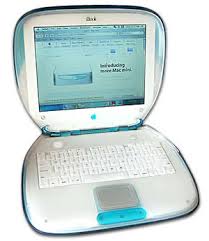 This is an ibook laptop and it was my first ever communication device. I used my ibook with a program called Mayer Johnson. I used a joystick and a switch to click what I wanted to say to whomever was talking to me. It took a long time to write and build a sentence on my laptop. The Mayer Johnson program was not extremely fast but the ibook laptop was good for my first communication device. The ibook had a CD insert on the side so that I could play educational games or listen to a book for my homework. My ibook also had a drawing program on it, which helped me with my art classes in school. I was able to talk to my friends in school using the ibook. During school, my ibook laptop was on a special tray that was made for me. The special tray had a cut out for the wires, the joystick and my switch. The tray for my ibook opened up like an old school desk and it was strong enough to hold the laptop on it. I thought that the special tray was a neat addition to my ibook laptop.
Editorial Note: The image does not feature the specially designed tray.
Accent 1400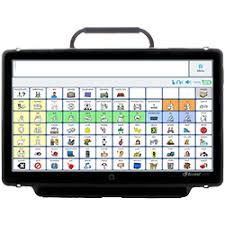 This communication device is called the Accent 1400 with eye gaze. This communication device is the best device on the market. This communication device has a lot of really cool features on it. Such as a cell phone built in where I can make calls or text people. It also has the Windows software so that I can go on the internet and I can use the Word or the Power Point programs. I can send emails right off of this communication device so that I do not need to use two computers. I love this device because it makes my life easier. I can set up my own appointments for maintenance issues and with my doctors if I need to see them. I can also order stuff online such as from Amazon Prime. This communication device can work as a TV remote to change the channels or the volume. The Accent 1400 device helps me to feel more independent in my life. It allows me to go out rather than sitting at home and doing nothing. Before this device, I used a joystick and a switch to communicate what I wanted to say. I love this device so much as it helps me to move better and faster everyday.
Communication Book
This is a communication book for people who cannot speak by themselves. I had a book like this when I was younger. That book was my first communication break through in my life. My speech therapist at the Children's Hospital helped me to communicate with this book. The communication book had fast and short messages such as: "I would like something to eat." "Please, I would like a drink." "Please, I need to go to the bathroom." "Something is hurting me and I need to tell my aid or anyone around me." My first communication book was so hard because it me a long time to build a sentence or a message to somebody. I also needed help to hold my book up so that I could use it. Sometimes, I had a light strapped on my head to point to what I wanted to use in my communication book. On every page there was the saying, "Please turn the page." On the cover of the book there were instructions on how to help me communicate with the book so that whomever was helping me knew what to do. The communication book allowed me to talk to people for the first time and I loved it.
Feet Braces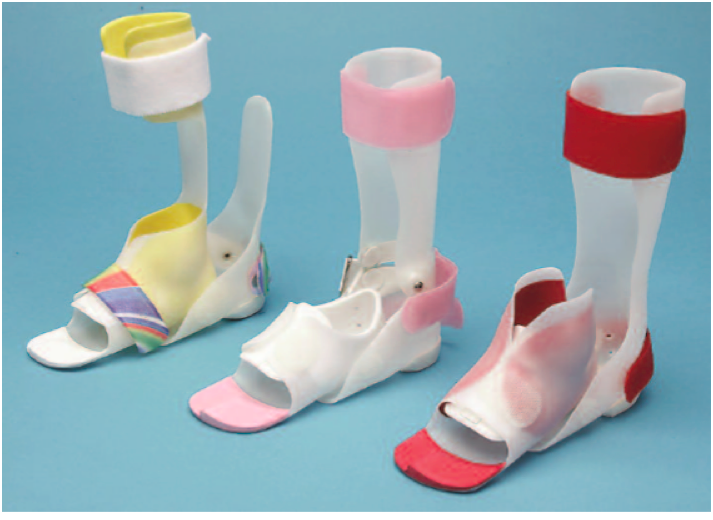 These are feet braces for people with disabilities or for people that are not strong enough to walk on their own. The feet braces help a person to stand better by giving support in the legs, the knees and the ankles. The braces have straps on them to help hold a person's foot in place. Feet braces come in many varieties. There are braces that come up to the knees and to the ankles. The braces have two parts to it. There is a plastic boot that goes inside and an outside case. The braces company can make special patterns for their clients. I think that the braces are helpful to people.
Eco 2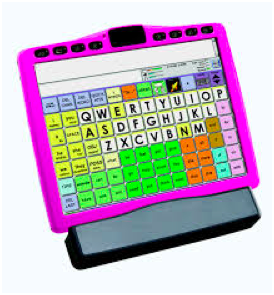 This communication device from PRC is called Eco 2 with eye gaze. The device had a CD insert on the top so that I could watch movies going to and from school. The CD insert was helpful because I used it to do my homework. The Eco 2 was the first communication device that I had with the eye gaze, which worked really fast. Before the use of eye gaze, I had to use a joystick and a switch to click what I wanted to say. It would take me a long time to write messages to people. Sometimes, people would walk a way when I was making my messages for them. Therefore, I had a message prepared when people first came over to me to let them know that my communication device worked slowly. Then, the people would know that am talking to them and that it would take me a little longer to talk. In the community, everybody knows that this is a communication device and that helps me out a lot. Similar to the Accent 1400 with eye gaze, the Eco 2 is the best system that I have ever had because it works fast. I love this communication device as it allows me to talk faster and easier with people.
Ski Sled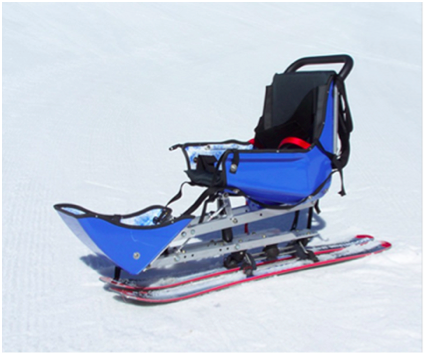 This is a skiing sled for people who have disabilities.  The sleds have special straps to secure the client so that they will not fall out.  The ski sled is shaped to a person's body so the rider can be comfortable for a few hours while skiing.  Some sleds have shock proof when going down the mountain so that the person in the sled has a softer ride.  Some sleds have more support for the skier than other sleds.  The ski lifts have a special way to hook the sled onto the lift to take the person up the mountain.  The skiing places have a lot of different equipment to help people who have disabilities to go skiing.  Every skiing place has an emergency team if a person in the sled gets hurt or for anybody on the mountain.  There are always two to three people with the person in the sled in case there is ever an emergency.  I think skiing is so much fun because I get to go fast down a big mountain.  It is another way for me to feel free without having to be in my power chair.                  
Corner Chair 
This is a corner chair for kids who have disabilities that cannot sit up on their own.  The corner chair will help them to sit up by themselves.  I used a corner chair when I was little because I was not strong enough.  My corner chair helped me to keep my legs out in front of me while sitting on the floor.  My corner chair gave me a nice stretch because I was sitting like a butterfly in the chair.  The corner chair helped me to sit up by myself without anybody holding me up.  The corner chair is great for people with disabilities so that they can sit up on the floor by themselves.  The corner chair's purpose is to strengthen the upper torso of the body.  The corner chair helps a person with a disability to sit up better so that they have an easier time eating and drinking.  I think that corner chairs are great because they can help in a lot of different ways.  The chair helped me a lot and I was eventually able to sit up all by myself.