Tufts Human Factors Program Interview
Kim Hallett, MS Human Factors with Thesis, 2019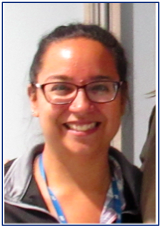 Bio:
Kim Hallett is the Lead Human Factors Engineer in the Human Centered Products group at Triton Systems, Inc.  Triton Systems is a Global Business Venture company that successfully launches innovative products and solutions in emerging markets worldwide.  Since joining Triton two years ago, Ms. Hallett has led the efforts to integrate human factors design principles into all of Triton's R&D programs, including: Tactical Combat Casualty Care medical training systems, a device for characterizing the residual limb of amputees to improve prosthetic interfaces, a hearing protection device to increase situational awareness in war fighters, and improving in-ear communications systems for Navy divers. She currently serves as Principal Investigator for the development of a low-cost in-flight bladder relief system for Navy and Air Force pilots. This program includes significant usability testing and designing for the complex aircraft domain as well as ensuring full compatibility and integration with aircrew equipment and life support systems. Prior to joining Triton, Ms. Hallett's graduate program at Tufts focused on product design, assistive technology, and cognitive and physical ergonomics.  Ms. Hallett's thesis work centered around experimental research for measuring levels of cognitive resilience through repeatable human behavior and biometric data sampling. Ms. Hallett earned her B.S. in Psychology from the University System of New Hampshire and her M.S. in Human Factors Engineering from Tufts University.
Please tell us a little about yourself and what you do.
What was your experience like at Tufts in the Human Factors Program?
I had a phenomenal experience at Tufts in the Human Factors program! I came into the program with a BS Psychology degree, and it was the perfect foundation for the coursework. I was able to take a lot of product design courses along with the standard human factor courses. I came out of the program feeling like I now have the perfect blend of psychology and engineering in my background. All of the faculty were always willing to take the time to talk with me and help ensure that I was getting everything I needed from the program. There were plenty of opportunities to find work in the department while taking classes so that everything I was doing was all part of my program. I would do it all again in a heartbeat!
2. Why did you choose this program and this school?
I chose Tufts for several reasons. First, I love that the Human Factors program at Tufts is so intertwined with all of the other engineering programs as well as connections to other departments such as occupational therapy. I felt confident going into my program that Tufts would provide me with the opportunity to explore all facets of human factors, and I didn't have to pigeonhole myself into one focus area. Second, I love that it is the oldest program in the country. It gave me confidence that they continue to be immersed in the cutting-edge of the human factors world, as well as having a lot of industry connections, both in New England and across the country. Finally, I love the leadership in the human factors department. It was truly an honor to work with Dr. Dan Hannon and Dr. James Intriligator. These two amazing individuals genuinely care about the quality of their students' experience and do everything in their power to make sure they are getting what they need and want out of the program.
3. What did you think of Tufts after the years you attended?
I'm fairly new out of my program at Tufts (it hasn't even been a full year yet), but I'm already thinking about going back for additional coursework or maybe even a PhD… I think that says it all!
4. What did you think of the Campus?
The campus is really beautiful. I would frequently climb up to the top of the hill and just look out over Boston. It was great to be so close to Boston. There is always something going on in the city – both professionally and recreationally.
5. What were your favorite courses?
Wow…hard question. Can I say all of them? 🙂 I guess if I really had to choose, I actually place a very high value on my thesis credits. Does that count as a course? When I think about all of the personal growth I did during my program at Tufts, it really is all centered around my thesis. Going through that process forced me into the driver's seat of literally creating myself as a human factors engineer. When taking your standard college course, you are often looking for a specific answer, and in some ways it's easy to look to the instructor to tell you who you are supposed to be and how you are supposed to find answers. While working on my thesis, I had to be in the uncomfortable position of looking to myself to understand how I was going to find the answers for myself. That entire process prepared me more for working in industry probably more than any other singular course at Tufts.
6. How has the program prepared you for working in the field?
It turned out that being exposed to so many different aspects of human factors engineering has continued to serve me well in my current work. I work as the only human factors engineer for a small business doing government R&D work. It's important that I have at least some knowledge of the problem space at hand, whether it's a physical device, software, or a digital interface. I also work on a wide variety of engineering problems that span technology readiness levels. Sometimes I am creating test protocols for formal testing with subject matter experts to use a fairly mature prototype, and sometimes I am writing up a proposed two-year design and evaluation plan for technology that doesn't exist yet. I continue to use things that I learned at Tufts every single day at my job.
7. What advice would you give another student interested in this program at Tufts? 
If you are a curious, creative person who loves working directly with customers to solve complex problems, then definitely apply for this program!