Many of our undergraduate and graduate students get involved with internships during their education.  Below are some example internship projects.
Volpe Center (2017) – Emerson Wenzel
The Volpe Center National Transportation Systems Center is a research center located in Kendall Square, Boston's innovation center. Volpe is unique in that it is a federal research center, but it does not directly receive any funds from the government. Instead, it is completely funded by sponsor projects.
I had the opportunity to work on multiple projects while I was at Volpe. I helped conduct an experiment through our driving simulator, completed a literature review on oral fluid drug testing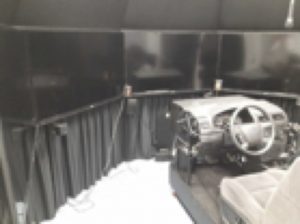 devices, and created a data visualization tool to better understand rail fatalities in the United States. The most motivating part of my internship was knowing that the research I was doing had the potential to save lives.
The best part about working at Volpe is also its weakness. As a federal research center, Volpe receives a plethora of interesting projects and all have a powerful social good component. Unfortunately, working for the federal government can at times be a little slow.
Charles River Analytics (2016) – Olivia Montgomery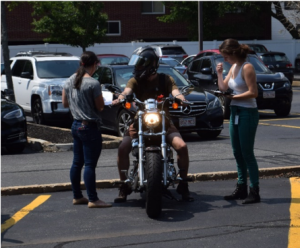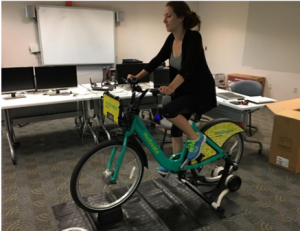 Charles River Analytics (www.cra.com) is a Cambridge-based R&D software development company with a mission to provide custom software-based solutions for both government and commercial interests. Charles River competes for both small business set-aside and open competition R&D contracts where there is potential for a software component, and as a result, projects are diverse—for me, this meant that every day presented a new challenge as my internship spanned work on 5+ projects.
As a student in both mechanical engineering and human factors engineering, my work at Charles River included everything from domain analysis, user testing, and interface design to CAD and rapid prototyping. I had the opportunity to contribute to a variety of projects at different stages of design, and gained valuable experience with industry-standard tools and practices in the process.
For a relatively small company (~150 people), Charles River has a well-established internship program. As much as I learned from my supervisors and mentors, I also learned from my peers as they contributed to projects on machine learning, cybersecurity, autonomous systems, and more.
Piaggio Fast Forward (PFF) (2018) – Anna Zolnikov
Piaggio Fast Forward (PFF) is a new robotics company based in Boston. Their focus is currently on a spherical personal assistant robot, Gita, which can follow a human and carry up to 40 kg of ca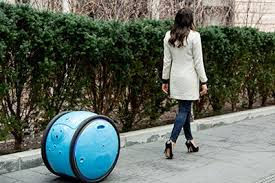 rgo. I spent my summer and fall semester working on various mechanical systems for this robot. I handled a large variety of projects such as testing epoxies, researching plastics, shaping composite body panels, designing a parking system and body panel mounts. Since this company is very heavily focused on the design and user experience of this robot, I had to keep human factors principles in mind every step of the way.
My lengthiest and most critical project was designing the body panel mounts. They are the first thing you see when taking off a body panel when servicing the robot. It was important to the company that even on the inside the robot looks cool and futuristic. The body panel mounts had to be easy to assemble and disassemble, even for someone who is not an engineer. They also had to support the entire weight of the robot and cargo since the handles to pick up the robot were located on these panels. I spent a lot of time thinking about how to place the fasteners in the easiest access points while still having them attach to the weight bearing parts of the frame. Additionally, I was given a limited choice of materials. The design team had decided aluminum and other metals would stand out too much on the robot so I was limited to using plastic. Since there are a lot of variations on how to 3D print a part, I had to test out different infills and orientations to make sure I was getting the optimal strength and matching the FEA simulations I was preforming.
Once the piece was designed, I was also in charge of coming up with the installation process. Since the body panels had to sit concentric to the wheels, I had to design a jigging mechanism which would reference the right parts of the robot and keep the body panels in place during installation. I also had to write instructions and take pictures of my work so employees and servicing technicians could read my document and understand the process completely.
One challenge I often faced was that the design and engineering teams always seemed to have conflicting opinions. The engineering team wanted to come up with the easiest solution while the design team wanted every piece of the robot to look cohesive and well made. This divide pushed me to improve my design skills tremendously. If this company wasn't so focused on design I would have often gone with my first, simplest ideas and moved on. Though this would have been easier, it would not have made me a better engineer. My internship at PFF forced me to develop not only my design skills but also my communication and presentation skills when I was sharing my ideas with both teams and my superiors.
Overall I really enjoyed my internship. The people I worked with were very knowledgeable and gave me a lot of responsibility as an intern. Designing these systems gave me a really good idea of what factors are important in the high-end consumer robot industry and confirmed my passion and interest in robotics.
Volpe Center (2018) – Emma Ranalli
The Volpe Center National Transportation Systems Center was wonderful.  Read my description here:  Ranalli_Volpe
Volpe Center (2019) – Aidan R. Schertz
I interned at Volpe National Transportation Systems Center this semester, which focuses on "Advancing transportation innovation for the public good." I worked in the Safety Management and Human Factors division, which works to improve transportation safety by understanding interactions between humans and current and emerging transportation systems. Throughout the semester, I worked on three to four projects at a time; I worked part-time for eight hours a week.  Read my summary here:   Schertz Summary Volpe
Red Hat (2019) – Brigid Gliwa

For the Fall Semester 2019, I was an Interaction Design Intern at Red Hat in Boston, MA.  You can read about my internship here:  Gilwa RedHat
Iron Mountain (2020) – Zaila Foster
Read all about the awesome internship here: Iron Mountain
Tufts Design Group (2020) – Jonah Loeb
Read about Jonah's work to research and re-design part of the Tufts website.  More here:  Jonah Writeup