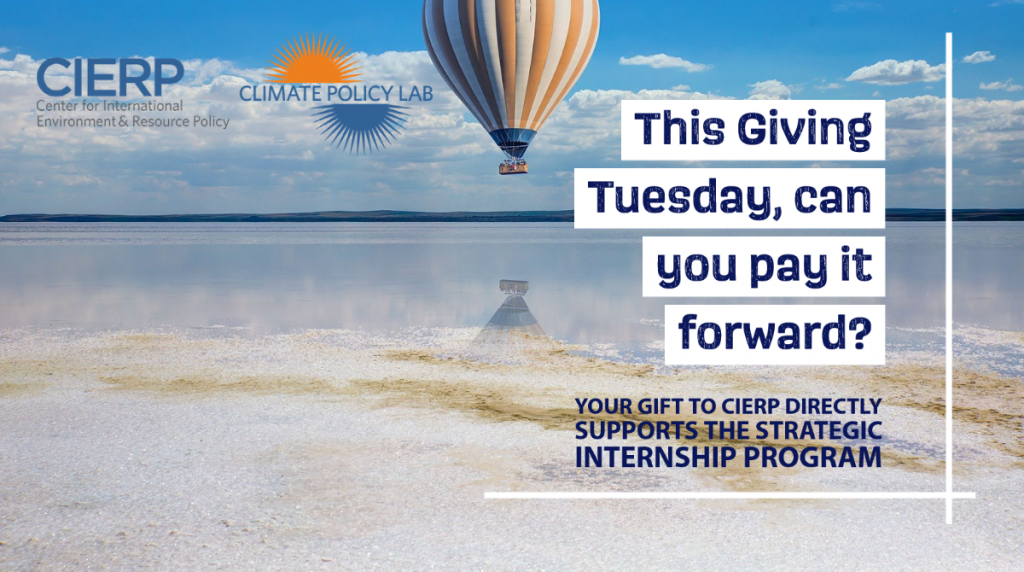 Giving Tuesday is here! To make your gift to CIERP, go to the Fletcher Giving Tuesday page. Under "Fund Designation," select "Other" and then type in "CIERP." Thank you for your support!
---
Giving Tuesday is December 1st. This year, we are raising funds for CIERP's Strategic Internship Program. With the support of CIERP alumni and friends, these funded internships help current Fletcher students start their careers finding and implementing global sustainable development solutions through their work with strategically important organizations. These internships have:
Contributed to better, more effective, climate policy;
Linked climate impact and projects with investors;
Shared knowledge and experience for broader impact through publications, briefings, workshops, and strategic outreach activities.
Read more about the CIERP Strategic Internship Program here.
Related Email Announcements
Can you pay it forward? – A message from John Harper, Co-Chair, CIERP Advisory Board (Nov. 9, 2020)
A Summer 2020 Success Story – Timothy Hu's Internship at Greentown Labs (Nov. 18, 2020)
Support Fletcher, Invest in Climate Leaders – Lucia Lombardo's Internship at CDP (Nov. 25, 2020)
---
Videos and Photos from CIERP Interns