January 11th, 2018
Alumnae Hall, Tufts University
(Adjacent to Aidekman Arts Center)
The Climate Policy Lab of the Fletcher School's Center for International Environment and Resource Policy at Tufts University and Acadia Center, along with special partner Transportation for Massachusetts (T4MA) and allies, are jointly hosting a one-day, invitation-only symposium on the future of transportation. The symposium will bring together leading companies, academics, advocates and (state, regional and municipal) decisionmakers to explore the rapidly shifting transportation landscape and ways technology and policy are poised to shape our transportation systems over the next 20 years. Leading voices will examine the opportunities and challenges of regional market-based solutions, advanced transportation technologies, and innovations in transportation accessibility and design to reduce carbon pollution from the transportation sector. Symposium attendees will identify the policy, technology, and commercialization efforts needed to enable innovative mobility options that can solve some of our most intractable transportation challenges.
Agenda
Time
Agenda Item
Speakers
9.15
Registration and Coffee
10.00
Welcome -
Conference Hosts
Barbara Kates-Garnick, Climate Policy Lab, Fletcher School, Tufts University

Daniel Sosland, Acadia Center

10.15
Opening Remarks
Matthew Beaton, Massachusetts Energy and Environmental Affairs
10.30
Panel 1: Regional Climate Policy
for the Transportation Sector
Rachel Mulroy, Coalition for Social Justice

Rafael Mares, Conservation Law Foundation

David Littell, Regulatory Assistance Project [download presentation]

Jordan Stutt, Acadia Center (Moderator)
11.30
Panel 2: Electrification of Transportation
Gina Coplon-Newfield, Sierra Club

Jonathan Church, Worcester Regional Transit Authority

Watson Collins, Electric Power Research Institute

Julia Gold, Rhode Island Department of Transportation

Stephen Lacey, Greentech Media (Moderator)
12.30
Lunch
1.30
Facilitated Discussion: Building a 21st Century
Transportation System -
Where do we need to be in 2030?
Jesse Mermell, Alliance for Business Leadership

Rebecca Davis, Metropolitan Area Planning Council

Chris Dempsey, Transportation for Massachusetts

Jon Chesto, Boston Globe
2.30
Panel 3: Transportation of the Future
Kristopher Carter, City of Boston [download presentation]

Mary Skelton Roberts, Barr Foundation [download presentation]

Michael Manville, UCLA [download presentation]

Michael Widmer, formerly Massachusetts Taxpayers Foundation

Cameron Peterson and Elizabeth Weyant, Metropolitan Area Planning Council (Co-Moderators) [download presentation]
3.15
Final Keynote
Barbara Kates-Garnick, Climate Policy Lab, Fletcher School, Tufts University

Kelly Sims Gallagher, Climate Policy Lab, Fletcher School, Tufts University


3.50
Closing Remarks: Next Steps for Progress
Daniel Sosland, Acadia Center

4.00
Adjourn
Additional information and invitations are available from info@acadiacenter.org.
Directions
Alumnae Hall is located adjacent to the Aidekman Arts Center at 40 Talbot Ave, Medford, MA 02155.
The conference venue is on the ground floor, and the building is accessible with assistance (no automatic door openers).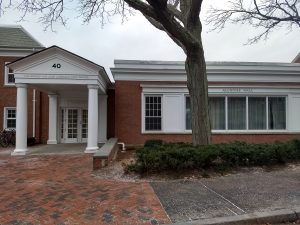 Public Transportation:
Take the Red Line to the Davis Square Station. Exit the Davis Square Station on the College Avenue side. You may take the #94 or #96 bus (which both leave from the Davis Square T entrance next to College Ave, NOT the entrance next to the Somerville Theatre) to the "College Ave @ Dearborn Rd" stop or walk 15 minutes along College Avenue to the Tufts campus.
The #80 bus is also convenient to Alumnae Hall. Get off the bus at the "College Ave @ Dearborn Rd" stop if coming from the south, or the "College Ave @ Professors Row" stop if coming from the north.
Parking:
Visitor parking is available at $8 per day in Dowling Hall, a covered garage located at 419 Boston Ave, Medford, MA 02155. Enter the parking garage at Dowling Hall, 419 Boston Avenue. The gate will automatically open upon entrance.
Either when you exit your vehicle or when you have concluded your visit, please pay the day rate of $8 at the kiosk on the 3rd, 5th or 7th floor. You will need to know your license plate. (When exiting the garage at the end of your visit, the camera will read your license plate and raise the gate arm.) The kiosk accepts VISA, MASTERCARD, and DISCOVER.
Once you have parked in the garage, take the elevator to the seventh floor (if walking across campus) or the first floor (if walking up Boston Ave) and walk 9 minutes to Alumnae Hall/Aidekman Arts Center.
Please note that most other street and lot parking on and near campus requires a permit from Tufts or the City of Somerville.
Handicapped parking is available on Talbot Avenue; however, these spaces also require a Tufts parking permit. An $8 guest parking permit may be purchased in advance online and printed at home by creating a guest account here.
Anyone wishing to park closer to the conference venue than Dowling Garage – whether displaying a handicapped placard or not – should purchase a guest parking permit in advance to print at home using the above link. A parking map is available here. Note that Alumnae Hall is adjacent to Aidekman Arts Center.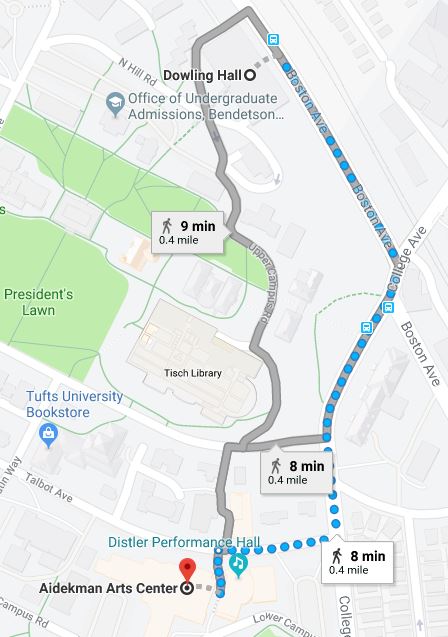 Click here to view a Tufts campus map.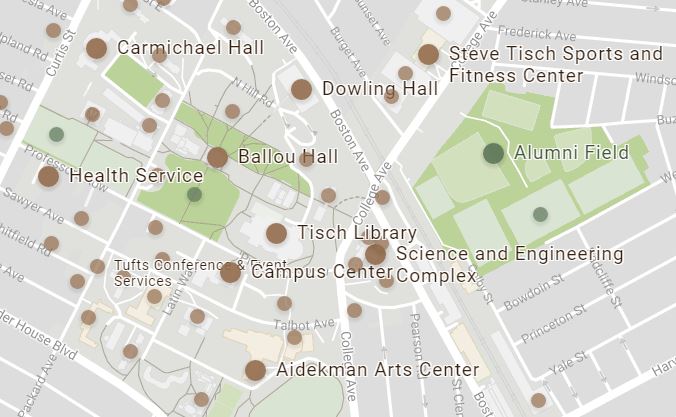 Contact