Our Programs & Classrooms
There are four classroom at our school. Three classrooms offer Preschool Programs to children ages 2.9 to 5 years, one affords a multi-age combined Kindergarten to First Grade Program to children ages 5 to 7 years.
In each classroom, a team of teachers work together to meet the needs of the children and provide them a safe, nurturing, vibrant and inclusive environment in which to grow and thrive. A master head teacher leads the team consisting of an Assistant Teacher and/or two EP Fellows, who are graduate students from the fellowship program offered by the Eliot-Pearson Department of Child Study and Human Development at Tufts University. Our persistent effort in achieving our staffing policy of having three teachers in the classroom at all times reflect our sincere commitment to meeting each child where they are and supporting them as they freely and purposefully explore and experience the joy of learning and growing.
Teachers in our Preschool classrooms make sure children and families feel comfortable and knowledgeable about classroom routines, expectations, and range of activities. Children can explore ideas and materials as they engage in a variety of activities. They are encouraged to use tools safely and productively, and to communicate their thoughts and needs to teachers and other children. Teachers support children in establishing positive and enjoyable relationships with one another. They assist children in their attempts to initiate play, cooperate with others, and negotiate conflicts successfully. Classroom experiences promote and integrate pre-literacy and math skills, science and social studies thinking, art appreciation and creativity, and physical development. Emphasis is placed on communication of ideas in a group, problem-solving, and individualized and collaborative learning.
Rainbow Room
Ages: 2 years & 9 months to 3 years old
Five mornings – Monday to Friday, 8:30 a.m. to 12:30 p.m.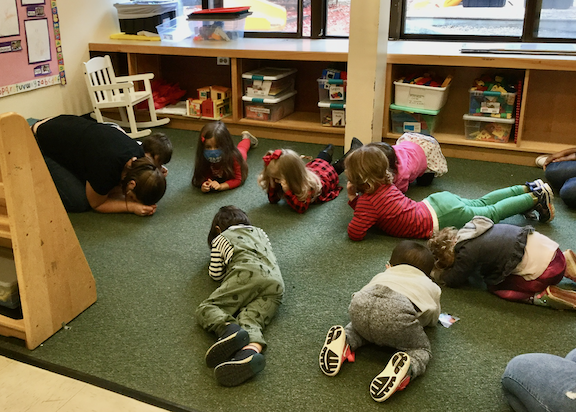 Purple Room
Ages: 3 to 4 years old
Five mornings – Monday to Friday, 8:30 a.m. to 12:30 p.m.
Green Room (Pre-K)

Ages: 4 to 5 years old
Five mornings – Monday to Friday, 8:30 a.m. to 12:30 p.m.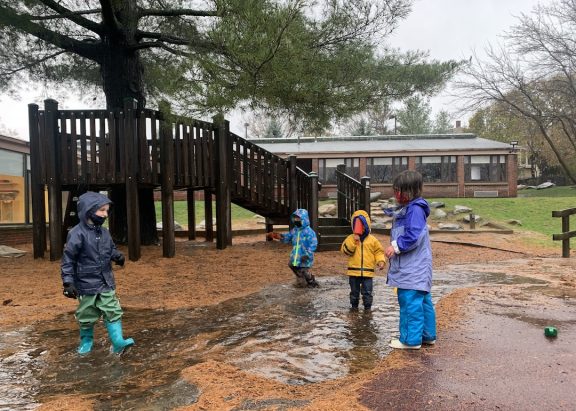 The K-1 classroom seeks to establish a community in which mutual respect for one another's backgrounds, experiences, ideas, and concerns are a priority.  The cooperative learning atmosphere enables the children to productively work and play together.  The curriculum integrates literacy, mathematics, science thinking, social sciences, and the arts.  The rhythm of each day includes large group gatherings, small study groups, independent work periods, outdoor play, and a significant block of time during which children may pursue their own interests and develop friendships. Within the context of our developmental classrooms, each child is encouraged to experience the joy of productivity, creativity, mastery, friendship, and enhanced self-esteem. 
Orange Room (K-1st)

Ages: 5 to 7 years old
Five days – Monday, Tuesday, Thursday & Friday 8:30 a.m. to 3:00 p.m.; Wednesday 8:30 a.m. to 12:30 p.m.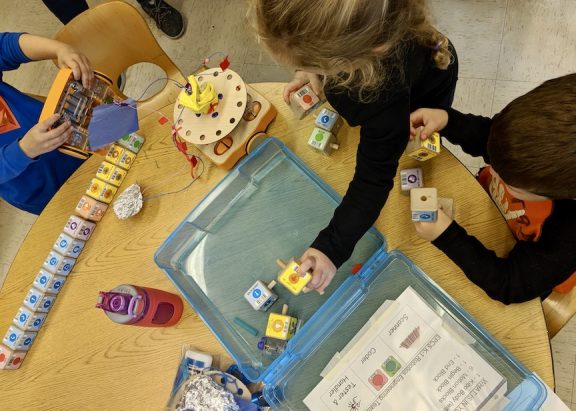 "EPCS feels like a second home to my son. This is intentional on the part of the school. Every teacher treats my son with kindness and generosity, and every interaction with the school feels meaningful and enriching. My son is thriving academically, socially, and emotionally, which has not been the case for him in every environment. We feel so fortunate to be a part of this community of skilled and caring educators, thoughtful and committed parents, and children with so much joy and character."