St. Petersburg FDI E-Conference
October 30, 2020 @ 10:30 am

-

1:30 pm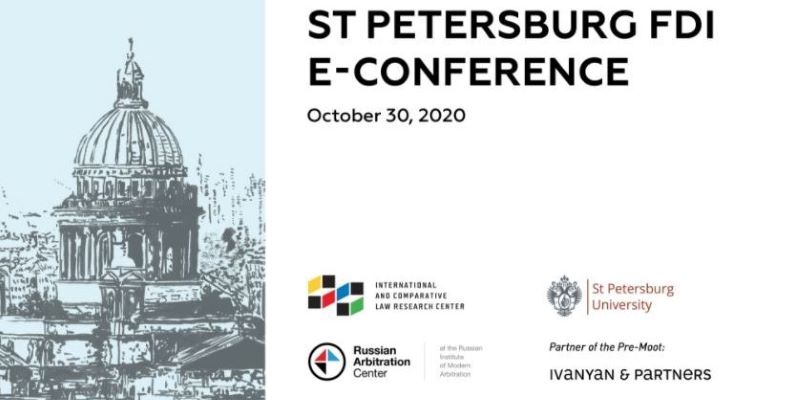 St Petersburg FDI E-Conference will involve active discussion with the moderator and engaged speakers with questions from the audience in advance as well. Each Panel will determine a small prize for the best question. To learn more about the event click here.
Speakers:
Panel I: Is International Investment Law Reconcilable with Sustainable Development?
Hans Van Houtte, President Iran-United States Claims Tribunal, Professor of Law
Andrea Bjorklund, Full Professor Associate Dean (Graduate Studies) L Yves Fortier Chair in International Arbitration and International Commercial Law, McGill University
Yarik Krynoi, Professor of Law, Senior Research Fellow in International Economic Law and Director of the Investment Treaty Forum
Lluis Paradell Trius, Counsel in the International Arbitration and Public International Law Groups at Freshfields Bruckhaus Deringer
Moderator: Dimitriy Mednikov, member of the 2020 Moot Case Committee
Panel II: Complex Corporate Structures and International Investment Law
Loukas Mistelis, Clive M Schmitthoff professor of Transnational Commercial Law and Arbitration and the Director of the School of International Arbitration at the Centre of Commercial Law Studies, Queen Mary University of London
Mohamed Abdel Wahab, Professor of law and Founding Partner and Head of Arbitration at Zulficar and Partners.
Jeswald Salacuse, Tufts University Distinguished Professor and Henry J. Braker Professor of Law
Eva Kalnina, Partner at Levy Kaufmann-Kohler
Lucas Bastin, Barrister at Essex Court Chambers
Moderator: Ksenia Koroteeva, FDI Moot Alumna