If Bakhmut Falls: What The Battle For A City Of Little Military Significance Means For The Ukraine War
By Mike Eckel, Alum of The Fletcher School of Law and Diplomacy at Tufts University
A kettle. A cauldron. A pincer. A meat grinder. A carpet of corpses. A death trap.
A decisive battle?
Since at least August, a motley crew of Russian regular forces and soldiers from the notorious Wagner private mercenary company have been throwing World-War-I-style waves of infantry at Bakhmut, trying to dislodge Ukraine's entrenched defense from the small city in the eastern Donetsk region.
That fighting was eclipsed in recent months by Ukraine's counteroffensives to the north, in the Kharkiv region, and to the southwest, around Kherson, on the west bank of the Dnieper River.
But the onslaught intensified in December, and now Russian forces have surrounded Bakhmut on three sides, with just one major road still available to Ukraine's beleaguered forces. The city may fall entirely to Russian hands in the coming days.
So what?
For military experts and close watchers of the Ukrainian battlefields, Bakhmut's symbolic importance far outweighs its strategic importance. Straddling the Bakhmutka River, just 20 kilometers west of the Luhansk region administrative border, the city, with a prewar population of around 70,000, used to be known mostly for its sparkling wines and salt mines.
The city is also located on relatively open flatland, surrounded by slightly higher elevations and sitting at the junction of several major roads. The elevation difference makes it vulnerable to mortar rocket fire; the crossroads make it more important for running troops and equipment to nearby positions.
Now with a multipronged Russian offensive in its seventh or eighth week, Bakhmut could fall in a matter of days.
"My gut feeling is that we can keep it," Yuriy Syrotyuk, a soldier with Ukraine's 5th Assault Brigade, told RFE/RL's Ukrainian Service. "Yes, it is very difficult. Yes, it is hard to bear constant enemy attacks. Yes, now access to the city is difficult…. But all the same, replacements are coming, ammunition is coming, and the wounded are being taken out."
For their part, Ukrainian officials — President Volodymyr Zelenskiy, first and foremost — have signaled that the defense of Bakhmut will continue.
Ukraine's top military commander, General Valeriy Zaluzhniy, and other commanders "spoke in favor of continuing the defense operation and further strengthening our positions in Bakhmut," Zelenskiy's office said in a statement on March 6.
In his nightly video address the same day, Zelenskiy explained further. "The command unanimously supported" the decision not to withdraw, he said. "There were no other positions. I told the commander in chief to find the appropriate forces to help our guys in Bakhmut."
Western officials are more circumspect.
"If the Ukrainians decide to reposition in some of the terrain that's west of Bakhmut, I would not view that as an operational or a strategic setback," U.S. Defense Secretary Lloyd Austin said on March 6. "I think Bakhmut — I certainly don't want to discount the tremendous work that the Ukrainians' soldiers and leaders have put into defending Bakhmut — but I think it's more of a symbolic value than it is a strategic and operational value."
"So the fall of Bakhmut won't necessarily mean that the Russians have changed the tide of this fight," he told reporters.
"This is strangling (but not yet stopping) the Ukrainian capacity to defend the city," Mick Ryan, a former Australian Army major general and an analyst on Russian military doctrine, wrote in a commentary. "Because of the massive human and material resources expended by Russians on this objective, the situation may soon necessitate a Ukrainian withdrawal."
'Waves Of Living Meat'
If there is a logic to holding on in Bakhmut, it may be what some observers say is a repeat of a tactic that worked in the run-up to the Kharkiv offensive: inflicting heavy casualties and damage on Russian forces, weakening them in preparation for a counteroffensive in the spring or summer.
Russia's incremental progress, gradually surrounding the city from the north, east, and west, military analysts say, has come at extraordinary cost: in previous months, some estimates say that for every Ukrainian soldier killed or wounded, there were six or seven Russian casualties. Unnamed NATO officials also endorsed that ratio in comments to CNN.
"In principle, the tactics of the enemy remain unchanged," Taras Berezovets, a spokesman for the 1st Separate Special Purpose Brigade, told Current Time. "These are waves of living meat that attack the positions of the Ukrainian defenders."
The ratio of Ukrainian to Russian casualties is now likely closer to one-to-one, experts say.
Bakhmut's "major strategic importance, of course, is in the question who [can] attrit whom to a greater extent in this big battle for Bakhmut, as it will have major impact on 2023 campaign," Mykola Byelyeskov, an analyst at the government-backed National Institute for Strategic Studies, told RFE/RL in a message. "And it's quite difficult to say now who is more successful."
The Institute for the Study of War echoed that assertion. "The Russian military will likely struggle to maintain any subsequent offensive operations for some months, giving Ukraine a chance to seize the initiative," the U.S. think tank said in its daily assessment.
But Ukraine's fight for Bakhmut has also become significant because of the current composition of Russian forces deployed in the area.
"I think the tenacious defense of Bakhmut achieved a great deal, expending [Russian] manpower and ammunition," Michael Kofman, a defense analyst at the Center for U.S.-based Center for Naval Analyses, wrote on Twitter following a recent visit to Bakhmut. "But strategies can reach points of diminishing returns, and given [Ukraine] is trying to husband resources for an offensive, it could impede the success of a more important operation."
'Seizing Rubble'
For the Russians, a victory in Bakhmut would provide bragging rights in the wake of a series of Ukrainian victories that have highlighted systemic problems in the Russian military.
Russian Defense Minister Sergei Shoigu said on March 7 that capturing Bakhmut would be key to launching a further offensive in the Donetsk region.
On the Russian side, the casualty rate has been borne, in large part, by Wagner, the majority of whose troops are convicts recruited from prison in exchange for reduced sentences, as well as lesser-trained mobilized troops.
Western officials say up to 50,000 inmates have signed up with Wagner, and nearly all of them have been sent to the Bakhmut front.
"This is their last shot" to take Bakhmut, Colonel Serhiy Cherevatiy, a spokesman for Ukraine's eastern group of forces, told RFE/RL's Ukrainian Service. "They are trying to win at least some kind of local victory."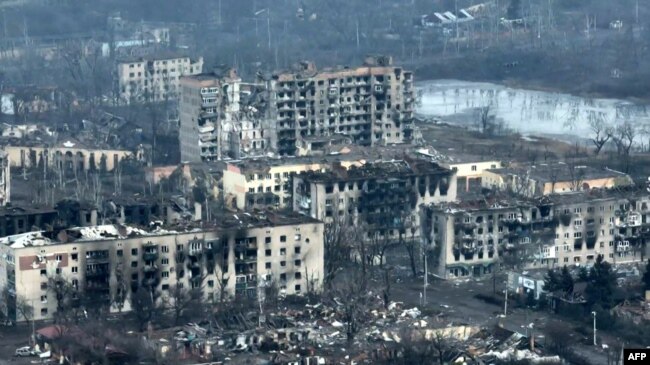 Wagner's bombastic founder, Yevgeny Prigozhin, has claimed at least twice that his troops had captured Bakhmut, and he has publicly stated that grinding down Ukrainian forces is also an objective.
Prigozhin, whose political prominence has risen over the course of the war, has used the Bakhmut standoff as a cudgel to bash the Defense Ministry, part of a long-running feud that has been unusual in its publicity.
Ukrainian and Western officials, meanwhile, say the composition of the Wagner forces assaulting Bakhmut has changed, with more professionally trained troops joining the battle.
In recent weeks, Prigozhin, whose allies have railed against Shoigu and the Russian chief of the General Staff, General Valery Gerasimov, has complained that ammunition supplies for Wagner were being deliberately curtailed.
"The reality is that if the Russians do capture Bakhmut, they are seizing rubble," Ryan wrote. "It is a town with minimal strategic importance, with almost no remaining infrastructure to support an occupying force. That the Russians have invested so much in its capture speaks volumes about their poor strategy in this war."
This piece is republished from RFE/RL.