Inspirational, emotional, and incredibly rewarding: Fletcher alumnus recollects volunteering trip on the Polish-Ukrainian Border
By Karl Afrikian, Alumnus, The Fletcher School
I was standing in the underpass that connects different platforms at the Przemsyl (zhem-eh-shell) train station in Poland waiting for the next train of refugees and other passengers to arrive. That was when I received a text asking me to draft some questions for an upcoming Russia and Eurasia Program event on the war in Ukraine, featuring some of Fletcher's finest professors. I had to think about this request, as writing questions about Russia and Putin while looking directly into the eyes of the people affected was a peculiar task. Nevertheless, I wrote the questions for the event as I ran up and down countless stairs with luggage, helped lead people to night housing, and showed refugees where to get a free, warm meal.
In the period between finals and graduation, I was asked to help lead a group of Russian language students from Sewanee, my undergraduate institution, to Poland to assist in the humanitarian response to the war in Ukraine. I am a returned Peace Corps Volunteer who served in Ukraine from 2018 until March 2020, when I was evacuated from the country due to COVID-19. Leaving Ukraine was difficult enough, and seeing war escalate in a land I served seeking to spread peace was not easy. I was nevertheless glad to not only help myself but provide an enriching experience for other young Russian scholars. I had been to Poland once before as a tourist, but never to Przemysl and never in this capacity, but my Peace Corps service experience made me eager to help in any way I could.
We partnered with the Making a Difference Foundation out of the United Kingdom, which we found through some local connections. We were primarily working in the Przemysl train station, the local refugee center located in a former grocery store, and the Medyka Border crossing point. I encountered thousands of Ukrainians both leaving their homes and many returning to Ukraine. There were lower numbers of refugees arriving than there were in previous weeks, but those in need were from the front lines. I also met large families of Roma, many of whom experienced discrimination on both sides of the border. Other vulnerable groups were also making their way across the border, and I was glad to see resources provided to LGBTQ+ refugees and other minority groups who needed help navigating their situations.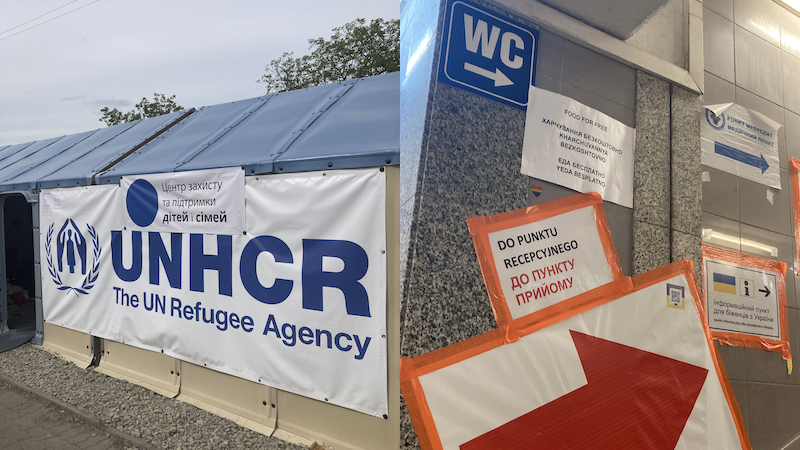 I encountered people on this trip that I will never forget. One of them including an old Armenian man evacuated out of Dnipro, who kissed me on the cheek upon learning I was Armenian. I will never forget when I gave children stuffed animals and saw their mothers smile. The optimistic Western volunteers trying to go to Ukraine were certainly memorable, just as the faces of those who had returned from places like Bucha and Kharkiv were. I learned the importance of talking to people, and how the human connection is often forgotten when engaging in humanitarian work. You need to get sweaty to know what is going on. Carrying someone's bag up and down a flight of stairs does wonders to gain trust, allowing me to learn about the lives of these brave Ukrainians, primarily the elderly, women, and children just trying to survive.
The other volunteers I met from around the world were also very inspiring. I met people from across the United States, Europe, and Asia who came just to help. There was wide diversity, from Mexican-Jewish youth groups to Japanese Christians and even a Sikh organization right at the Medyka border that was providing resources to those who had walked across from Ukraine. Amongst everyone however, the group of Russian volunteers who risked their lives back home were truly inspirational as they worked to help the Ukrainian people. I also must add that only good words can be said about the World Central Kitchen organization, who fed us volunteers and thousands of refugees every day, constantly working to ensure nutritious meals were given to those in need. While helping refugees was impactful, those I met also helping refugees were inspirational and provided me with some hope of the world being able to come together to solve problems.
It has been hard to reflect on this experience, to say the least. It was emotional, inspirational, and incredibly rewarding. A goal we made going into the trip was to never be in the way, but our groups found ourselves being incredibly useful on-site largely due to our language skills. My plane landed during the Diplomat's Ball and I remember as we approached Boston's Logan Airport and I looked westward over Somerville that I had no regrets, beyond not staying longer and skipping graduation. I would gladly miss Dis-o week, the Diplomats Ball, and other events again to keep helping the Ukrainian people, and am so grateful to have had this experience to hopefully even make a slight difference in some people's lives. Ukraine is now six months into this war which has slowly ground on as millions continue to suffer with no end in sight. The West cannot continue to forget those who are fighting for democracy at NATO's doorstep.