Lisa May Reflects on Being a Co-Leader of the Eurasia Club
By Lisa May, MALD 2020 Candidate, The Fletcher School
Remember when in my previous blog posts I wrote that my first two semesters at Fletcher went by extremely fast? Well, it does not really slow down. Somehow the third semester flew by with lightning speed, along with its countless pages of readings, multiple memos, several final papers, and a final poster for GIS.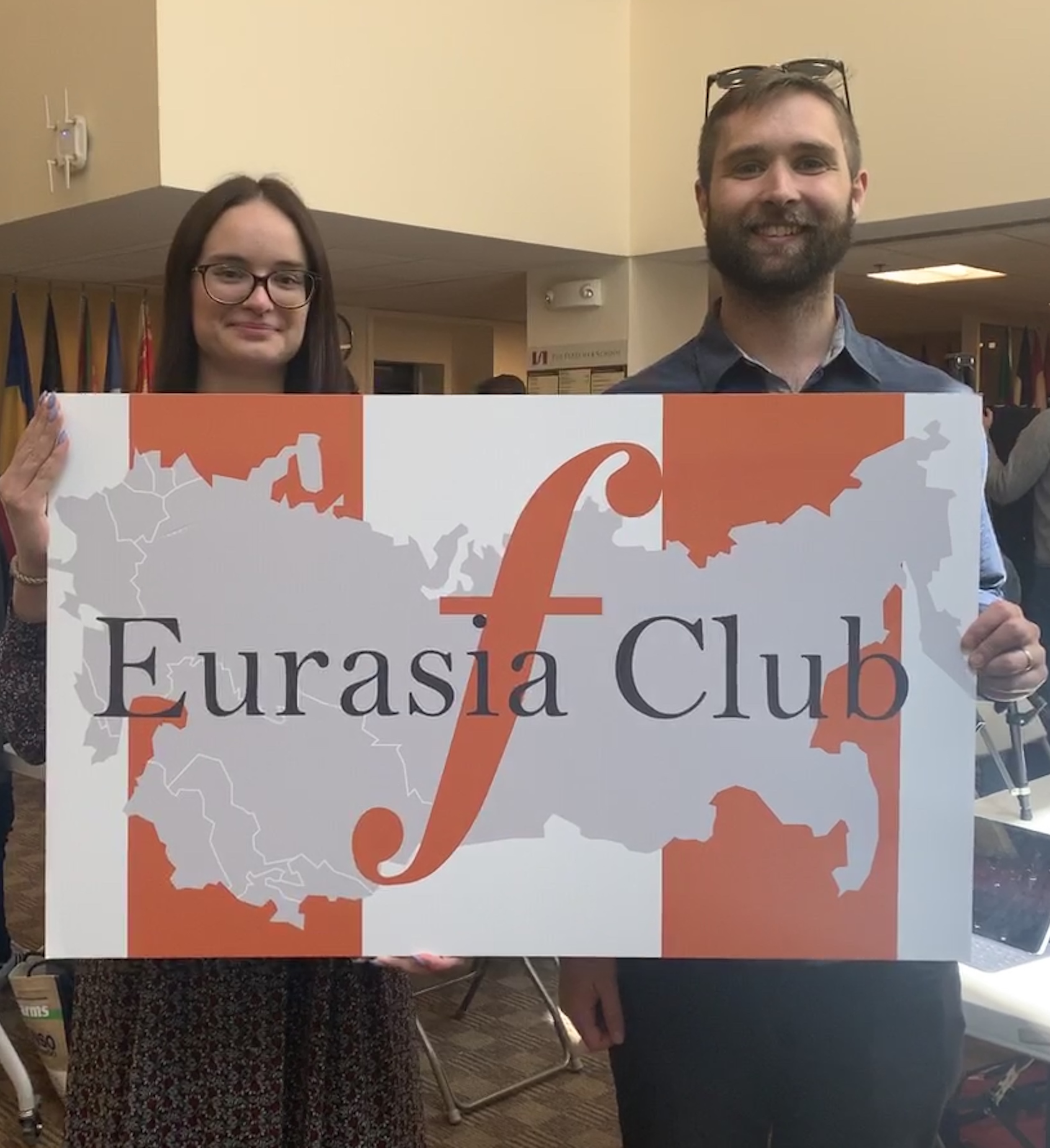 This semester, I took on a new role – that of a Co-Leader of the Eurasia Club. The Club aims to promote a deeper understanding of the countries of the former USSR through organizing events pertaining to history, economy, culture, and political developments in the post-Soviet region. Over the course of the semester, we had an opportunity to host five incredibly knowledgeable and insightful speakers, who covered diverse and equally fascinating topics.
The Eurasia Club kicked off the semester with a talk by Dr. Cornelius Friesendorf of the Centre for OSCE Research (CORE) about international police assistance to Central Asia. We then had an engaging discussion of the political economy of Russian climate policy with Dr. Igor Makarov of the National Research University Higher
School of Economics (HSE) in Moscow, Russia. The Club also hosted Russian investigative journalists Irina Borogan and Andrei Soldatov, who gave a wonderful presentation of their latest book titles The Compatriots: The Brutal and Chaotic History of Russia's Exiles, Émigrés, and Agents Abroad. The book is fantastic – I highly recommend it! Recent Fletcher alumnus Zviad Adzinbaia discussed with the members of the Eurasia Club the ways in which Georgia's NATO accession can help improve Russia-West relations. We ended the semester with Dr. Elizabeth Plantan – a China Public Policy Postdoctoral Fellow at the Ash Center for Democratic Governance and Innovation at Harvard Kennedy School – presenting her research on environmental activism in Russia and China.
You might be curious why I am writing my blog post about this. The answer is simple: get involved! If you have never been a part of a student organization but have always been curious about it, like me, Fletcher is the right place for you. It is so easy to become a member (or a leader) of a club, and – for a relatively small school – Fletcher has a great variety of student organizations. Being actively involved in extracurricular activities helps me personally organize and use my time more efficiently. Additionally, it provides an opportunity to make friends with the people who have the same interests and serves as a wonderful networking opportunity. Lastly, it is great for brushing up on the leadership and organizational skills, which will definitely come in handy in any Fletcher grad's career!
My Co-Leaders and I are already actively planning the Club's activities for the next semester, which will also be my last semester at the Fletcher School. I am thrilled to see what Spring 2020 has in store for me, but for now I am going to enjoy my well-deserved break! Have happy and safe holidays, everyone!
This piece was republished from Fletcher Admissions Blog.