Parv Aggarwal on the Second Part of His Internship at the Central Bank of Armenia
By Parv Aggarwal, MIB 2020 Candidate, The Fletcher School
The second part of my internship was at CBA's Research and Training Center located in Dilijan. Dilijan is a small mountainous resort located about 100 km (1.5 hours) away from Yerevan, with regular (but usually full) Marshrutka service between the two.
CBA's Dilijan Research and Training Center (DRTC) was situated right on top of one of the many hills which comprise Dilijan. A meandering path off the main  just past the center of Dilijan took one from the base to the top of the hill. The path itself was somewhere between a kilometer and a mile, and pretty steep throughout, which made for a "natural gym" to get from CBA to anywhere else in Dilijan. The views overlooking the hill on the final stretch afforded a panorama of Dilijan and the surrounding hills,. Of course, Dilijan's hill-station physique also shaped its climate, and nearly half the days were cloudy and/or stormy, which DRTC's location on top of the mountain afforded a particularly strong immersion of.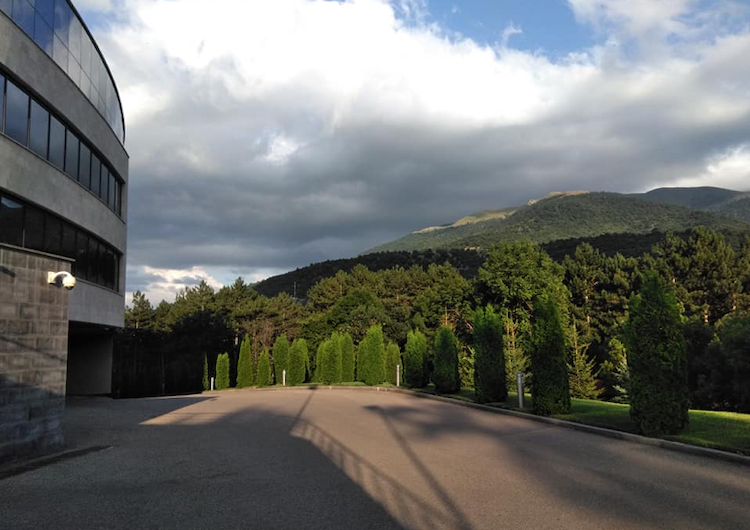 DRTC itself was an impressive architectural feat, a multi-story large circular building resting on top of an uneven mountaintop with a surrounding landscaped campus. Half the building was devoted to office space, which housed CBA's Monetary Policy, Statistics, and Economic Research Units, respectively, on each floor, and the other half housed CBA's own living quarters or "campus" for temporary visitors, seminar / workshop guests, and summer interns. In the atrium were several luxurious receptions with art decor furniture unparalleled by most offices I've been to, and the cafeteria complex. The entire campus was naturally gated, with badges issued to us interns, and no visitors allowed for security reasons.
As CBA provided us interns lunch and accommodation in the DRTC (for the second part, for the first part I rented an AirBnB in Yerevan) in lieu of stipend, we were expecting some basic dorm-style accommodation.  I think I speak for all interns when I say none of us were expecting the individual rooms at DRTC campus to be as nice as we found them – we were all pleasantly surprised by how modern-fitted, clean, well-lit and spacious the rooms were, with state-of-the-art temperature control chic polished wooden furniture which was both comfortable and stylish – this was likely the nicest accommodation in Dilijan. There was a gym and movie theatre for exclusive use of DRTC guests. In addition, DRTC's housekeeping staff kept the entire campus impeccably clean, and serviced each room weekly, which was a pleasant surprise as well. The housekeeping staff were the only folks at DRTC who did not speak English, so my previous month doing the intensive Russian course proved to be helpful there, as well as with all shopkeepers in Dilijan, who only spoke Russian and Armenian (restaurant staff spoke more English).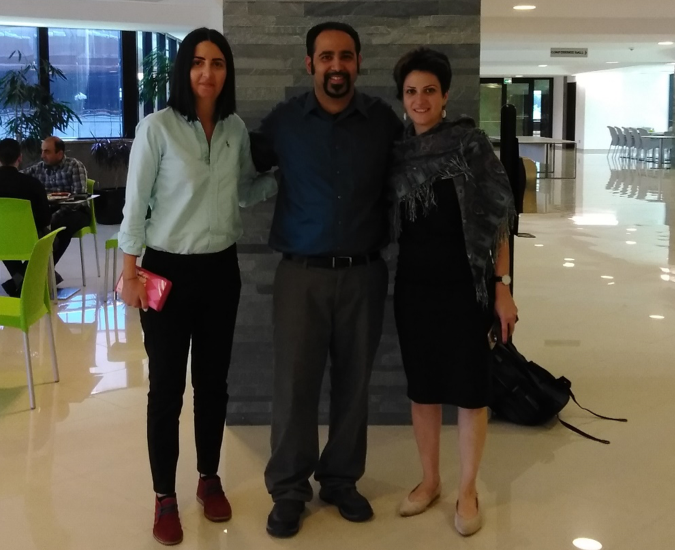 Now for the food – CBA's in-house catering service, Art Lunch, always had a variety of both traditional Armenian, western, and other ethnic (sometimes Russian, sometimes Asian) options prepared during the a la carte lunch service. Art Lunch is not only innovative with their food options, but also experimenting with cashier automation as well – I recently saw a post by staff which demonstrated how new scanners will instantly recognize the dish from its image characteristics picked up by a smart camera, which would drastically save manual entry time and reduce line times at lunch.
The cafeteria staff were some of the nicest people I've ever met, and always served us interns with a giant smile, despite no revenues from us. In addition, as all grocery needs required a walk, run or cab ride down the hill to main Dilijan, and there were no cooking facilities on campus, us interns ended up packing a little extra from lunch to serve as our dinners, which is apparently standard for interns so everyone was on board.
Back to the internship itself, as my research was very much cross-disciplinary and not tied to any specific functional focus area of CBA (I later discovered there was no dedicated Eurasian Economic Union unit, it was instead a topic covered by multiple departments) I liasoned between different departments on an as-needed basis and collected data (or found out the complicated procedure to obtain it, or the fact that it simply was not collected), insights and expertise on my focus areas. As with Yerevan, personal connections were the one sure way to get data whenever it was needed. There were often dependencies and bottlenecks on department heads who were on vacation, and the formal protocols for obtaining data which wasn't publicly available via an official request from DRTC's head, the busiest person at DRTC, but eventually I managed to obtain whatever data was needed to form meaningful conclusions about the status of Armenia-Russia trade de-dollarization.
Slowly but surely, as I obtained data on trade finance currency use between Armenia and Russia, I discovered that the barriers to trade finance de-dollarization were, surprisingly, almost all from the Russian side – Russian exporters preferring to obtain dollars as a hedge against rubles, Russian banks not doing cross-border ruble loans, the lack of ruble forward contracts and options on the OTC forex market, the lack of currency swap agreements, and so forth. Of course, it didn't help that the Armenian dram was not a convertible currency so Russian importers could not pay with it. All in all, there seemed to be a large dichotomy between the Russian government's priority of "de-dollarizing" trade within the Eurasian Economic Union, and the practices of Russian enterprises and banks alike putting their own interests first. Armenian traders, banks, and regulators were caught in the middle of this internal battle,and suffered huge losses as a result of Ruble depreciation affecting exports and remittances during the peak of the crisis in 2015-16.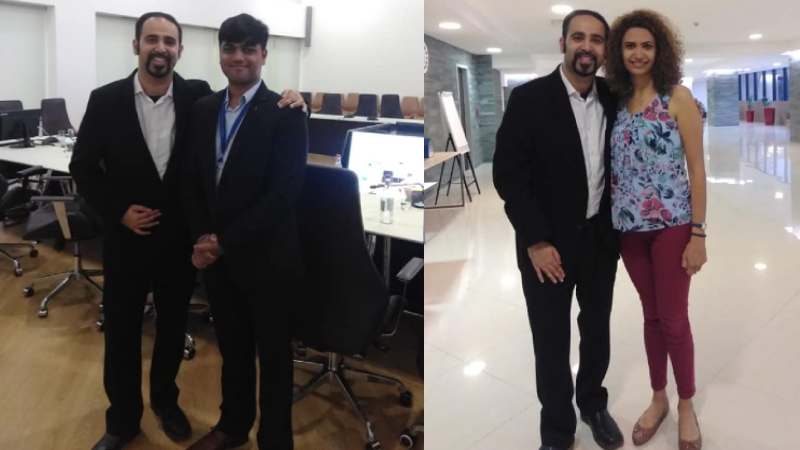 It was really easy to make new friends during the internship, both direct colleagues and acquaintances. One Wednesday, some students from American University of Armenia at DRTC for a data science course came over and invited us interns to a spontaneous party in the movie room and thus we bonded over everything from data science to life in United States vs. Armenia to geopolitics.
I must say, I still can't believe how beautiful our daily office views were. I truly felt lucky to be in arguably Armenia's most beautiful panoramic view affording building. We could sit on the terrace and enjoy the fresh air during lunch as well as the evenings. I've travelled to many countries worldwide and my soul never felt more peaceful than it did in Dilijan.
With this majestic beauty and fresh air surrounding us, I didn't feel a need to leave Dilijan. Still, I went on excursions to the nearby Lake Sevan, with the ancient Sevanavank Monastery towering over Armenia's largest freshwater pristine blue lake filled with watersport activities, and the nearby ski resort and summer vacation spot of Tsaghkadzor.