Parv Aggarwal Reflects on His Daily Life in Moscow, Russia and His Studies at HSE University
Daily Life
Every day felt fresh in Moscow, with unexpected surprises and new sights to explore just in the everyday routine of my commute. The Higher School of Economics (HSE) campus is spread throughout the city: each department is housed not just in a different building but in a different district altogether, with commutes involving various combinations of walking, metro, buses and trams. Extra margins had to be left behind, especially at rush hour – metro trains were packed and often I had to let two or three trains pass unless I wanted to become part of densely packed carriage with no personal space whatsoever. One thing I discovered the hard way was that the metro was unfortunately the only reliable part of Moscow's public transportation network – trams and buses were distinctly not reliable and rarely followed a schedule. I had made the naïve assumption that trams would be reliable and rented an apartment close to a tram stop rather than a metro station. I often found myself waiting 20-30 minutes for trams and more than once saw two or three trams pass right behind each other,followed by a long gap.
HSE had a robust student-led social activity calendar, organized by HSE's branch of Erasmus Social Network (ESN), an all-volunteer team of local HSE students. Activities included various Culture Cafes (Germany, Russia, UK, Netherlands, Israel), Trips (St. Petersburg, Ekaterinburg, Kazan, Kaliningrad, Murmansk), Parties (Welcome Pub Crawl, Back to School, Back to the USSR, Halloween, Farewell), Seminars, Dog-Dating and Cat-Dating stress reliever events, and fundraisers to raise money for local charities in Moscow. ESN volunteers made sure that international students had a full immersive experience.
ESN also organized the "buddy" program at HSE, in which international students were paired with ESN volunteers in order to ease their transition into Moscow. I was grateful to have a resourceful buddy who helped me move in to the dormitory and talk with dorm staff in Russian, guided me to necessary services and assisted me when I lost my wallet.
Of course, social life was not restricted to HSE exclusively: there was always something new to see and do in Moscow, from walking tours to language exchange groups to expat meetups to comedy nights and other themed pub events. There were some everyday gems, such asMoscow's renowned metro-station street art, created by the most talented artists I've ever encountered. And the city never slept, with pubs and clubs open throughout the night.
The one constant aspect of daily life was obviously the language barrier. Even if one hada simple question for a shopkeeper, asking the question in Russian went a long way toward getting a speedy answer. Everyone was willing to help, but Muscovitesalso seemed to expect foreigners to try their best to phrase things in Russian.
One significant language barrier experience occurred when I lost my wallet on a tram. Upon realizing this, I called the Mosgortrans (the tram authority) lost and found office. Speaking in English failed, and so did using a translator as, despite the staff explaining the procedures clearly in Russian, I could not make sense of them. I asked my Russian-speaking friends to call the office, but they did not have any luck either. Dismayed, I gave up hope of finding it and started making a checklist of every item that needed to be reported to the police and replaced. When I went to the HSE International office to replace my lost ID card, to my surprise the first thing they exclaimed was, "you know someone found your wallet, right?" I then learned the story of how a good Samaritan had found my wallet on the tram, noticed my HSE library card, and called the library, which then informed the international office. I was able to take the metro and pick up my wallet from a lovely lady, who lived on the outskirts of the city but did not speak a word of English. This whole ordeal reinforced the importance of speaking Russian, and pleasantly surprised me in the most unexpected way: the lady was under absolutely no obligation to return my full wallet to me, but did so completely due to personal ethics. It spoke volumes about the cultural backbone of Moscow.
One obvious lesson that I've I learned was the importance of knowing and practicing the Russian language before coming to Russia – Russia is a regional hegemon and, as such, its language continues to be the default common tongue across cultures, with most of the foreigners in Moscow originating from former Soviet countries. Hence, prioritizing learning and practicing Russian more than my internship last summerwould have gone a long way in easing my transition.
I cannot emphasize enough a point I made in my last blog post: ordinary Russians are not judgmental and neither they are preoccupied about politics in the way an outsider would expect in light of recent events. On the contrary, Russians like getting to know you on your own story without political contexts attached – I spoke about my experiences as an American, but my friends and acquaintances from the UK, Ukraine, Estonia, Israel, and other countries which currently do not have the best of relations with Russia echoed the same experience. From my experience, Russians loved hearing about and exchanging unique aspects of one's culture, language, food, religion, and behavioral norms far more than politics.
It is my hope that my experiences carry valuable lessons to any Fletcher student who follows in my footsteps to exchange in Moscow, and the next student can incorporate these lessons to have an even more fulfilling and immersive experience than I did.
MIB structure and classes
HSE's MIB program, recently ranked the #1 management graduate program in Russia by QS, is an on-campus advanced professional degree program, taught fully in English, designed to accommodate professionals simultaneously working full-time. Classes are held on weekday evenings and Saturdays, so as not to interfere with working hours. I took three MIB classes at HSE: International Finance (advanced), International Entrepreneurship, and Political Aspects of International Business. I found the rigor of the classes to be comparable to that of Fletcher. A practical "how things are done in the real world" approach was emphasized throughout all classes, which manifested itself in content emphasis and guest speakers – for example, the visiting International Finance professor was the CFO of Mondelez in Eastern Europe and CIS. In addition, practical market research and feasibility studies were emphasized in a unique manner in order to simulate the way businesses approach similar problems.
All classes relied heavily on groupwork and presentations, as is the case with MIB classes at Fletcher. Professors were aware of students' scheduling constraints and did their best to accommodate them within reason. My colleagues' work schedules admittedly made group meetings harder to coordinate, which resulted in inadvertent delays in producing work. Other than that, it was fairly easy to work with HSE MIBs: they possessedunique content mastery, creative insights, and practical experience. The course content went fairly in-depth, and discussions were encouraged in the midst of lectures. Students could decide on their particular areas of focus for most final projects.
Non-MIB classes
I also had the opportunity to take two economics classes – Challenges to the Russian Economy in Transition, and BRICS Economies and Russia. I found both courses to be thorough, immersive, stimulating and engaging. The professors for both classes were senior practitioners in their field: one was a senior Economist who advised Russia's reconstruction during the 1990s and the other – a senior researcher with BRICS Research Council and UNIDO. Both courses covered the content in a systematic yet dynamically engaging manner, supplementing foundational lectures with student presentations on recent developments and current frontiers, a format which I greatly enjoyed. Professors encouraged rigorous and in-depth discussions on all topics covered. All of these discussions were critical and introspective when it came to realistically assessing the economic challenges that Russia and the BRICS bloc have faced – harsh realities were contrasted with idealistic goals by the professors, and there was never any instance of "disproportionately blaming/bashing the West" as is sometimes inaccurately depicted in western media portrayals of Russia. No topic or opinion was off-limits, and students felt fully free to discuss, present or write about their opinions on any topic covered. I felt a full comprehensive sense of academic freedom there.
Forums
Through a combination of the access enabled by HSE professors, the Global Russia program's coordinator (Sergey Gladysh), and my personal contacts, I was fortunate enough to be able to attend multiple forums and conferences on the forefront of key issues in Moscow, including Russian Energy Week/BRICS Youth Energy Association forum, Skolkovo Open Innovation Forum BRICS panel, and the India-Russia business dialogue.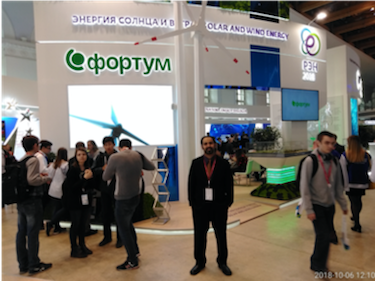 These high-profile forums, all organized by RosCongress, offered a remarkable opportunity for immersing in the challenges and opportunities present in the following key areas: understanding how the Russian government, private sector and civil society, as well as their international counterparts, viewed the future of cooperation. The forums all afforded me direct access to key decisionmakers and policymakers via question and answer sessions and coffee breaks, and served as vital networking opportunities as well. As the dialogue would often shift between English and Russian, there were live translation devices available throughout. All the forums had interactive hands-on booths and some form of AI/VR display present, via a handshake robot or augmented VR game booth. I was also surprised to see a heavier focus on innovation frontiers for renewable energy technologies and waste management than I was expecting. The forums were very professionally organized and designed to be a robust immersive experience for all those attending, with multiple sessions happening concurrently, and they certainly exceeded my expectations.