Tufts University supports Ukraine with a folk musical tribute
By Vishal Manve, MALD 2023 Candidate, The Fletcher School
Since Russia invaded Ukraine on February 24, 2022, Ukraine's national anthem has been used as a galvanizing force in demonstrations, community-led events, concerts, TikTok posts, and sporting arenas. Taking the cultural solidarity experiences further, The Tufts Russian Program and the Department of International Literary and Cultural Studies organized a concert of Ukrainian folk music and songs on March 17, 2022, titled "Russian program at Tufts Stands with Ukraine!".
The performance featured Boston-based Ukrainian singer and soprano Olga Lisovskaya, who was accompanied by pianist Maxim Lubarsky at the Granoff Music Center. The concert's music setlist included Ukrainian folk songs that referenced Ukraine's culture and history and brought attention to the current Russian invasion of Ukraine.
"I am originally from Kyiv, Ukraine, and my brother and mother were in Kyiv when the bombing began on February 24, 2022. I woke them up after watching the news on CNN. I called them urgently and it has been a difficult time as nobody expected the invasion from our neighboring country," Lisovskaya said, emphasizing how the event immediately transformed the lives of Ukrainians, both in the diaspora and in the country as families struggled to evacuate to safety.
"We dropped everything and started accepting donations, humanitarian aid, clothing, medicines, and food. We have completed three shipments to Ukraine and are accepting monetary donations through music events to raise funds and help the people of Ukraine," she further added.
Her mother and other family members spent days struggling to get to safety in neighboring countries.
"My mom was able to leave to Croatia and other family members also left after their apartments got bombed," she added.
Lisovskaya and Lubarsky have plans for more concerts and musical events to raise funds for Ukrainians struggling with the economic and human cost of the war.
"The purpose of the concert is to introduce people to Ukrainian culture, beautiful music, and to bring awareness to this music. It will also help us support the Ukrainians back home as much as we can and hope the war will be over soon," Lubarsky added.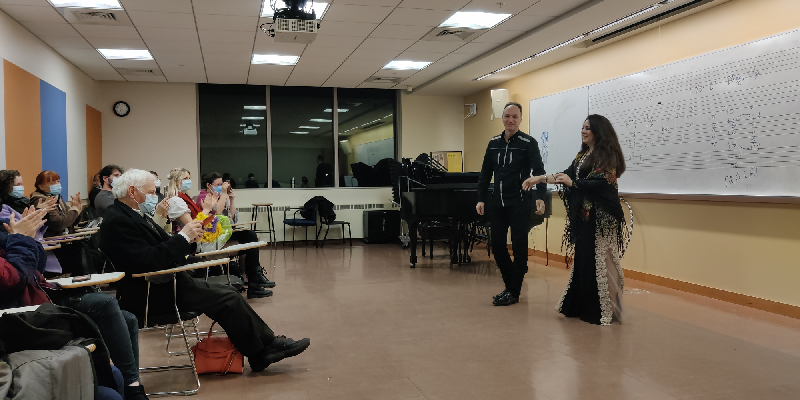 "There is no justification for war whatsoever," Lubarsky added, having also expressed how the war has divided people into heroes or villains due to the actions of a few political leaders, specifically Russian President Vladimir Putin.
He further added how the war was causing division among people who "are regionally the same and come from the same cultural backgrounds".
"It is important to not lose that sense of humanity," he further reiterated.
During the concert, Olga sang some of the most popular Ukrainian songs including Prayer for Ukraine (M. Lysenko), Carol of the Bells (Leontovych), and Kazala Meni Maty by Hulak-Artemovsky.
In recent weeks, members of the wider Tufts University and The Fletcher School community — students, staff, and faculty members — have been organizing open mic nights, multifaith vigils, rallies, and fundraisers to support Ukrainians facing a global humanitarian crisis.
Listen to Prayer for Ukraine, by M. Lysenko: