Visiting Professor Volodymyr Dubovyk Arrives at The Fletcher School
By Alex Avaneszadeh, MALD 2023 Candidate, The Fletcher School
Volodymyr Dubovyk, an associate professor in the Department of International Relations and a director of the Center for International Studies at Odesa Mechnikov National University in Ukraine, will be a visiting professor of the Russia and Eurasia Program at The Fletcher School in 2022-2023. Dubkovyk's expertise lies in international security studies and foreign policy analysis, with a regional focus on the Black Sea as well as U.S.-Ukraine and transatlantic relations. He will teach two courses at Tufts University, including a module on Black Sea Regional Security at The Fletcher School in Fall 2022, which begins on October 31, and a class on Ukrainian Foreign and Security Policy in Spring 2023 for the School of Arts and Sciences.
The course on Ukrainian Foreign and Security Policy will cover issues related to the Russian invasion of Ukraine and its regional impact. Outlining the context for the course, Dubovyk highlights that "Ukraine now finds itself in the center of global politics," and that the war has created "significant implications for regional security in places like post-Soviet Eurasia, the wider Black Sea region, the Baltic-Black Sea zone, and beyond."
"Fundamentally, the course addresses questions related to Ukraine's foreign policy and security predicament, and the role of Russia, placed within the context of broader regional and global security issues," Dubovyk further adds.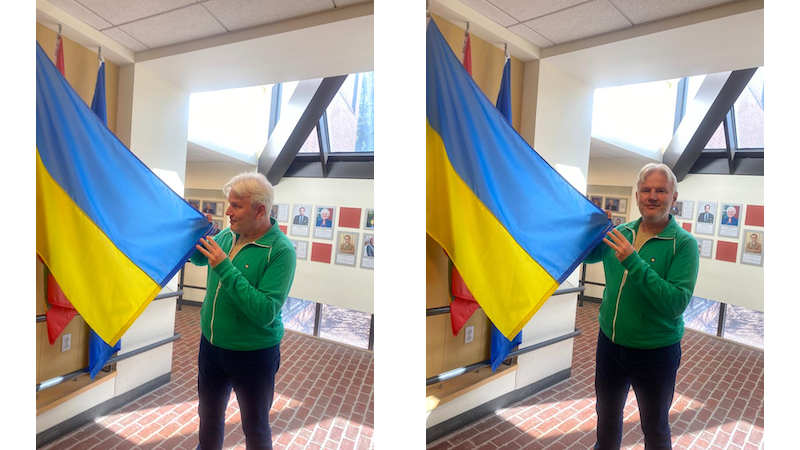 Dubovyk's course on Black Sea Regional Security will focus on the "intra-regional and inter-regional security connections, hard military and soft non-military aspects of regional security, [and] will dig into energy, environment, migration, trade, cultural exchanges, and the role of political models and ideologies," he says. That said, the course will analyze the role of many regional players in the Black Sea region, including Russia, Turkey, Ukraine, and Romania, as well as key players such as NATO, the United States, and the EU.
Dubovyk's research at Fletcher will focus on U.S.-Ukraine relations amid the Russia-Ukraine war. "Ever since February 24, 2022, Washington has led international efforts in numerous ways: sanctioning the aggressor, supporting Ukraine with weapons, funds to meet economic and displacement challenges, diplomatic support in international organizations, and much more. Looking into the particulars is vital, also as we contemplate the future of these relations," explains Dubovyk.
As a visiting professor for the 2022-2023 academic year, Dubovyk will engage with students and faculty on issues related to his research, and collaborate with The Fletcher School and the other visiting scholars of the Russia and Eurasia Program.