With the Russian Invasion of Ukraine Hitting Headlines, Azerbaijan Pushes the Envelope in Nagorno-Karabakh
By Alex Avaneszadeh, MALD 2023 Candidate, The Fletcher School
Background
The second Nagorno-Karabakh war – initiated by Azerbaijan during the world's preoccupation with the COVID-19 pandemic – began on September 27, 2020, and ended with a Russian-mediated ceasefire agreement between Armenia and Azerbaijan on November 9, 2020. According to the agreement, the Armed Forces of the Republic of Armenia were replaced by 1,960 Russian peacekeepers in the territories of Nagorno-Karabakh proper that had remained under Armenian control at the time of the ceasefire.
The ceasefire solidified Azerbaijan's territorial gains in the adjacent regions south of Nagorno-Karabakh proper, with Armenia having ceded Karabakh's northern adjacent regions to Azerbaijan per the ceasefire agreement. The de facto Republic of Artsakh – which is Nagorno-Karabakh's self-declared republic – continues to maintain its defense forces on the new line of contact within the Russian peacekeeping area.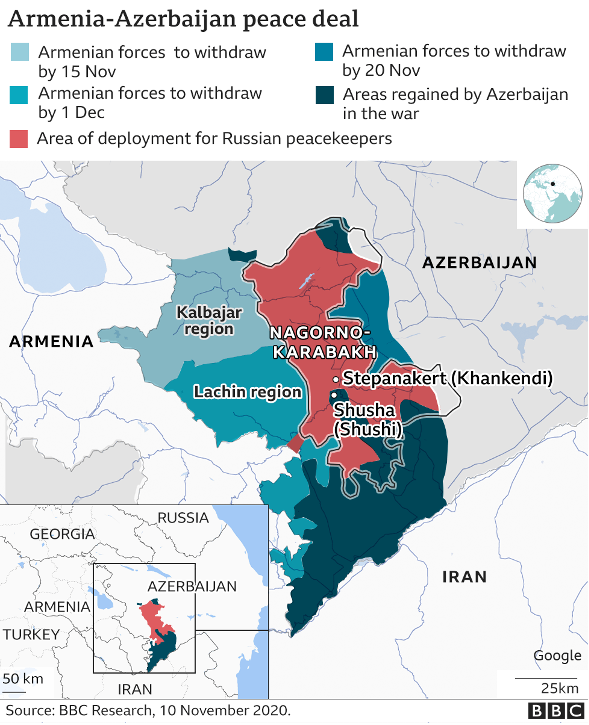 Current Situation
Since the Russian invasion of Ukraine on February 24, Azerbaijan has once again taken advantage of a distracted international community, having ramped up its intimidation tactics and military activity in and around Nagorno-Karabakh. This has put Russia and its peacekeepers in a difficult situation – one that they have not encountered since the ceasefire and whose peacekeeping mandate and ability to use force remains unclear.
On the day of the Russian invasion of Ukraine, Azerbaijani soldiers stationed on the peacekeeping line of contact near Karabakh's Askeran region began using loudspeakers and bullhorns, threatening the Armenian civilian population inside the Russian peacekeeping zone to vacate their villages or they would be met with force.
Having lived up to their promise, Azerbaijani troops opened intensive gunfire and mortar shelling upon Khramort village on March 7, which saw the rapid mobilization of Russian peacekeepers who then temporarily stabilized the situation. On March 11, Azerbaijani forces shifted their mortar and gunfire toward the neighboring villages of Parukh and Khnapat, where Russian peacekeepers subsequently moved, using loudspeakers of their own to demand adherence to the ceasefire agreement and calming tensions.
Meanwhile, on March 8, the Azerbaijani military in the captured town of Shushi refused to repair a damaged portion of the natural gas pipeline that went through their vicinity and into Nagorno-Karabakh. This resulted in a humanitarian disaster with roughly 100,000 Armenian residents going without gas heating in subzero temperatures and thus suffering from food shortages, school closures, and people freezing in their homes.
Russian peacekeepers began to mediate the restoration of the gas supply to Karabakh, which Azerbaijan finally restored on March 18 after repairing the pipeline, notably on the same day that UN officials visited Shushi to celebrate Azerbaijan's 30th anniversary of UN membership. Azerbaijan, in a timely fashion, turned the gas back off on March 21 after the UN officials left.
In an unprecedented move since the ceasefire, Azerbaijani forces crossed the line of contact into the Askeran region on March 24 using Turkish-made Bayraktar drones, resulting in the takeover of Parukh village on March 25. Three Artsakh Defense Army soldiers were killed and 15 wounded during the assault. Russia's Defense Ministry accused Azerbaijan of violating the ceasefire agreement, stating that Russian peacekeepers had arrived at the scene and were taking measures to resolve the situation. Unanticipated by Azerbaijan, between March 23 and 26, an international pressure campaign from the EU, United States (U.S.), France, and Russia prompted Azerbaijan to stop the hostilities and restore gas flow to Nagorno-Karabakh. As a result, Azerbaijan restored gas to the region several days later on March 28.
That same day, Russia's Defense Ministry stated that they negotiated Azerbaijan's military pushback and had reestablished control over the Askeran region, albeit leaving Azerbaijan in control of some parts of the strategic Karaglukh heights which directly overlooks Parukh village. Nevertheless, Parukh village remains completely vacant of its Armenian inhabitants due to residents' fears of now being easily targetable.
On April 6, President of the European Council Charles Michel met with Armenian Prime Minister Nikol Pashinyan and Azerbaijani President Ilham Aliyev. The parties agreed to set up a bilateral border delimitation commission on the Armenia-Azerbaijan border by the end of April and to ensure security along the borderline to see that delimitation effectively moves forward. The meeting came after Pashinyan held phone calls with Russian President Vladimir Putin on March 26, and with U.S. Secretary of State Anthony Blinken on April 5, discussing respectively the role of Russian peacekeepers in maintaining security in Nagorno-Karabakh, and the U.S.' continued support for the OSCE Minsk Group negotiations on Karabakh's territorial status.
On April 22, President Aliyev called on Armenia to recognize Azerbaijan's territorial integrity (implying the recognition of Karabakh as part of Azerbaijan), stating that if Armenia does not, "we will not recognize the territorial integrity of Armenia, we will announce it officially." Prime Minister Pashinyan has stated that no agreement over Nagorno-Karabakh will be made with Azerbaijan without having undergone "extensive public discussion, including with all the layers of society in Nagorno-Karabakh."
Incitement of Ethnic Hatred in Azerbaijan
Hate speech and the promotion of hate crimes against Armenians has been a longstanding phenomenon in Azerbaijan. In a 2004 NATO training program in Budapest, Azerbaijani soldier Ramil Safarov axed Armenian soldier Gurgen Markaryan to death in his sleep and received a life sentence in Hungary for the murder. However, when Safarov was extradited to Azerbaijan in 2012 to serve out his sentence, he was pardoned upon arrival, given a hero's welcome, promoted, and provided with state benefits.
In a similar move after the 2020 Karabakh war, Azerbaijan constructed its Karabakh Military Trophy Park on April 12, 2021, i.e. Azerbaijan's 'hate park'. The outdoor museum displays the helmets of killed Armenian soldiers as trophies of battle, as well as showcases mannequins depicted as Armenian soldiers in dehumanizing positions. Parents even brought their children to the park, who then pretended to be choking the mannequins of Armenian soldiers for fun.
Well before the opening of this park, the United Nations Human Rights Committee's 2016 observation report on Azerbaijan's implementation of the Convention On All Forms of Racial Discrimination (CERD) called for the Azerbaijani government to cease political hate speech and the promotion of hate crimes against Armenians, citing concerns over the case of Ramil Safarov as well.
In September 2021, Armenia filed a suit against Azerbaijan with the International Court of Justice (ICJ) on the jurisdictional basis of the CERD. In a calculated move, Azerbaijan took down the mannequins and helmets in their Karabakh victory park on October 1, 2021, shortly ahead of their ICJ trial with Armenia. On December 7, 2021, the ICJ instituted its 'both sides' boilerplate provisional measures against Armenia and Azerbaijan to prevent the incitement of racial hatred, though particularly called on Azerbaijan to respect Armenian cultural heritage and to prevent its desecration and vandalism. It also noted that the Court was aware of Azerbaijan removing the helmets and mannequins in its Karabakh victory park in advance of the trial.
Several months before the opening of the park, the Azerbaijani government released a commemorative postage stamp of the 2020 war, depicting a doctor in a biohazard suit side by side with a soldier fumigating Nagorno-Karabakh, implying that the Azerbaijani military was successful in cleansing the region of its Armenian population.
Azerbaijan's recent disregard for the ceasefire and for the Armenian civilian population in Karabakh is simply reflective of the institutionalized ethnic hatred and dehumanization of Armenians that have existed in Azerbaijan for decades, coming from the highest levels of government, including from President Ilham Aliyev.
Many Armenian soldiers are still being held and abused as prisoners of war (POW) in Azerbaijan despite the 2020 ceasefire agreement calling on both sides to release POWs immediately. Armenia has released all Azerbaijani POWs, while Azerbaijan continues to use Armenian POWs as bargaining chips to pressure Armenia into making concessions on Nagorno-Karabakh.
With Turkey backing Azerbaijan both politically and militarily in the Nagorno-Karabakh conflict, the memory and scars of the Armenian Genocide remain fresh among the Armenian population – sustained further by Turkey and Azerbaijan's pan-Turkic "one nation, two states" cooperative framework, and their ironic policy of Armenian Genocide denial.
Moving Forward
Just two days before Russia's invasion of Ukraine, President Putin and President Aliyev signed an agreement to deepen their military and diplomatic cooperation. The agreement was likely a move by Putin to keep Baku loyal to Moscow in advance of the Russia-Ukraine war. Although Azerbaijan has remained silent on the war, Aliyev remains frustrated with the fact that as time progresses, Armenia and Karabakh will remain less vulnerable for Aliyev to extract additional territorial concessions from through force. The presence of Russian peacekeepers in Nagorno-Karabakh gives Armenia time to recoup and rebuild its military, though makes its security (and thus its foreign policy) entirely dependent on Russia for the time being.
As we know, Russia's presence in Nagorno-Karabakh is part of its broader geopolitical strategy to pull the strings of politics and geoeconomics in the South Caucasus, as it has been doing in Georgia vis-a-vis the Russian occupation of South Ossetia and Abkhazia. But in the context of Nagorno-Karabakh and Armenia, the Armenian peoples' dire need for security just so happens to align with Russia's interests in the region. This highlights Armenia's inescapable dependency on Russia and a reality that the West must carefully take into consideration in its punitive strategy against Russia in the context of the Russia-Ukraine war.
That said, what has been happening in Nagorno-Karabakh since February underscores the importance of global balances of power. With Russia's economy and military experiencing setbacks relating to the war in Ukraine, the only real line of security that Armenians have (Russian peacekeepers) is being put to the test by Azerbaijan. If the West is not willing to step up and fill the security vacuum created by a potential retraction of Russia's military influence in the region, Armenians will come face-to-face with their most feared existential threat: ethnic cleansing and genocide.
For decades, Azerbaijani President Ilham Aliyev has tried to avoid domestic backlash from his citizens due to rampant corruption and severe repression of human rights. Despite the fact of being an oil-rich state, it has the lowest GDP per capita in the South Caucasus. That said, Azerbaijani state policies and rhetoric promoting and rewarding ethnic hatred and persecution of Armenians are what have been keeping Aliyev in power. Simply put, his public approval is strongly tied to his galvanization of hate. The 2020 Karabakh war is a testament to this, though Aliyev's post-war domestic approval rating is threatened day by day due to the presence of Russian peacekeepers challenging the promise he made to his people of 'liberating' all of Nagorno-Karabakh.
In February, before the Russian invasion of Ukraine, the EU said it was seeking more natural gas from Azerbaijan via the Trans-Anatolian Natural Gas Pipeline to decrease its dependence on Russian energy. With energy security arguably being the West's largest priority amid the Russia-Ukraine war, the petro-dictatorship of Azerbaijan – run by the Aliyev family since 1993 – has and will likely continue to operate with impunity, using its energy revenue to continue its military aggression and ethnic hatred campaign against Armenia, and Armenians in general.
By looking to increase natural gas exports from Azerbaijan, the West seems willing to sacrifice the future of Karabakh Armenians and their international legal right to effectively exercise self-determination. In a similar situation, the U.S. began talks in March with the repressive Maduro regime in hopes of importing more oil from Venezuela, sidelining Venezuelan opposition leader Juan Guido, who the U.S. recognizes as Venezuela's legitimate president. That said, the West is hypocritically drawing a red line on importing energy from Russia, and setting a double standard on its policies toward aggressive and authoritarian regimes. Substituting gas imports from one dictatorship for another simply raises the political impunity of other repressive states, which hardly seems like an answer to global peace, let alone the Nagorno-Karabakh conflict.